Research project
Adapting offices for the future of work
Start date: 24 March 2021
End date: 24 September 2022
Funder: UK Research and Innovation (UKRI)
Principal investigator: Dr Matthew Davis
Co-investigators: Dr Helen Hughes, Dr Emma Gritt, Professor Chiahuei Wu (Leeds University Business School), Professor Simon Rees (School of Civil Engineering). Researchers: Hannah Collis and Dr Linhao Fang.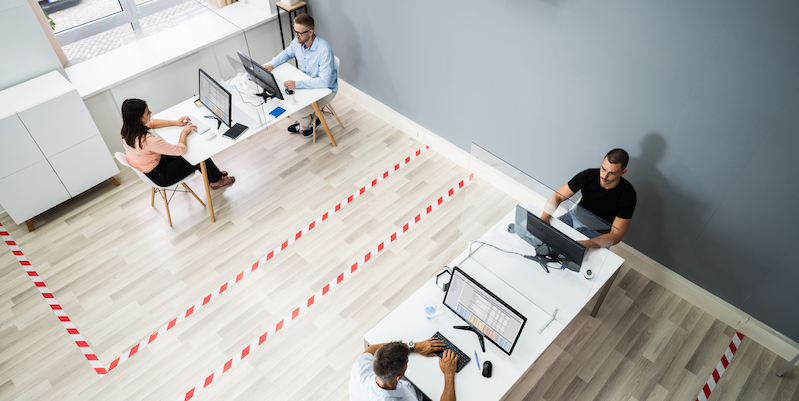 Description
COVID-19 changed where we work. In 2019, 5% of the UK workforce worked mainly from home. This reached 44% in May 2020 and remained at 27% in July 2020 when lockdown restrictions eased (Office for National Statistics, 2020).
Homeworking offers flexibility and work-life balance, but most products and services result from collaboration and discussion - work completion and performance are inherently social processes. Organizations must design offices, technologies and working practices that facilitate this social fabric. Businesses are planning for a return to the office and are adapting office space and work practices to retain benefits of remote working and support hybrid working.
One-size office design will not fit all and we cannot assume what solutions "will work". Businesses are questioning how best to return to the office, how much space and what type of space to retain. This multidisciplinary project supports economic recovery via identifying effective office design and adaptation of work practices to maximise gains and minimise downsides from remote and hybrid working.
Research overview
In this project we apply a socio-technical approach to:
1) Establish exemplars for design and operation of offices adaptable to COVID-19 constraints, remote and hybrid working;
2) Investigate how different office and work arrangements (e.g., hybrid working) impact social networks, workflow and performance by studying employees in adapted offices (via interviews, high-frequency diary study, social network analysis, building data);
3) Offer recommendations for supporting the transition of workers back into offices;
4) Develop an evidence base to guide office requirement planning.
Our project partners (WorldCC, Atkins, Leeds City Council, Coreus, Walker Morris, OneMedical Group) help us reach a range of industries and contribute data, advice and networks.
Publications and outputs
<iframe width="560" height="315" src="https://www.youtube.com/embed/H9W8PgGZb70" title="YouTube video player" frameborder="0" allow="accelerometer; autoplay; clipboard-write; encrypted-media; gyroscope; picture-in-picture" allowfullscreen></iframe>
<iframe width="100%" height="450" scrolling="no" frameborder="no" allow="autoplay" src="https://w.soundcloud.com/player/?url=https%3A//api.soundcloud.com/playlists/1234616767&color=%23ff5500&auto_play=false&hide_related=true&show_comments=false&show_user=true&show_reposts=false&show_teaser=true"></iframe><div style="font-size: 10px; color: #cccccc;line-break: anywhere;word-break: normal;overflow: hidden;white-space: nowrap;text-overflow: ellipsis; font-family: Interstate,Lucida Grande,Lucida Sans Unicode,Lucida Sans,Garuda,Verdana,Tahoma,sans-serif;font-weight: 100;"><a href="https://soundcloud.com/leedsunibschool" title="Leeds University Business School" target="_blank" style="color: #cccccc; text-decoration: none;">Leeds University Business School</a> · <a href="https://soundcloud.com/leedsunibschool/sets/adapting-offices-for-the" title="Adapting offices for the future of work" target="_blank" style="color: #cccccc; text-decoration: none;">Adapting offices for the future of work</a></div>
Related content
Join the Adapting Offices mailing list to stay updated with project outputs and upcoming events.
---
This project - Adapting offices to support COVID-19 secure workplaces and emerging work patterns - is funded by the Economic and Social Research Council (ESRC), as part of UK Research and Innovation's rapid response to Covid-19.