What next for the office?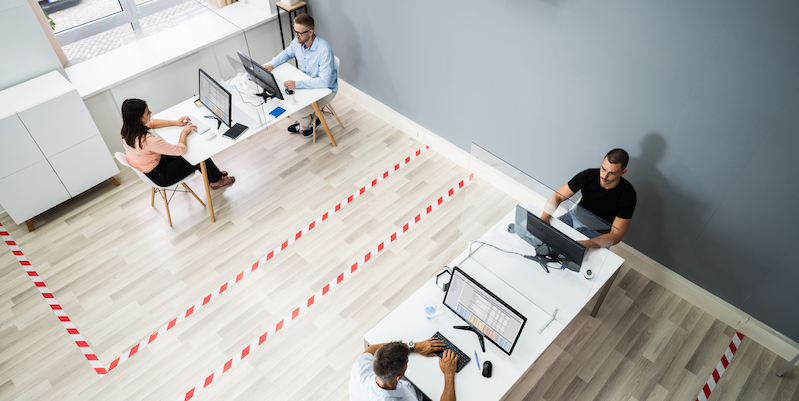 As national lockdown restrictions ease across the UK, employers are faced with reimagining the office for the post-Covid age.
A team at the University of Leeds are carrying out a new research project looking at how organisations can adapt office space and use technology for staff returning full-time to the office and for those working full-time or part-time from home when Covid-19 restrictions lift.
The 18-month project will assess the experiences – positive and negative – of people who worked in socially-distanced offices during the pandemic and the impact it has had on behaviour, productivity and staff wellbeing.
The team will produce guidance for employers about how to ensure that the return to the office – whether on a full-time, socially-distanced or hybrid basis – is as efficient as possible to support productivity and the national economic recovery.
The research is also designed to help firms establish what the future of the office should be.
The project has been awarded funding of £508,080, including a grant of £406,464 from the Economic and Social Research Council (ESRC), as part of the UK Research and Innovation's rapid response to Covid-19.
The research is led by Dr Matthew Davis of Leeds University Business School. He said: "Homeworking has been the reality for millions of workers in the last 12 months because of Covid-19. But what happens next is up for grabs - businesses are questioning how best to return to the office, and how much – and what kind – of space they need. This is a once-in-a-lifetime opportunity to design offices which really work for us.
We know that homeworking offers flexibility and work-life balance which is really valued by many. But face-to-face working in an office environment is also good for information exchange, relationships and workflow. A lack of physical interaction can limit people's capacity to share information, build trust and be creative.
Covid-19 has transformed the UK's workplace. In 2019, 5% of the UK workforce worked mainly from home, rising to 44% in May 2020 and reaching 27% in July 2020 when lockdown restrictions were eased.
The researchers will work with a range of private and public sector employers from sectors including law, consultancy and property to improve understanding of the impact of these changes and to access data and advice about the challenges and opportunities they face.
The researchers are keen to hear from other private and public sector organisations from across the UK who may be interested in participating in this work.
Dr Helen Hughes of Leeds University Business School is part of the research team. She said: "Our research will look at the principles of how offices can be designed and adapted to support social distancing, hybrid working and maximise organisational performance. We will look at the experiences of staff working in socially distanced offices and whether those who have been working from home are concerned about the prospect of returning to the office.
"We are also interested in the impact of the different forms of socially distanced and hybrid office working on social networks, workflow and performance."
More details can be found here: www.bitly.com/adaptingoffices
Ends
Dr Matthew Davis is available for interview. For more information contact: Guy Dixon, Media Relations, Leeds University Business School - 07954 277 539 or g.dixon@leeds.ac.uk