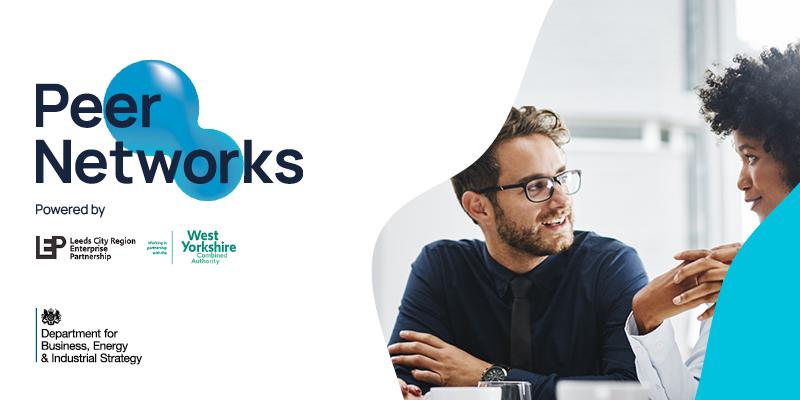 The current programme has now ended – please contact the team to learn more about our other programme offerings.
Peer Networks is a fully funded programme specifically designed to enable small business owners to grow their businesses. It is available to businesses that have operated for at least one year, have at least five employees and have an aspiration to grow.
---
Create a trusted support network
Peer Networks is a national peer-to-peer networking programme for small business leaders that want to grow and develop their organisation for future success. The programme is delivered locally by the University of Leeds on behalf of Leeds City Region Enterprise Partnership (the LEP) and in partnership with the West Yorkshire Combined Authority. We will bring together diverse groups of individuals to collaboratively work through common business issues.
Through interactive action learning, we enable you to discuss your own challenges, gain and reflect on valuable feedback and implement practical solutions to overcome them. Our expert facilitators give you the flexibility to create a trusted support network that works for you, helping you to build and strengthen your business and improve its overall performance.
The programme is open to all SME businesses trading in the Leeds City Region (Bradford, Calderdale, Kirklees, Leeds and Wakefield).
Group sessions
Peer Networks is delivered through a series of high impact group sessions, with each cohort led by a trained facilitator. The programme includes:
Interactive action learning
Small groups
Flexible discussion selection
One to one coaching
Who should attend
The programme is designed for SME business leaders who want to grow and develop their organisation for future success. The programme is available to any SME business that has:
Operated for at least one year
At least five employees
An aspiration to grow
Benefits
Research consistently shows businesses that seek external advice or undertake formal training are more likely to improve their overall performance and benefit from taking advice from trusted sources, such as their peers, when presented with external challenges and opportunities. Peer Networks enables you to make connections that go far beyond networking.
By completing this programme, you will:
Overcome business challenges; recognise and act on new opportunities
Build a trusted network of connections to support you now and in the future
Improve your long-term personal and business performance
Programme structure
The programme involves 6 weekly online sessions of 3 hours with your peer group building towards a business-specific positioning plan, followed by an individualised 3.5 hours coaching session (1-2-1).
Meet the facilitator
Dr Isla Kapasi is an entrepreneur and one of the lead facilitators for Peer Networks and has recently shared her experience of delivering the programme.
Apply for Peer Networks
The current programme of Peer Networks has now closed. Please email the Executive Education team (cepe@leeds.ac.uk) to find out about our other offers.
What previous participants had to say
<iframe width="560" height="315" src="https://www.youtube.com/embed/9mkrtditm5Y" title="YouTube video player" frameborder="0" allow="accelerometer; autoplay; clipboard-write; encrypted-media; gyroscope; picture-in-picture" allowfullscreen></iframe>
I would highly recommend this programme to any owner or director of a small business. The environment provided a safe place to discuss issues with people who were facing, or had faced, similar problems. Sarah and her team were exemplary and allowed us the space to work on the business rather than in it!

Tracey Dawson, Managing Director of Daletech
Each week we are working with a group of like-minded people who are facing exactly the same challenges as all SME's. Each week there is a different topic skilfully facilitated by a lecturer from the business school. It's been brilliant for sharing contacts, advice, tips and tried and tested methods. Being a business leader can often be a lonely place so a network of support like this is essential.

Liz Weatherill, Managing Director of Enable 2
Funded by
Peer Networks are funded by the Department for Business, Energy & Industrial Strategy (BEIS) in response to a commitment made in the 2019 Business Productivity Review.
---
Join our mailing list to receive communications relating to Leeds University Business School news, events and programmes.
---