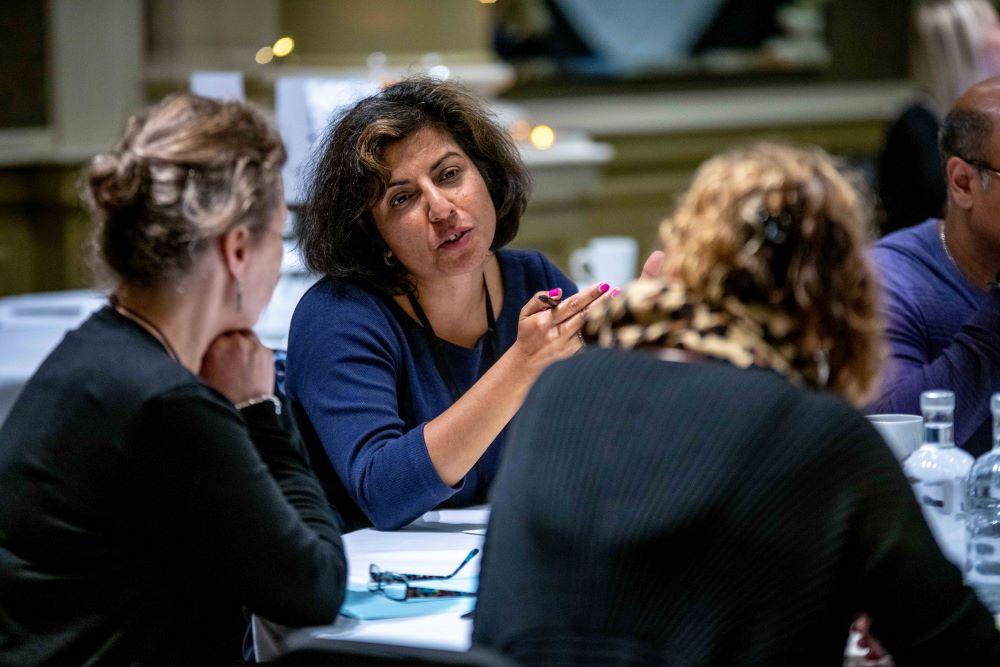 Leeds University Business School is delighted to welcome small business owners and senior leaders to join us at our SME Leaders Forum, which runs three times a year, late afternoon/early evening.
Who should attend?
The forum is free to attend and open to all small business leaders meeting the following criteria:
Owner/leader/shareholder of a growing SME
Operating from their own business premises
Operating at least two years and have employees
Why should I attend?
If you are running a small business then you are likely to be in a fast-moving and changing business environment. As your team and business grow you will find you face new challenges, and that advice from people who have been there before can be invaluable.
You are the expert when it comes to your business, but let us help with developing you as a leader, building your business strategy or identifying the capabilities you require to grow. At Leeds University Business School you can access an exceptional range of business expertise to ensure you get exactly what you need to build your business for success.
This Forum has been created to enable small business leaders to:
Hear from inspiring speakers on topics relevant to their fast-paced organisations
Carve out time to work on their business, thinking about key changes and innovations
Work with other like-minded leaders to tackle issues and learn from their experiences
Share their own stories of success
Each forum event will have a speaker to introduce a particular topic or share their key learnings, followed by a short workshop session during which leaders will be able to apply new ideas to their business and discuss challenges with their peer-group. The events include networking opportunities.
Upcoming forum dates
Autumn 2022 on the University of Leeds campus
Our next SME Leaders Forum in Autumn 2022 will focus on exploring opportunities for businesses to attract and retain new and diverse talent in an ever-changing landscape.
As an SME Leader, you will be acutely aware of the current labour market challenges, and the potential impact on your business if you are not proactive in addressing them. Current research highlights the following as just some of the related areas businesses are facing, and which may resonate with you:
Up to 79% of businesses are having trouble finding the right people
Businesses recruiting from student/graduate talent pool report that 'struggling to reach the right candidates' is among their top concerns. This is exacerbated in the SME community where they may have fewer resources and less brand recognition
Business leaders want to be more engaging in hiring talent, but currently experience declined job offers and retention difficulties
81% of employers anticipate the future need to recruit for jobs which don't exist today
Join us for this interactive and informative session and let us help you to continue to thrive and grow by:
Developing your talent networks
Adapting your current working practices to enable progressive employment
Attracting new and diverse talent to your business
Reserve your place by completing the Registration Form.
Contact
Contact Susanne Marchant (cepe@leeds.ac.uk) to find out more about the forum.