Reflections on a year of successful 'Ideas in Practice' events
Research and innovation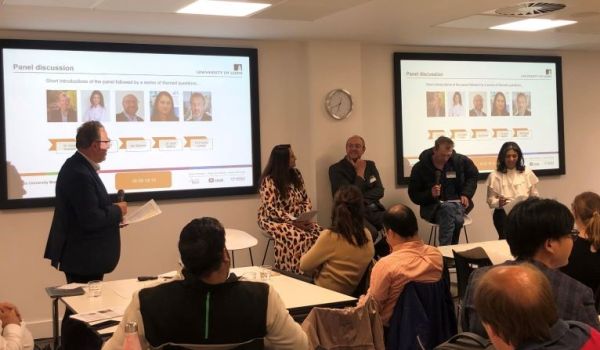 Leeds University Business School's "Ideas in Practice" is a free seminar series that brings together business practitioners, policymakers and academics.
The events take place in Leeds, London and online, where attendees discuss important topics and share ideas to help companies and public bodies both in the UK and globally.
The series has been bringing academic research before external audiences since 2016 and continues to gather momentum and reach. As another academic year comes to a close, we have taken a moment to reflect on the success of events that have taken place in the past year.
The autumn term started with the Enablers of Transformation in the Foundation Industries workshop, a collaboration between Leeds University Business School, the School of Civil Engineering and the Transforming Foundation Industries Network+, led by Professors Vera Trappmann and Susan Bernal-Lopez.
Foundation industry materials, including metals, ceramics, glass, chemicals, paper and cement, are vital to manufacture and construction in the UK, but it is of the utmost importance that we transform their sustainability to hit net-zero targets. This hybrid event in Leeds brought together government bodies, policymakers and academics, with speakers from TFNI+, Ferrovial, Innovate UK, Leeds University Business School and the University of Edinburgh, to discuss how to embed business models to enable transformation across sectors.
This was shortly followed by the first of two events from Dr Matthew Davis and team's Adapting Offices for the Future of Work project. The former, 'Where is your office? New insights on employee behaviour and social networks', was a one-hour webinar conducted by the research team across YouTube and LinkedIn, previewing key findings from their interactive research report on hybrid working and future workplaces.
An area of keen interest both internally and external of the University, this online event received in excess of 200 registrations. Focused, data-driven results from employee diaries, cross-industry surveys and social network analysis revealed the impact that different work patterns and places have had on employee behaviour and social networks. The webinar ended with a Q&A session, in which the team answered several questions on what this means for organisations and the design of future workplaces.
In November 2022, Matthew Davis hosted 'The future of work: does place still matter?', the latter of the Adapting Offices events, at the ESRC 2022 Festival of Social Science. Focused on the relevance of physical workplaces, this hybrid event investigated how workspace is being redesigned, and what this means for offices of the past and cities as they develop in the future.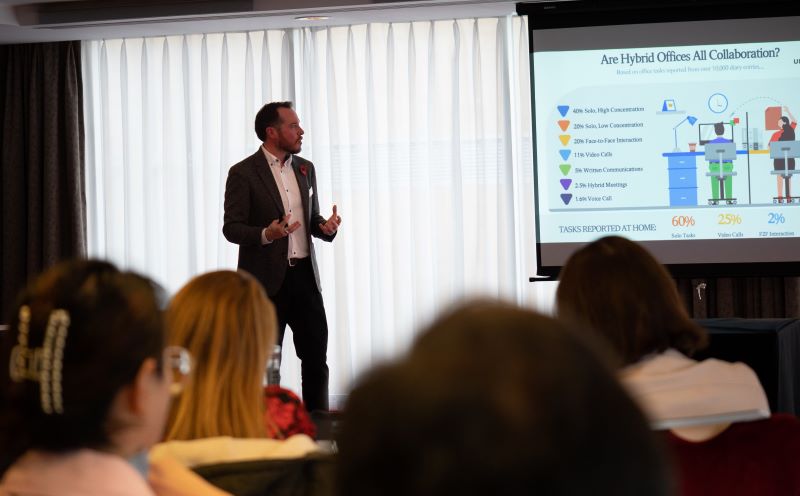 Matthew Davis presenting his research on Adapting Offices. [Photo credit: Connor Bainbridge]
Speakers from Leeds City Council, architects Atkins and property development firm Munroe K shared experiences on managing the transition to new ways of working from their different perspectives. They also explored the implications for the local economy, city centres, district neighbourhoods, and wider urban planning. The key question "Does place still matter, or is the future of work one where we work when and where we like, with traditional offices a thing of the past?" was eagerly debated.
Dr David Schulzmann's research into the transformational impact of digital platforms was the basis for the 'Metaverse Roundtable: Another buzzword or the next digital "holy grail"?', sponsored by the University of Leeds Challenge Fund.
The impact of Covid-19 has resulted in new technologies, environments and strategies, with digital fashion paving the way with activities in the Metaverse. Panellists from early adopting organisations and regulatory perspectives, such as the Information Commissioner's Office, designer concept store Lone Design Club and global studio Dubit, examined the opportunities and challenges the Metaverse and digital technologies face alongside the developing Digital Fashion Industry.
2022 closed with the Business School's annual 'Ideas in Practice' Supply Chain Summit. In partnership with Squire Patton Boggs and hosted at their Leeds offices, the 2022 summit, 'Realising the value of digitalisation', considered how supply chains can harness digitalisation to overcome global supply chain issues of labour and parts shortage, inflation and the integration of new technologies.
Led by Professor Chee Yew Wong, we were joined in conversation by representatives from R² Factory at Rolls-Royce, AI Tech UK and the West Yorkshire Combined Authority, amongst others, who discussed the brittle, anxious, non-linear and incomprehensible (BANI – a new acronym highlighting a real-world, immediate problem) status of national and international supply chains. It was decided that companies now realise they need real-time, accurate information about their supply chains through digitalisation.
Caroline Gorski, CEO at R2 Factory at Rolls-Royce, speaking at the Supply Chain Summit 2022
2023 started with two London-based events, located there for the worldwide impact the topics have. The first was Dr Gulbanu Kaptan and research team's 'Implementation of gene editing into the food system'. Having recently completed two research projects into consumer and stakeholder views about a transparent food system involving the application of gene editing, their findings and the desire to increase public acceptance of gene-edited foods formed the basis of this event. Funding for the research was provided by the Biotechnology and Biological Sciences Research Council (BBSRC)/Food Standards Agency (FSA) and Leeds University Business School, respectively.
Swiss retailer Migros voiced their support for the labelling of gene-edited foods alongside LUBS and Aberystwyth academics seeking policy change in gene editing in the UK. The audience comprised regulators in food standards, agriculture and milling industry workers, and academics with an avid interest in the area.
The second London event was the launch of the Leeds Index of Platform Labour Protest, an interactive tool at the forefront of documenting platform worker protest created by Professor Vera Trappmann and the Leeds Index team. The Leeds Index is developed by employment relation scholars and sociologists from the University of Leeds, based at the Economic Research Social Council (ESRC) Digital Futures at Work Research Centre (Digit) and the Centre for Employment Relations Innovation and Change (CERIC).
Contributors to the panel came from far and wide, with speakers from the International Labour Office (ILO), International Transport Worker's Federation (ITF), Free University Berlin and Johns Hopkins University. In-person and remote delegates were from the UK, Europe and the USA, with labour activists, trade unionists and legal firms all taking part. The impact of the research has led to the ITF wanting to use the tool for negotiations with platform workers' employers.
Leadership for Digital Innovation in Medtech took place in May 2023 at Nexus in Leeds. Known as a hub for medtech development, the location seemed fitting for fruitful insights into this unique and fast-developing area for innovation management research.
Combining the expertise of Professor Krsto Pandza and Dr Hutan Ashrafian, an active surgeon and Visiting Professor of Research Impact, the role of product, service and business model innovation, as well as the importance of regulation alongside the advancement of digital technologies like AI, surgical robotics and generative drug development, were explored with notable speakers. Representatives from the Medicines and Healthcare products Regulatory Agency (MHRA), Roche, and Google as well as start-ups shared their experiences before an audience from medtech, biotech, healthcare and medical supply retailers.
Hutan Ashrafian presenting at the Leadership for Digital Innovation in Medtech event
Building on the topic of the 2022 summit, the Supply Chain Summit 2023 followed in June of this year with the theme 'Disruption, Resilience and Recovery'. Professor Chee Yew Wong, Professor David Loseby, Centre for Operations and Supply Chain Research (COSCR) colleagues, and guest speakers from logistics company Maersk, and Squire Patton Boggs, tackled how supply chains can be resilient and robust despite the polycrisis posed by Covid-19, the cost-of-living crisis and geopolitical tensions.
Roundtable discussions brought ideas on how we can innovate out of disruption to the fore, highlighting that perhaps supply chains are reaching a pivotal point of collaboration over competition as they embark on a future of continually combatting unprecedented events.
At the beginning of July, Professors of International Business Yinqi (Annie) Wei and Frank McDonald co-hosted the 'Promoting Inclusive Growth via Developing Exporting' workshop with the West Yorkshire Combined Authority (WYCA), funded by the Research England Policy Support Fund.
The export performance of the area covered by the WYCA is behind many UK regions despite it being the largest regional economy outside London. By analysing results from their survey of 102 West Yorkshire companies and data analysis from the Flux Analysis and Modelling Environment (FAME) tool, the team investigated the contributing factors to this performance.
Leeds University Business School colleagues, as well as the WYCA and colleagues from Aston Business School, delivered presentations on how exports affect regional development, and chaired roundtable discussions on overcoming major economic, social and infrastructure barriers to exporting.
To close the academic year 2022 – 2023, Professor Lynda Song and her research team held their 'HR Management Practices and Ethnic Minority Health Worker's Wellbeing' event in Leeds, also supported by the Research England Policy Support Fund. They showcased their cultural competence training, created after extensive research into developing inclusive working environments in health and social care for ethnic minority employees.
Speakers from Healthwatch Leeds, Leeds City Council, Leeds Teaching Hospitals NHS Trust and an independent equity, diversity and inclusion (EDI) consultant spoke on the challenges and solutions to issues impacting inclusivity in these services, including how and where the team's cultural competence training could be delivered effectively.
Delegates from HR, healthcare and EDI positions engaged in lively roundtable discussions, with intent expressed for working with the research team further to improve the wellbeing of minority ethnic NHS employees and service users.
Get involved
The Ideas in Practice events calendar for the next academic year is rapidly filling, so if you a Leeds University Business School academic interested in hosting an Ideas in Practice event, please contact Grace Carter (G.M.Carter@leeds.ac.uk). Our events provide you with the opportunity to showcase your work before business people, policymakers, academics and third-sector representatives, inspiring conversation that could lead to real-world change.
If you are external to the University and interested in joining the Ideas in Practice mailing list, please also contact Grace Carter.
The views expressed in this article are those of the author and may not reflect the views of Leeds University Business School or the University of Leeds.