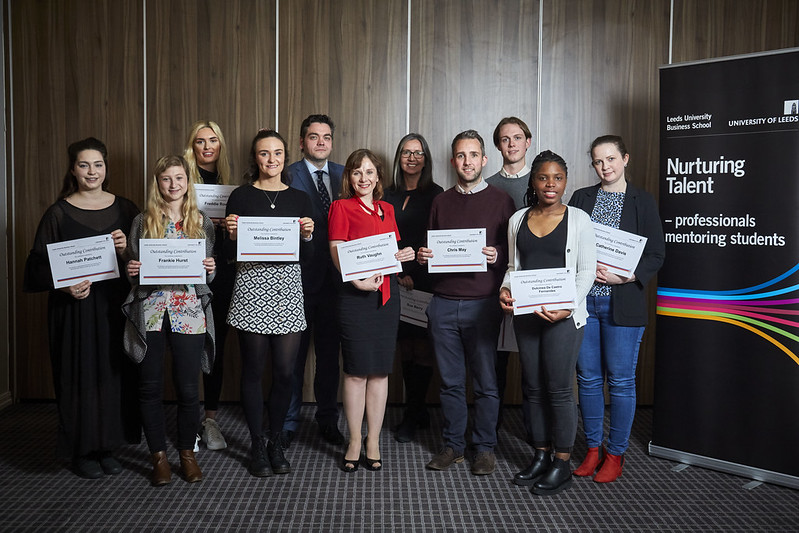 As a graduate we hope you will stay connected to the Business School. Your involvement as alumni is invaluable and will help our students benefit from your wide range of career insights and expertise.
Offer career advice
Nurturing Talent Mentor Scheme
Mentoring is a great way to connect with current students and provide practical support and advice on developing career plans in different industry sectors. You also benefit by developing your leadership and management skills.
Share your expertise
There is a wide variety of opportunities for guest speakers to share their insights and expertise to inspire our students, either at Business School events or as part of a specific teaching module.
If you could spare an hour one lunchtime to talk to students about your career journey; or have specialist expertise and industry knowledge that could bring teaching to life, we'd like to hear from you. We are also keen to hear from people who would like to take part in panel sessions; alumni events across the globe or one of our larger evening lectures. Email alumni@lubs.leeds.ac.uk to find out more.
Submit an alumni profile
Whether you graduated last year or 20 years ago, inspire the next generation:
Share your experience of studying at Leeds
Inspire the next generation of offer holders & students
Be part of our online alumni community
Tap into our talent
Find out more about how you could work with our students
Help at an international student recruitment fair
Would you be interested in helping out at a recruitment fair local to you?
Academic and professional staff regularly travel to international fairs in a variety of different countries to help prospective students find out more about studying at the Business School. Prospective students also appreciate speaking to alumni about their first-hand experience of what life is really like as a student at the University. Email alumni@lubs.leeds.ac.uk to find out more.
Sponsor the School
Sponsorship opportunities range from support for individual seminars, lectures or prizes to funding for a named professorial chair or school facility. More information on sponsorship.
Take part in Business School rankings surveys
Rankings are one of the recognised measures of a business school's reputation. The experiences and opinions of our alumni are an integral part of this process.
Each year different groups of alumni will be invited to take part, so please keep in touch with us and make sure that we have your correct contact details.