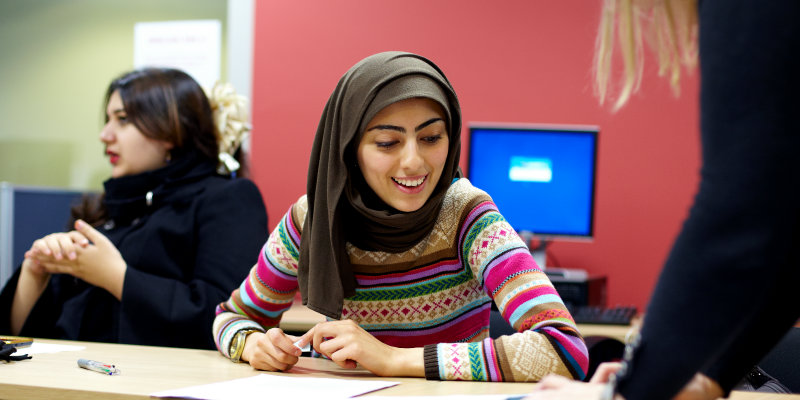 We offer a range of outreach events aimed at raising the aspirations of young people at school or college. Contact us to arrange an event for your students.
Opportunities for all
We believe that all students, no matter what their background, should have the opportunity to study at a prestigious university like the University of Leeds. We hope that all students will aim to get into the very best university that they can.
The University of Leeds has a dedicated Education Engagement Team who aim to build strong links with local schools and colleges. Working alongside academics, they offer a range of resources and events, delivering a wide-ranging programme of both aspiration-raising and curriculum-enhancing activities. Register for the quarterly teachers' and advisors' Ezine to stay up-to-date with the latest news, information and opportunities available.
Our programme of events gives lots of information about the activities offered across the University.
We also run a range of events from the Business School, working with academics and our team of student interns.
Leeds Loves... Business
Would you like your class of Year 11 or Year 12 pupils to hear directly from current students about what it is like to study a Business degree? Our Social Sciences Outreach Team offer a number of activities for your students to connect with us.
Our student interns are available to visit your school in pairs and give presentations about their course and the wider opportunities available at Leeds University Business School. The talks can focus on particular areas of interest to your class and, depending on the time available, can also include relevant activities.
Access to Leeds (A2L)
Access to Leeds is an alternative admissions scheme that allows us to identify applicants who have the potential to succeed at the University of Leeds but who may not be able to demonstrate their capability through their grades alone. This could be due to an applicant's personal circumstances, or factors relating to their prior education.
After assessment, these applicants may be made a lower grade offer alongside the completion of an Access to Leeds module in the summer, and will receive additional support and guidance throughout their time at the university.
Please see the Access to Leeds website for more information on the eligibility criteria and how to apply.
Additional activities
If your school is interested in a more specific business-related activity with a view to raising the aspirations of your students in applying to a research-intensive university, please get in touch.
Activities the Business School has provided include taster days, campus tours, parent information days, admissions talks, speakers at schools and a Summer School scheme. We also provide mentoring to local schools as well as working with Reach for Excellence and Gifted and Talented pupils.