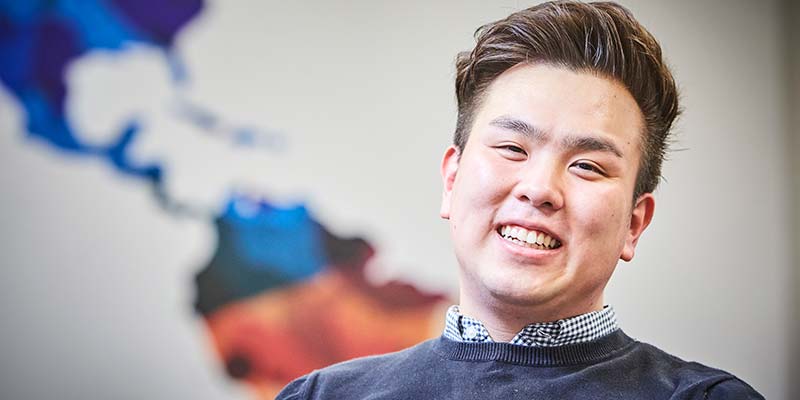 To apply for an undergraduate course you must submit an application form through UCAS. You will need to make a note of the UCAS course code, listed in the key facts on our course pages, as well as our institution code, L23.
All applications received by 29 January 2021 will receive equal consideration. Applications received between 30 January and 30 June will be considered at our discretion and subject to places remaining available.
Access to Leeds
Access to Leeds is an alternative admissions scheme that allows us to identify applicants who have the potential to succeed at the University of Leeds but who may not be able to demonstrate their capability through their grades alone. This could be due to an applicant's personal circumstances, or factors relating to their prior education.
After assessment, these applicants may be made a lower grade offer alongside the completion of an Access to Leeds module in the summer, and will receive additional support and guidance throughout their time at the University.
Please see the Access to Leeds website for more information on the eligibility criteria and how to apply.
Transfer into Level 1
Any student wishing to transfer internally onto one of our programmes must submit their request to the Admissions Team after 1 May and before the deadline of the 30 June in the year they wish to commence study with us.
This applies to candidates wishing to transfer after completing Level 1 of another University of Leeds programme and also those holding a study offer at the University but who wish to change their Firm Choice programme to a Business School programme.
Entry into Level 2
In general, we do not accept applications for advanced entry. All applications must be made to the first year (Level 1). The two exceptions are as follows:
Direct entry: Applicants from one of our recognised partners Bellerbys and NCUK can apply for advanced entry under our formal articulation route.
Click on the links below to see the typical entry requirements for direct entry students applying for 2021 entry.
Singapore Polytechnic Diploma: holders of the Singapore Polytechnic Diploma may be considered for advanced entry to BA Business Management, BA Business Management and Human Resource and BA Human Resource Management programmes. See our entry requirements for Singapore for more details.
Before you apply
Firstly you should review our entry requirements for your chosen course including the Maths and English Language requirements. Before you submit your UCAS application you should also check the following:
You have completed all sections of the UCAS application form
You meet the Maths and/or English Language requirements for your chosen programme or will do from qualifications you are currently studying
You have fully listed your achieved academic qualifications including subjects, dates and grades
There are no unexplained gaps in your academic history
Your academic reference is from your current or most recent institution, ensuring they include predicted grades where available
You have detailed your work experience in the relevant section of the UCAS application form (particularly in the case of mature candidates).
Writing your personal statement
The personal statement on your UCAS form helps us to assess the nature of your interest in the academic subject and is an important part of the selection process. Read our hints and tips from Eric Holland from our admissions team for ideas on what to include. UCAS also gives advice about writing a personal statement.
We understand that you want to get your application to university just right. To help you make the most of your 4,000 characters, we have written 8 ways to help you perfect your UK university application
UCAS terms explained
The UCAS glossary of terms will help you to understand the application process.
Will I receive an offer?
Offers are made based on an overall review of the application. We will be looking at your predicted grades, breadth of knowledge demonstrated through qualifications, personal statement and work experience.
The application submitted should be fully completed, including details of all previous qualifications, and an up-to-date reference from the most recent academic institution, along with predicted grades. Personal statements should be thoughtfully constructed, well written, of the appropriate length and relevant to the subject applied for.
Leeds University Business School receives approximately 14 applications for every place available, which unfortunately means that we have to disappoint some candidates. An application may be rejected for one of the reasons below, or based ultimately on its overall quality.
Potential reasons for rejection:
Grades achieved after an unacceptable number of re-sits – typically we expect candidates to have completed their A-level or equivalent qualifications in 3 years total (though not necessarily consecutively)
Unacceptable vocational qualifications presented in lieu of A-level qualifications (see equivalent qualifications for further information on the combinations we accept)
Failure to respond to a request for more information before the given deadline (where information is missing from the application form or additional clarification is needed, an email request for this information will be sent to the email address provided in the UCAS application)
Low predicted or achieved grades
Poor personal statement (see personal statement hints and tips on what to include).
Please note that meeting the academic entry criteria does not automatically result in an offer being made.
Feedback on an unsuccessful application
Unsuccessful applicants may wish to request feedback on the reason for the outcome of their application. All requests for feedback must be made via email to the undergraduate dmissions team at lubsugadmissions@leeds.ac.uk.
Admissions policy
You can find a copy of our admissions policy on each of our course pages.