Khusro Memorial Lecture 2018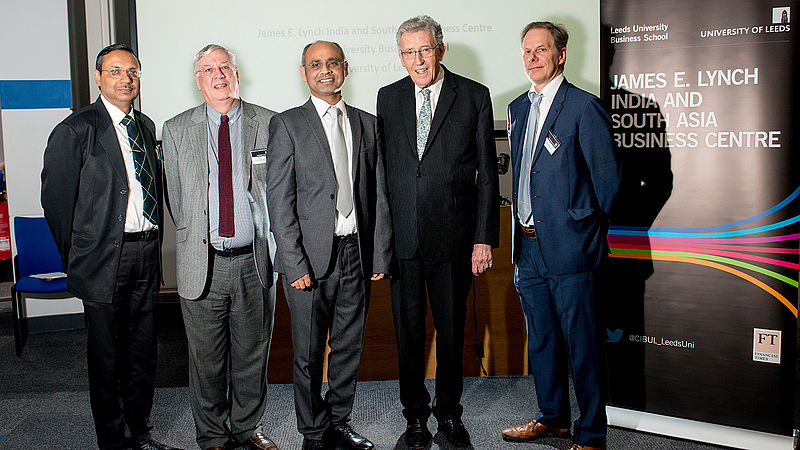 On the evening of 30 November, the James E. Lynch India and South Asia Business Centre (ISABC) welcomed the Rt. Hon Lord Howell of Guildford for the Khusro Memorial Lecture 2018.
The lecture is hosted by the Leeds University Business School and is held in memory of the late Professor Khusro, an alumnus of the University of Leeds. He was a distinguished academic, journalist, administrator and policy analyst in India. His PhD in Economics entitled 'An Investigation of Liquidity Preference', earned at Leeds in the 1950s, has been quoted extensively by Nobel laureates like Paul Samuelson, Milton Friedman, James Tobin and Franco Modigliani.
This year, Lord Howell delivered a fascinating lecture on the key concerns that Britain has and its possible strategies for re-positioning Britain post-Brexit in today's networked world. He commented: "Today's leaders of nations need to be good cooks. That is to say that they have to work with many new ingredients of enormous complexity, and use new ingenuity, new creativity and entirely new skills if they want to serve their followers and peoples with something that is popular, digestible, healthy and also realistic."
Lord Howell has served the UK for 50 years, both as a Member of Parliament and a peer of the House of Lords. He is the only Minister to have served in Ted Heath's Margaret Thatcher's and David Cameron's governments. He has held many important positions, including Minister of State (Foreign and Commonwealth Office), Secretary of State for Energy, Shadow Deputy Leader of the House of Lords and Chairman of the Windsor Energy Group.
The event was well received by students, staff, alumni and external guests with a lively Q&A following the main lecture. Associate Professor Surender Munjal, Director of the ISABC, said: "We were delighted to welcome Lord Howell and honour the Late Professor Ali Khusro. Lord Howell's lecture was thought-provoking and guests appreciated the insights given into Britain's place in an increasingly connected world."
Lord Howell joins a long line of eminent speakers at the Khusro Memorial Lecture. In previous years, the lecture has been delivered by The Rt Hon Lord Marland of Odstock, Chairman of the Commonwealth Enterprise and Investment Council, Professor C. Rangarajan, Former Governor of the Reserve Bank of India, Dr YV Reddy, former Governor of the Reserve Bank of India, and Martin Wolf, CBE, Chief Economics Commentator at the Financial Times.
View photos from the event on our Flickr page
Find out more about the James E. Lynch India and South Asia Business Centre (ISABC)