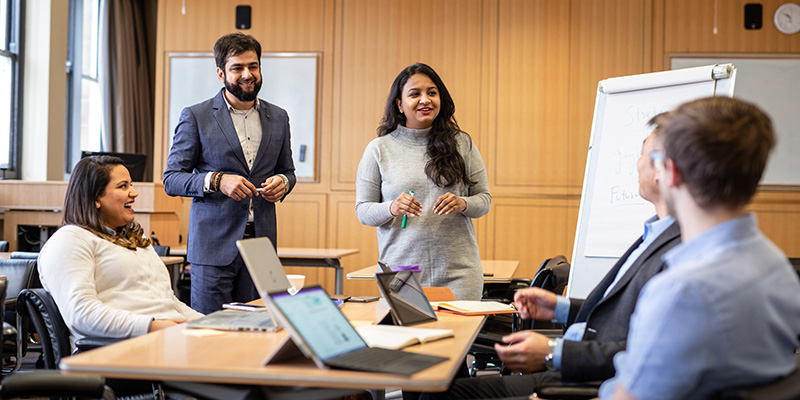 A core part of the Leeds MBA is our focus on practice-based learning. This means that you'll work with industry to put the knowledge and skills you develop to the test in real-world business scenarios.
Live Challenges
You'll undertake three, distinct live challenges, each designed to give you the skills needed to step up to a C-suite position, pursue a career in consulting, or start your own business.
Our live challenges are devised in collaboration with business practitioners and real organisations. You'll work with a range of organisations, consider different business case studies, and apply your knowledge to genuine, contemporary business challenges.
This challenge forms part of the Strategic and Entrepreneurial Management module. Through this challenge, you'll generate ideas for new commercial opportunities, either in a start-up or an established corporate context- often for a high-profile global organisation.
Working in teams, mentored by Business School staff and experienced practitioners, you will have to show creativity and insight to develop a new product or service proposition and, crucially, the plan to put it into practice. 
This project tests your teamwork and entrepreneurial skills, ensuring you gain a real understanding of the new venture planning process and its various challenges.
This challenge takes place during the Leading in Practice module. By this point in the programme your leadership and management knowledge and skills will have reached a level whereby you can confidently provide high-quality consultancy support to a business in need.
Often this challenge sees students working with small to medium sized-businesses, social enterprises or voluntary sector organisations – organisations that may not have the funds or managerial resources to address their most significant challenges.
You'll engage with the client, diagnose a significant problem or issue affecting the organisation, make a positive intervention, and take appropriate action to either remedy the situation or make recommendations for further action.
As the culmination of your MBA experience, during the Creative and Innovative Thinking module, the capstone Innovation Challenge allows you to draw on everything you have learnt on the MBA to develop a new product or service.
If you have ambitions of taking your new product or service to market, you can receive support on campus to help you do so: our start-up incubator, Spark, can provide financial support, advice and mentoring, incubation space, and training.
Organisational partners
Previous live challenges have seen our MBA students work with organisational partners such as:
NHS Foundation Trust
TATA
PriceWaterhouseCoopers Consulting
Communisis
Pfizer Health Solutions
Leeds City Council
Jet2.com
Deloitte
GP IT systems
Connecting our students with business is key to the Leeds MBA. If you would like your business to benefit from working on a project with our MBA students please contact MBA Director, Dr Richard Hodgett: R.E.Hodgett@leeds.ac.uk.