Can the North fuel the Northern Powerhouse?
Centre for International Business at the University of Leeds
Research and innovation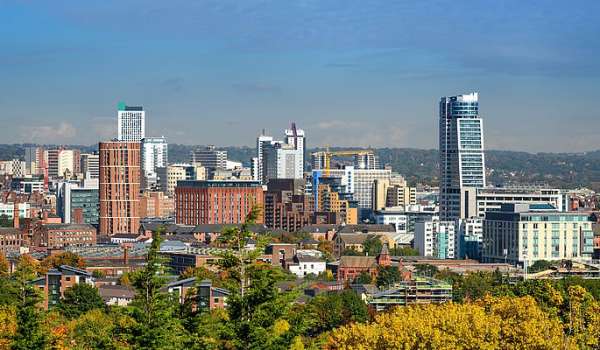 Squire Patton Boggs and Leeds University Business School have called for greater collaboration between business support organisations to provide the region's SMEs with a road map for accessing finance, new technologies and skills. This is the headline finding from a report launched this week, which analyses the results of a workshop held at the inaugural Northern Powerhouse Business Summit in Newcastle in the summer, debating the government's Industrial Strategy and what this means for the Northern Powerhouse.
What is the Industrial Strategy?
"Industrial Strategy" relates to the coordinating of a wide range of economic policies in order to achieve particular objectives. These objectives are not purely economic. The aim of the Industrial Strategy is to boost productivity by backing businesses to create good jobs and increase the earning power of people throughout the UK with investment in skills, industries and infrastructure.
On 27 November 2017, the government published its white paper, "Industrial Strategy: building a Britain fit for the future".
How do we use the Northern Powerhouse to deliver the Industrial Strategy?
On 5 July 2018, the Summit brought together small businesses, government ministers, Northern Mayors, and business leaders from across the North of England and set out to gather tangible outputs from five working groups, each covering a pillar of the Industrial Strategy (Ideas, People, Infrastructure, Business Environment and Place). The intention - to use this information to influence policy and investment, drive economic growth across the North and leave a legacy for future generations.
The Report
The report, a 22 page document released on 13 November 2018, identifies the challenges and opportunities faced by each pillar, the potential for collaboration and key issues relating to the Industrial Strategy. The report also highlights immediate (within a year), mid-term (one to three years), and longer term (four to ten years) recommendations.
Leeds University Business School's Professor Krsto Pandza, Tony Morgan (Visiting Professor), Professor Mark Stuart, Dr Gary Graham, Professor Timothy Devinney and Dr Ian Greenwood, led the group discussions at the workshop. The report is co-authored by Leeds University Business School academics and Squire Patton Boggs Partners.
A sample of the working group's findings are summarised below, with full details available in the report:
Ideas
Challenge - A lot of the time, our regional universities are seen as acting independently; greater collaboration is needed
Opportunity - Digitalisation has led to more start-up companies and more technology than ever before – for instance, in sectors such as automotive and FinTech. We need investment so that we can take advantage of these growth opportunities
Collaboration - The skills in the North East (engineering-centred) are generally in contrast to those in the North West (managerial-centred) – how can we address this and achieve synergy?
Industrial Strategy – Key Issues - Funding and investment for business is crucial. Companies are willing to invest and come to the North, but it needs to be more competitive – eg Wales has substantial amounts of money available for investors
People
Challenge - While people want to upskill, personal risk and practical realities of transitioning (investment of time, reduced income) need to be addressed
Opportunity - Make teaching a more attractive profession and encourage more people to go into teaching. Provide better incentives to teach in disadvantaged areas and improved opportunities for Continued Professional Development
Collaboration - Get businesses involved in schools – to explain what they do, the types of jobs available and invite the students into the plant
Industrial Strategy – Key Issues - Maximise opportunities for businesses and employers to benefit from the Apprenticeship Levy, including more flexible approaches and collaboration
Infrastructure
Challenge - The focus tends to be on discussing and planning infrastructure projects in the North, rather than finding innovative ways of funding and delivering them
Opportunity - Revitalise and rejuvenate existing infrastructure, such as old buildings in the city centres, to attract new opportunities, entrepreneurial businesses and individuals
Collaboration - Work alongside local governments and universities, and pool money and investment within the North to make projects happen
Industrial Strategy – Key Issues - Override the limitations of the current mind-set regarding infrastructure in the North
Business Environment
Challenge - Individuals are disengaged with the political process and there is a sense of social disconnection in the North
Opportunity - Encourage disruptive businesses/innovation, as opposed to having a legacy of large industrial hubs. The North should look towards having a "mix" of businesses in the age of disruptive innovation
Collaboration - The hubs in the North are competing rather than complementing each other. The hubs need to share their talents across the North and people should move between hubs collaboratively. The North's three regions should all be connected, not operate independently
Industrial Strategy – Key Issues - Ensure adequate access to finance in the North to attract start-ups and SMEs
Places
Challenge - Politicians need to embrace technology, fluidity and agility when defining the Industrial Strategy. We should take risks, understand that uncertainties are part of the future and acknowledge that not everything can be future-proofed
Opportunity - The Preston Model is a unique model adopted by Preston Council and Blackpool Council since 2000 – five local universities, the council and local businesses pool resources, assisting each other with their supply chains, employment opportunities and procurement power to support and build local economies
Collaboration - We must realise that the Core Cities and Key Cities are not competing with each other, but against international cities such as Frankfurt, Miami and Philadelphia. When attracting international investors, we must stress that although the region has its individual sectors and areas of expertise (which we can provide in abundance), it operates as a cohesive, collaborative unit
Industrial Strategy – Key Issues - This strategy must be underpinned with clear strategic communications, so people can feel actively involved in the expansion
John Alderton, Managing Partner of Squire Patton Boggs in Leeds, said: "Connectivity has so often be mentioned in the context of infrastructure, but at the workshop and through subsequent discussions, the need to connect access to business support across the North was seen to be equally as important.
"While we are not lacking in organisations offering quality advice to businesses, there needs to be a gatekeeper and clear road map of available support to help businesses navigate challenges and opportunities as they seek to grow."
Leadership Chair in International Business at Leeds University Business School, Professor Timothy Devinney said: "Agencies and universities need to work together across the Northern Powerhouse if we are going to be core to the Government's Industrial Strategy and share in the funding related to it. While Universities can be a key part of the process in terms of pulling together bids, we need the collaboration of corporate and social partners. Even large companies need help in knowing how to access these resources and opportunities, but our universities are well-versed and capable in capturing R&D funding that can be sometimes difficult to obtain. Through this partnership that mixes the best of corporate and university capabilities we can be assured of a joint success."
This conversation must continue. It cannot be a one-off. We need to engage all across the Northern Powerhouse – from the private to public sector, but also our people.
You can read the full report here. The ideas and opinions expressed in this report form part of the conversation at the workshop. They are not necessarily the views of all the participants or the companies that they represent.
The views expressed in this article are those of the author and may not reflect the views of Leeds University Business School or the University of Leeds.