QS ranks Accounting and Finance 90th in the world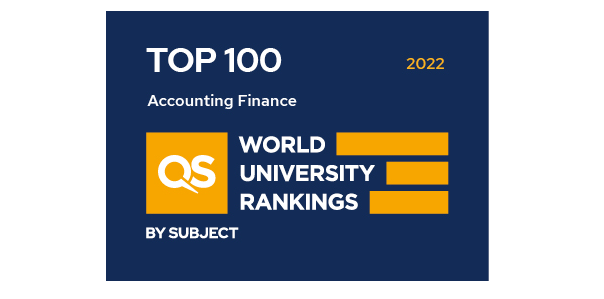 Leeds University Business School has moved joint 90th in the world for Accounting and Finance in the recent QS World University Rankings By Subject 2022.
The QS World University Rankings By Subject 2022 are based upon academic reputation, employer reputation and research impact.
Each of the subject rankings is compiled using four sources. The first two of these are QS's global surveys of academics and employers, which are used to assess institutions' international reputations in each subject. The second two indicators assess research impact (based on research citations per paper), and h-index (the productivity and impact of published work), in the relevant subject. You can read more about the methodology on the QS website.
Professor Konstantinos Bozos, Head of the Accounting and Finance Department at Leeds University Business School, commented:
"To be recognised in the top 100 for Accounting and Finance in the QS World University Rankings by Subject is a great achievement."
I would like to thank all my colleagues in the Accounting and Finance Department for all of their hard work that got us here.
"The QS Subject Rankings are based on the expert views of fellow academics and employers across the globe; to have a place in the top 100 worldwide is testament to our growing academic reputation, as an Accounting & Finance Department with global research and teaching impact."
Professor Julia Bennell, the Business School's Executive Dean, commented on the important contribution of research:
"We scored very strongly again for research citations and h-index which demonstrates the breadth and impact of our research outputs. As a research-led institution we embrace a diversity of views, and it is this world-leading research that informs our innovative student programmes."
Find out more about our performance in rankings.