Helping harness the benefits of artificial intelligence for consumer finance company
Experts at Leeds University Business School have worked with finance provider, Novuna Consumer Finance, to explore using AI technology to make improved decisions for customers.
Research and business experts at Leeds University Business School have worked with leading finance provider, Novuna Consumer Finance, to explore using Artificial Intelligence (AI) technology to make improved credit decisions for customers and safer business decisions.
Novuna is one of the UK's most trusted providers of retail point of sale finance and personal loans, lending over £2.3bn to more than a million customers each year. As the world embraces new technologies and ways of working, the company is working to provide innovative financial solutions and outstanding customer experiences.
One of the key challenges for Novuna is credit scoring for high volume lending. If the decline rate on loans offered is too high then businesses offering consumer goods will move to other consumer finance providers, but if the rate of bad debts is too high, then the business is not profitable. Similarly, it is a major challenge to make effective lending decisions for unsecured personal loans.
Cutting-edge research expertise
To find a solution to these challenges a team of academics from the Credit Management Research Centre and the Centre for Financial Technology and Innovation (based within LUBS) have collaborated with Novuna to investigate the capabilities of AI technology in supporting loan companies to make more informed credit decisions for customers.
This practical project involved Leeds University Business School working with Novuna to investigate and improve the performance of application credit scoring models. As Dr Marek Kacer explained, "it involved working with large consumer credit data files, replicating existing modelling techniques and developing new AI models with the objective of making better credit decisions."
Dr Nabi Omidvar, Assistant Professor at Leeds University Business School, commented:
The research team were delighted to work on the AI aspect of this joint project which will influence the strategic implementation of AI within Novuna, improve their operational conductivity and create a strong platform for growth.
Professors' Iain Clacher and Nick Wilson emphasise that "there is huge commercial interest in AI and a real need to investigate how it might perform in real world applications. As academics we are committed to understanding the problem and providing insights which will enable our clients to make informed business decisions."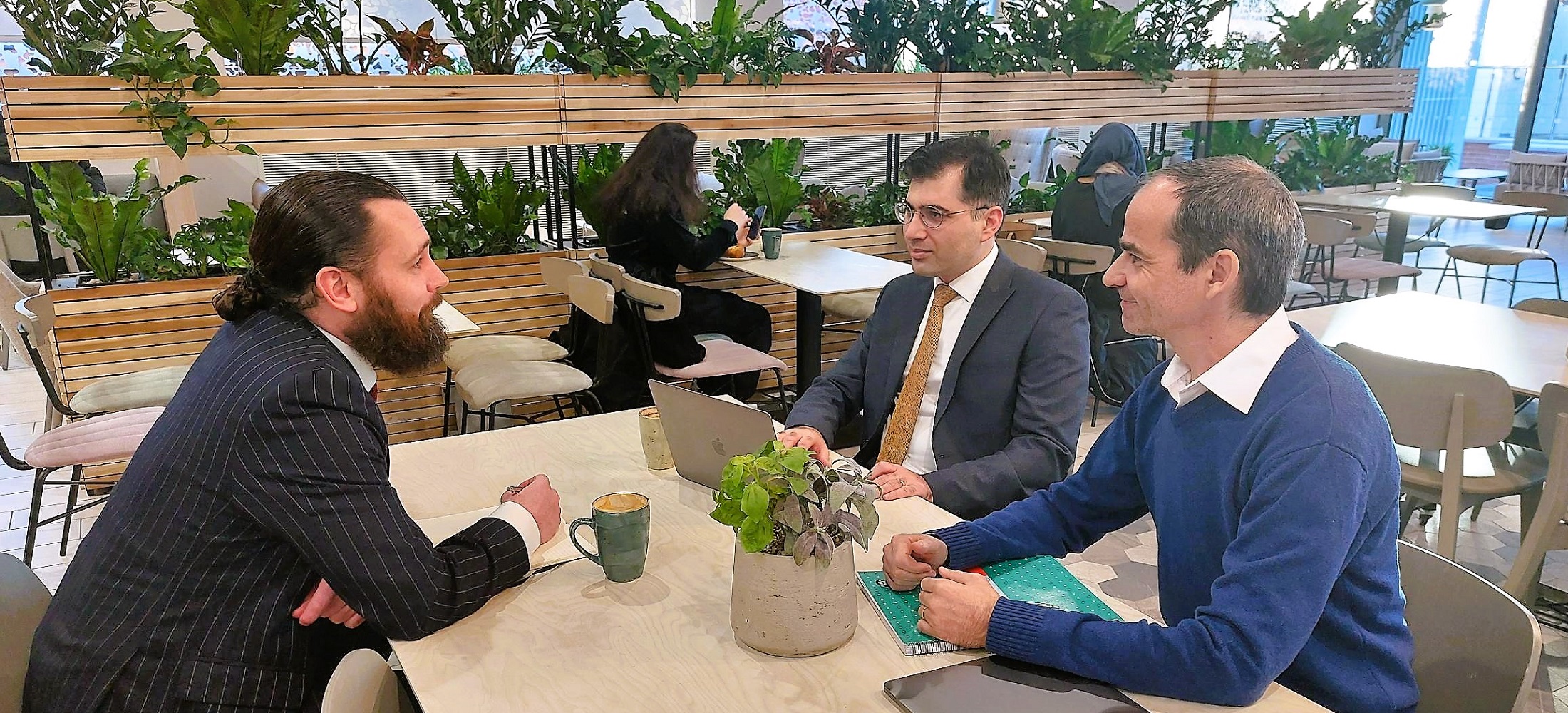 Broader perspective
David Jenkins, Senior Risk Manager at Novuna, said
Working with Leeds University Business School has been refreshing. In many ways, the multi-disciplinary team of business and research experts works like a traditional consultancy. However, because they share our enthusiasm to explore the extent to which AI can play a role in the real-world, we have been able to tap into different ideas, and work together in a more open and collaborative way.
Focus on impact and outcomes
The project team developed two major solutions which clearly demonstrated that AI models can outperform classic methods of credit scoring and make better credit decisions, leading to Novuna building AI implementation into its business strategy.
David continues "stepping outside the credit risk industry enabled us to challenge accepted 'truths' and to explore different and more innovative approaches, leading to a successful outcome which will make a significant contribution to the future growth of our business."

Keen to draw on our knowledge, skills and expertise?
Leeds University Business School is an internationally renowned centre of business excellence, which works with small businesses, large corporate organisations and public bodies through collaborative research consultancy, executive education and events.
Our collaborative research projects can be longer term projects where a team of academic researchers work with an organisation to address a major business challenge and make a real difference. Research consultancy often relates to shorter term projects, where an organisation requires exploratory research or wishes to draw on the specific expertise of a leading academic. Our consultancy approach is focussed on providing innovative solutions as opposed to the off-the-shelf plans delivered by traditional consultancies.
We are also able to arrange interdisciplinary teams to work with organisations to address complex problems requiring insight and techniques from different areas.
To arrange a time to discuss our collaborative research or consultancy services further, please contact our research office (research.LUBS@leeds.ac.uk).