How to increase the reach of your research publication
Research and innovation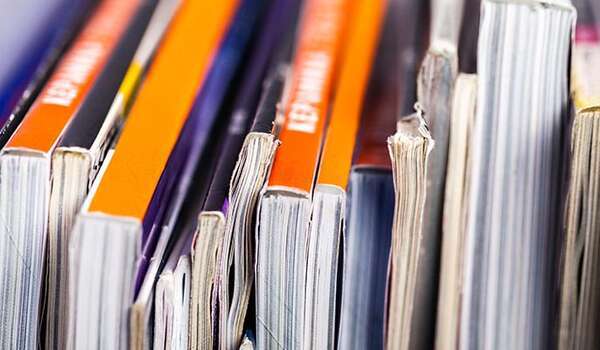 Congratulations – your paper has been published! Now what?
After months (sometimes even years) of hard work - researching, writing, sending for peer-review, editing and finalising your paper - it's worth putting in that little bit of extra effort to try and get it read by as wide an audience as possible.

Not only will this hopefully increase citations, but it will also increase your chances of reaching a wider audience amongst business practitioners, policymakers and the general public.

Here are nine ways you can disseminate your research to a wider audience, both within and beyond academia. The first few points are quick and easy wins; the suggestions towards the end of the list require a little more time and effort.
1. Upload it to your institutional repository
For Leeds University Business School researchers, before your paper was published you should have sent a copy of the accepted manuscript to the Research Office. Your article is then added to the University's Publications Database (Symplectic). The library team will check the copyright and make the paper open access via White Rose Research Online once any publisher-required embargoes have expired.

There are a number of benefits to having your publication available on the institutional repository. As detailed on White Rose Research Online:

"By making your papers available on the institutional repository you can:
Reach a wider audience, including researchers who do not have subscription access to your work
Increase the impact of your work
Meet funder requirements (several research funders require that published research is made openly available)
Be found easily via Google and other search engines, as well as specialised scholarly search engines such as OAIster […]
Provide persistent URLs for your work
Link to your publications from your own web pages
Take advantage of a managed library-based service - we will look after your work
Make your work available to the general public."
2. Add it to your staff profile
Once you have sent details of your journal article to the Research Office and the paper has been added to Symplectic, the article will automatically be listed on your staff profile.

Staff profiles are a great way to signpost to your various different research materials, not only journal articles but also project webpages, social media accounts, media coverage etc. You can also use them as a call-to-action: are you looking for collaborators for a new project or perhaps some new PhD students to supervise? Make this clear in your research section.
3. Add it to your email signature
How many emails do you send to different people in a day? Each recipient is potentially a pair of new eyes for your article. Adding a link to your publication (preferably an open access version) in your email signature is a quick and easy win. Keep it simple with something like "Read my latest journal article 'Title'".
4. Share it on social media
If you are on social media in a professional capacity, you already have a ready-made platform to share your journal article. If you don't have an account, you could ask your School/Faculty if they can share a link to the publication.
If you are on Twitter, you can 'pin' your tweet so that it stays at the top of your profile and so is more prominent.
Although LinkedIn tends to be a Business-to-Business platform, you can still share your journal article on here, particularly if you have it in a more accessible format (see below), or if you provide a summary of it in your status update.
You can share your article more than once on your social media channels. You don't want to sound like a broken record, but every few weeks or once a month is fine. Think of different reasons to share it – has something happened in the news that's related to your research that you could link to? Is there a conference taking place where participants might be interested in it? Is there a national/awareness day that relates to your research?
5. Send it to a mailing list
If you are a member of an association or group with a mailing list, you could share your article with the group. Be careful not to spam people – only send it if you think your article is relevant (and it can be accessed). Make sure you give a reason as to why members may benefit from reading it. Eg "Last month someone raised a question about insert topic. My research looks at this from the perspective of… I've recently had a paper on this topic published which you may find useful when considering... Here's a link to the article if you'd like to read it. If anyone has any questions about my findings, I'd be happy to discuss it."
6. Identify specific targets
Try to think of five people who you'd like to read your journal article. Do you have a reason they may be interested in reading your paper eg Did you cite them? See them give a presentation on something similar at a conference? Know they're looking for collaborators? Get in touch with them making it clear why you are contacting them. Perhaps you have a colleague who is already connected to them and you can ask them for an introduction.
7. Generate media coverage
If your school or faculty has a press officer, get in touch with them. Your research is more likely to gain press coverage if it sheds a light on something novel or particularly topical. As well as sharing your research, you could let your press officer know that you're happy to provide an expert opinion on certain topics that are likely to feature in the news.
In addition to the general press (regional, national and international), there are outlets such as The Conversation which publishes research and academic comment online, but written in a journalistic style.
You could also look at trying to publish your research findings in industry magazines. Most sectors have at least a couple of magazines aimed at practitioners in that area. Some may be happy to receive a written piece from you, whereas others might be interested in you contributing to a wider feature or answering a Q&A.
8. Translate it into a different format
You can make your journal article more accessible by sharing it in different formats via different platforms. For example:
Blog post: Blog posts are a lot shorter and more accessible than journal articles. They are easy to share and can include links to other relevant publications and websites.
Podcast: Podcasts are an increasingly popular way to consume content. If you don't have your own podcast, see if there are any opportunities to feature on someone else's.
Practitioner reports/Executive summary: These are short summaries (eg two or four-page documents) written with a particular audience in mind, such as managers in a certain industry. These should be free of academic jargon, but you can use technical language specific to your target industry.
Visual summaries: Visual summaries have less text than reports and are another engaging way of getting business practitioners, policymakers and other third parties to read about your research, particularly those who are short on time. Here's one created for Dr Isla Kapasi's project on an examination of motivations in a context of poverty entrepreneurship.
9. Share at an event
If the findings you have published in your paper are useful to a particular sector or region, look to see if there are any industry events that you could present at. For example, the Chamber of Commerce, Federation of Small Businesses or Institute of Directors may have events and conferences that you could speak about your research at. You will need to make sure you tailor your presentation to a business, rather than academic, audience.
Your school, faculty and/or institution may also host events where you could present your findings. The Business School regularly holds Ideas in Practice seminars where our researchers share their work with practitioners and policymakers.
Other useful tips
If the weblink to your journal article is too long to share, you can use a service such as Bitly to shorten the URL. You can also rename the short link. Bitly also shows you how many users have clicked on the link you've shared.
Where possible, use a "call-to-action". Do you want people to just read your article, or do you want them to also go to a related project website? Do you want them to read another article, or share their thoughts on the research with you?
You don't have to do everything on this list. You can pick and mix what feels right for you, and hopefully the more you do it with future publications, the more visible your research will become.
Hannah Preston runs workshops throughout the year for Leeds University Business School academics on 'How to raise your research profile.' If you are interested in finding out when the next workshop is, please contact Hannah (h.preston@leeds.ac.uk).
The views expressed in this article are those of the author and may not reflect the views of Leeds University Business School or the University of Leeds.