The Fourth Industrial Revolution: Challenges and Opportunities
Centre for Operations and Supply Chain Research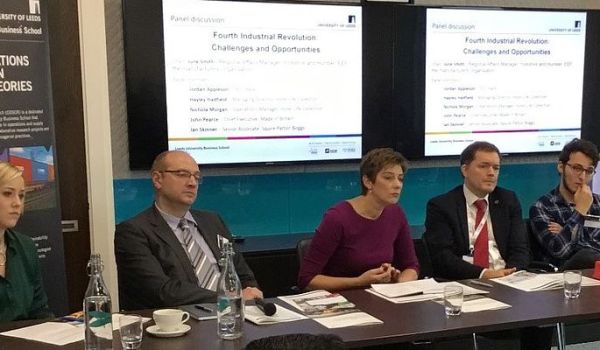 Using digital technologies to make the supply chain much more efficient is one thing, but a more radical proposition is one in which their innovative application leads to entirely new business models and market strategies. Predicting the future can be ineffective, therefore one solution is to shift from prediction to preparation and readiness.
A Supply Chain Summit, organised by Leeds University Business School in collaboration with the Supply Chain Council and Squire Patton Boggs, was held on 7 November, bringing together academics and industry to explore issues such as whether supply chains in the Northern region are ready to embrace and exploit emerging technologies.
As part of the event, June Smith, Regional Affairs Manager - Yorkshire and Humber, EEF, led a panel discussion on the Fourth Industrial Revolution. Below, she discusses the challenges and opportunities the revolution presents.
What is the Fourth Industrial Revolution?
The Fourth Industrial Revolution (4IR) is ushering in new technologies and techniques that will change the products, processes and supply chains involved in every aspect of the manufacturing sector. This data connectivity technology will enable manufacturers to maintain their competitive edge in a rapidly changing world, and respond flexibly and quickly to customers' requirements. There are three core components to this transformation:
The Industrial Internet of Things (IIoT) – machines and technologies collecting, sharing and acting on data between themselves
Big Data – the capture of data on everything and real time analysis of that data by machines and systems
Secure and reliable digital infrastructure – a resilient network to link up supply chains.
How are SMEs engaging with it?
EEF's Manufacturing Outlook Survey 2018 Q2 reports that 30% of firms are in the 'pre-conception' phase of 4IR implementation ie doing nothing, and 27% are at the conception stage, asking "what is all this about?", "how can it help?", and "what are others doing?".
39% of SMEs are taking their first steps into the 4IR and are considering how to incorporate smart technology into their existing machinery and systems (the evolutionary stage) and only 4% of British manufacturers are 4IR revolutionaries.
What are the benefits to SMEs that engage with the Fourth Industrial Revolution?
Manufacturers that engage with 4IR can expect to see:
Improved labour efficiency – in the UK the manufacturing sector has a considerable skills gap which is a principle inhibitor for growth. The fear that 4IR is going to reduce the number of jobs is unfounded. Numbers of new entrants into the manufacturing sector will not be enough to compensate for those leaving and there will also be a requirement for new highly technical skills through new and changing job roles in production and design. Leadership and management skills will be just as important in the successful introduction of new business models and evolving business cultures that are required to support them.

Increased productivity – manufacturers need to increase their productivity and competitiveness in global markets. Sensors and big data analytics offer the potential to understand in finer detail the entire production process, the unknown dependencies and how small changes can unlock huge production efficiencies and savings. More effective use of resources and improved productivity will be a requisite in order to meet future customer expectations of a quicker time to market.
What are the barriers SMEs face?
In addition to the skills requirement mentioned above, other barriers to 4IR introduction include:
Data infrastructure and compatibility - 4IR is about trusted data transfer and connectivity and the UK lacks a reliable and fully connected, cost effective digital infrastructure with a good choice of providers. The lack of interoperability of technologies across different systems and platforms will be a barrier for manufacturers and will require new supply chain collaborative approaches.

Slow adoption or lack of understanding of new business models – emerging models include: personalisation of products/mass customisation to provide greater customer specificity, service-enhanced business models with increasing revenues derived from services related to the final product sold, design led outsourced factory production, and circular economy whereby initial design considers future re-manufacturing

Understanding the business case – 4IR adoption is something that manufacturers will have to consider and apply to meet their business strategy. Ultimately 4IR is about enabling manufacturers to respond to modern industrial competitiveness pressures, while allowing them to serve the modern customers who will increasingly expect a more nimble approach to manufacturing.
Cyber security – manufacturers need to understand and adopt appropriate cyber security options which will secure their data, with consideration given internally to HR and production processes and externally through their supply chain connectivity.

Buy in and engaging with the Fourth Industrial Revolution - customer expectations will drive change but it is important that the UK manufacturing sector strives to be early adopters if we are to remain competitive in a global market place. Business cultures will need to embrace innovation, with the role of technology embedded as part of business planning and the need for a reorientation of leadership away from day to day operations and towards shaping their new business models for the future. IT roles will no longer be back office roles but instead have responsibility for developing and implementing new technology solutions
How SMEs can engage with the Fourth Industrial Revolution
There are three main areas within 4IR for business engagement:
Smarter supply chains – greater coordination and real time flow of information across supply chains and relationships allows better tracking of assets and inventory and integrated business planning and production. This unlocks new ownership and collaboration models across supply chains.
Smarter production – the use of data analytics and new production techniques and technologies (such as autonomous robots, multi-purpose production lines and augmented reality) helps to improve yield and speed up production. This allows new business models to be pursued such as mass customisation.
Smarter products – Rapid innovation and a faster time to market is enabled by data collected from products along with user feedback, whether direct or collected via social sentiment on the internet. This data also allows remote diagnostics and remote/predictive maintenance.
Manufacturers wishing to understand how to start or take the next step on their 4IR journey can contact June Smith, Regional Affairs Manager (Yorkshire & Humberside ) at EEF at jsmith3@eef.org.uk.
You can view photos from the Supply Chain Summit on the Business School's Flickr page. If you are interested in finding out more about the Supply Chain Council you can visit their webpage.
The views expressed in this article are those of the author and may not reflect the views of Leeds University Business School or the University of Leeds.