Nurturing Talent: Celebrating the Mentor and Mentee of the Year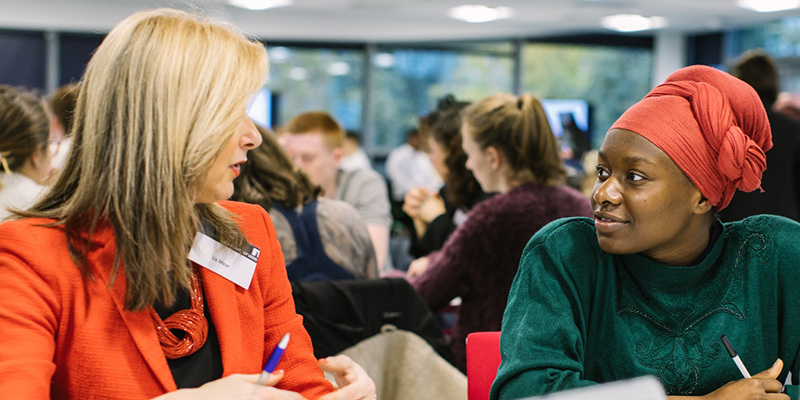 The Nurturing Talent Mentor Scheme (NTMS) has announced winners of the Mentor of the Year and Mentee of the Year awards for the academic year 2019-20.
Mentee of the Year was awarded to first year Management with Marketing student Natalie Edwards, who was nominated by her mentor Kelly Hobson from Ligentia. On winning the award, Natalie commented:
"I feel very excited to have been awarded mentee of the year, especially being in my first year on the scheme!"
I'm so grateful to have been paired with such an amazing mentor as Kelly, and I've learnt so much over the last seven months, from making many new connections, developing new skills and launching my own blog.
"I look forward to continuing my mentoring relationship with Kelly and starting new projects as I go into second year."
Mentor of the Year was awarded to Delaney Brown from CPPIB, who was nominated by his mentee Edward Adams. Delaney, an alumnus of the University who has been mentoring Edward for two years commented:
It was an absolute pleasure to act as Ed's mentor over the past two years. I think I got as much, if not more, out of it as him. It was exciting to see his ideas and aspirations develop and if our conversations help even just a little in his long-term journey then I see this as 'mission accomplished.'
"I would highly recommend the NTMS programme for any Leeds alumni that are thinking about how they can help with the next generation of students."
This year a new award was introduced for Mentoring Relationship of the Year, and was awarded to Jo Smedley from Zest Learning and her mentee Courtney Grainger. Runners up in this category were John Bullock from Yorkshire Bank and his mentee Mollie Pickering.
The NTMS scheme connects Undergraduate students at the Business School with professionals from industry. Anna France, programme manager, commented:
This has been a challenging time over the past couple of months, but reading through the nominations that came in from mentees on the scheme you realise the importance of a mentoring relationship to our students and having someone who can provide support, resilience and encouragement in difficult times.
Find out more about the Nurturing Talent Mentor Scheme at Leeds University Business School.