Chinese New Year rang in with festivities at Leeds Town Hall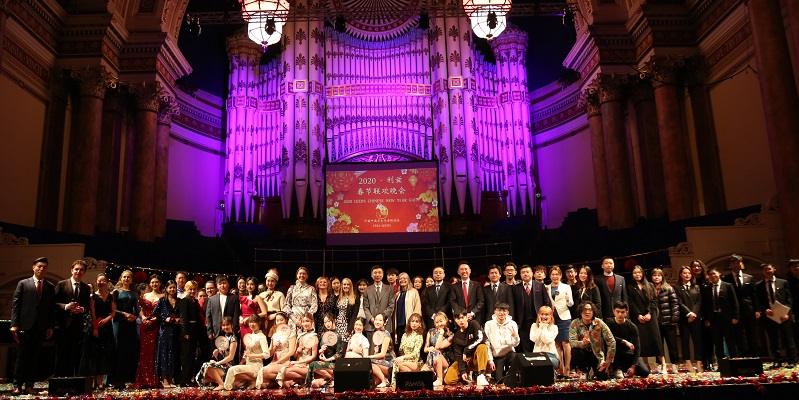 On Thursday 30 January students and Leeds residents gathered at Leeds Town Hall to celebrate the arrival of the Year of the Rat with a spectacular variety show.
The show was organised by the Chinese Scholars and Students Association (CSSA) and supported by the Business Confucius Institute at the University of Leeds (BCI).
The Gala was attended by VIP guests including the Lord Mayor of Leeds and Counselor Jiang ZHAO and Deputy Consul Xiao HU from the Consulate-General of the People's Republic of China in Manchester.
The CSSA Chinese New Year Gala follows in the tradition of the spectacular TV variety show broadcast to millions of Chinese homes each Chinese New Year's Eve. Gathering together to usher in the New Year with music, dance and other cultural performances gives students and Chinese residents in Leeds a sense of community at this important time, when they may feel particularly homesick due to missing family celebrations back in China.
Performances included a lion dance, acrobatics, Chinese zither and calligraphy, street dance and more.
The show also celebrated the long tradition of the CSSA in Leeds, which is now in its 36th year. The society is a key source of information and advice for Chinese students in Leeds, and also provides a programme of cultural activities. CSSA President Mr Mingchu Wang is a Postgraduate Researcher in the Management Division at Leeds University Business School.
He said:
"The Chinese New Year is the most important cultural event for the Chinese community globally. The gala showcased the rich Chinese culture and the talent of Chinese and international students in a positive and engaging light.
"Over the course of the evening we dedicated two performances at the gala to send our regards and solicitudes to those in China and the rest of the world who have been affected by the coronavirus outbreak.
I, on behalf of 189 CSSA-LEEDS colleagues and over 5000 registered members, wish all people living in Leeds, no matter their nationalities and ethnicities, a happy, healthy and prosperous the Year of the Rat in 2020!
The BCI, based in Leeds University Business School, promotes the understanding of Chinese language and culture. BCI Chinese Director Professor Youzhi TAN said:
The Business Confucius Institute is delighted to support this event every year, helping to bring together the Chinese community in Leeds as well as introduce non-Chinese people to Chinese culture and the amazing talents of our student community. CSSA President Mingchu Wang and his team did a fantastic job and we look forward to continuing our close relationship with the CSSA in the Year of the Rat.