Leeds MBA students bring innovative ideas to Konica Minolta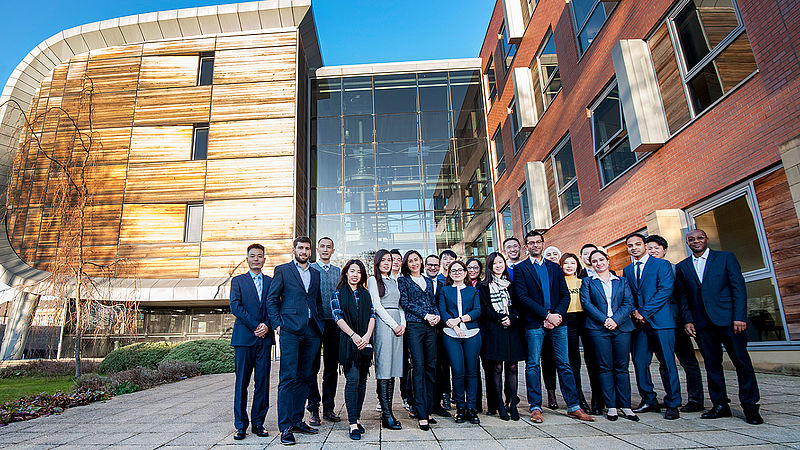 Leeds Full-time MBA students had the opportunity to flex their creative muscle this month as part of a live consultancy challenge for one of Japan's leading companies, Konica Minolta.
The New Venture Challenge, which is a core component of the Strategic and Entrepreneurial Management module on the Leeds MBA, tasked students to work together and pitch their innovative and enterprising ideas to Senior Client Principal at Konica Minolta, Milan Lakhani (KM).
A global enterprise with more than 44,000 employees in over 50 countries, Konica Minolta has a long-tenured history in the science of optics and technology. Working in teams mentored by Business School staff, presentations took place in the Business School's dedicated Executive Boardroom in December to Senior Client Principal, Business Innovation and Digital Transformation at Konica Minolta, Milan Lakhani.
Students focused on four key areas of growth for Konica Minolta including; the Digital Workplace, New Health Sector, Innovation as a Service and Ambidextrous Organisations.
Priyanka Sharma, an Indian MBA student, and her diverse team of colleagues including team members from Ghana, South Korea and China said global experiences like these are critical to the MBA experience:
"One key reason for me opting to pursue my MBA at Leeds, after working in Banking for seven years, is to gain global exposure. Konica Minolta has a global presence and gave the MBA cohort an opportunity to understand the key challenges the organisation is facing during its transition from a core technical organisation to a service oriented corporate."
Aside from developing meaningful and enduring corporate relationships, opportunities like the live challenges play a critical role in helping the MBA students test their classroom learning by applying it to real-world situations.
James Roberts, Director for the Full-time MBA said, "The live challenges have a critical role in helping our MBAs test out the theory we teach them in the classroom. Some of it will work, and some of it won't. By going through this process they become more critical thinkers and better business people. It's also an important reminder of the commercial realities of corporate change. The ideas they develop during the live challenges not only have to be innovative, they need to be 'doable'. This is a very important discipline."
Milan Lakhani, who is also an Associate of the Centre for Technology, Innovation & Engagement (C-TIE) at Leeds University Business School, spoke on the quality of the Leeds MBA students and importance of meaningful collaboration: "The quality of students is fantastic, with such a dynamic mixture of skills, background and knowledge. We built upon last year's learnings and applied a new approach this year resulting in the MBA students providing six innovative ideas as part of their formal project submission of the innovation and entrepreneurship module.
Each of these ideas will be evaluated by the Konica Minolta Business Innovation Centre team, and we will seek to explore whether any can be taken forward for incubation. At Konica Minolta, we strongly believe in collaboration through innovation and the power of many; the partnership with the University of Leeds is a perfect example of how we can give shape to ideas."
Widely known for their copiers, laser printers, multi-functional peripherals (MFPs) and medical imaging systems, the company is also renowned for their co-innovation, working with academic institutes, start-ups and customers to bring new ideas to the world as a part of their Business Innovation Centre (BIC).
Business Innovation Centres are established in five major regions throughout the world and act as the core engine of growth for Konica Minolta helping to fuel the next generation of ideas and innovation.
The challenge will culminate with a final assessment report with hopes of providing the next generation of co-innovations, technology and creativity that will deliver significant change for years to come.
Interested in studying the Leeds MBA? You can meet Dr Tao Jiang in Tokyo this month or join one of our MBA events.