British Council Study UK alumni award winner returns to campus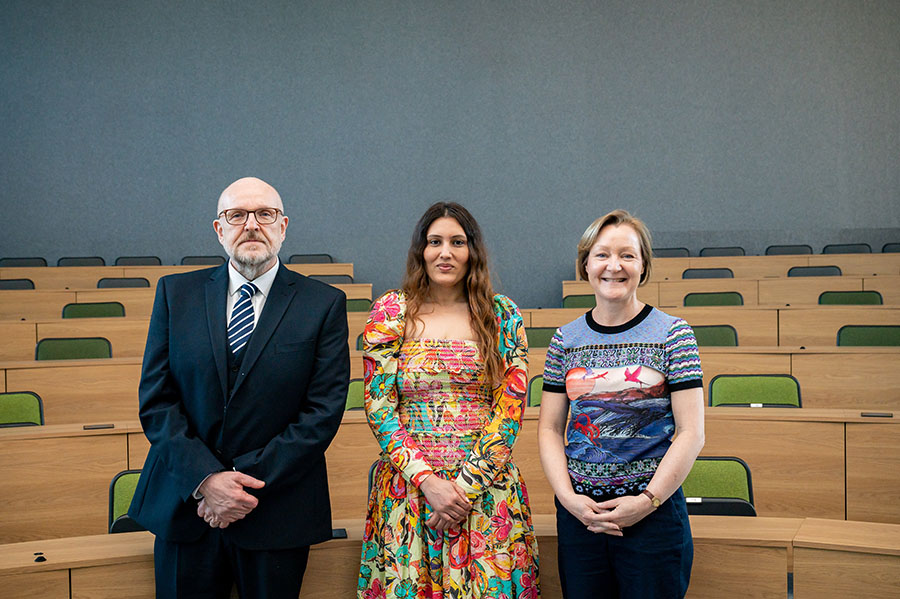 The Business School was delighted to welcome alumna Anu Shah (MBA 2012) back to Leeds to speak with students.
Anu was recently announced as the Global Entrepreneur Winner in the British Council Study UK Alumni Awards 2021 and was invited back to the UK as part of her award, to visit campus and attend the Study UK Great Scholars Welcome and Networking event in London. Anu was also invited to the House of Lords to discuss her philanthropic and entrepreneurial initiatives with fellow Leeds alum Baroness Usha Prashar (Politics 1970).
Professor Julia Bennell, Executive Dean, Leeds University Business School welcomed and introduced Anu to Business School students at a campus event. Dr James Roberts, MBA Director, interviewed Anu about her reasons for studying an MBA, her perspectives on leadership, and her advice for prospective entrepreneurs. Anu then went on to answer questions from Business School students and the event continued with refreshments and networking. Anu was also pleased to meet with Professor Nick Plant, Deputy Vice-Chancellor for Research and Innovation, University of Leeds.
Anu Shah is a globally successful entrepreneur and a powerful advocate for gender parity through entrepreneurship and innovation. Her career journey has been remarkable; after starting out in a call centre in India she went on to work in M&A, Strategy Consulting, Private Equity across Singapore, Dubai, London, and New York. Anu is the founder of EFI Hub, Asia and Africa's first virtual start-up accelerator. Since then she has built, scaled and sold a few start ups in South East Asia and in the United States. She has donated $7mn to the UNHCR refugee rehabilitation programme. Anu has been recognised with numerous awards, including the Woman Icon Asia Award in 2018, and India Business Legend, Forbes India.
Studying at the University of Leeds played a pivotal role in Anu's professional journey, internationally. The MBA programme helped to develop her organisational and managerial skills, which proved instrumental in setting up her businesses, while being part of a global and diverse community inspired her to create lasting social change.