WBRC research seminar; Adapting Offices to the Future of Work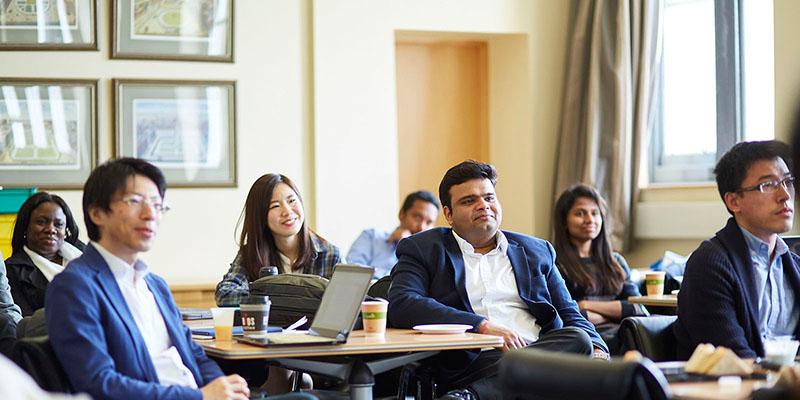 Date: Thursday 3 March 2022, 11:00 – 12:00
Location: Online
Type: Online
Cost: Free
Dr Matthew Davis, Associate Professor in Organisational Psychology, Leeds University discusses Hybrid working through the multidisciplinary ESRC funded Adapting Offices research project.
Abstract:
COVID-19 changed where we work and hybrid working has become the expected norm for workers across industries. What does hybrid working actually mean though and is this the same across individuals and organizations? Existing management and organizational behaviour literature have examined psychological and organizational implications of remote or home working, but more dynamic forms of working, e.g., hybrid working, are not well understood. What do changing work patterns mean for the types of workplaces that organizations provide employees and how can we best support an increasingly diverse set of work patterns? The extant multi-disciplinary workspace design literature has predominantly focussed on exploring the effects of changes in configuration of offices for those based full-time in these spaces. Emerging literature examining Activity Based Working concepts provide an insight into the types of spaces that may become commonplace to support hybrid working, but these have not been examined at scale or across the wider range of jobs and sectors now reporting a move towards hybrid.
In this talk emerging findings from the multidisciplinary ESRC funded Adapting Offices research project are shared to help explore these unknowns. A socio-technical systems framework is applied to identify key factors and trade-offs relating to the design and operation of offices during the COVID-19 pandemic and adaptations to offices and ways of working being implemented to respond to changing work patterns post-pandemic. The analysis is based on semi structured interviews (n=74) with organizational leaders, facilities managers, HR and IT staff from seven case study organizations, together with industry stakeholders (design consultancies, developers, office providers). The interviews provide a whole system understanding of the structural and external factors influencing the design of office space. The discussion will be complemented by reflection on initial findings from 91 employee interviews and a longitudinal cross-industry survey of office workers. Building upon developing discussion, the implications for organizational psychology theory are highlighted. The practical implications for organizations and the opportunities that the rapid shift in where and how we work presents for businesses are discussed.
About the speaker:
Dr Matthew Davis is an Associate Professor in Organisational Psychology at Leeds University Business School. His research centres on how people interact with their work environments, the design of socio-technical systems and how businesses engage in CSR. Matthew has worked on a range of applied research projects with corporate partners including Rolls-Royce, Marks and Spencer, Next, Atkins, Arup and British Gas. Matthew is currently leading a ESRC funded multi-disciplinary project examining office adaptations in response to COVID-19 and how office design and ways of working impact employee social networks, workflow and performance.