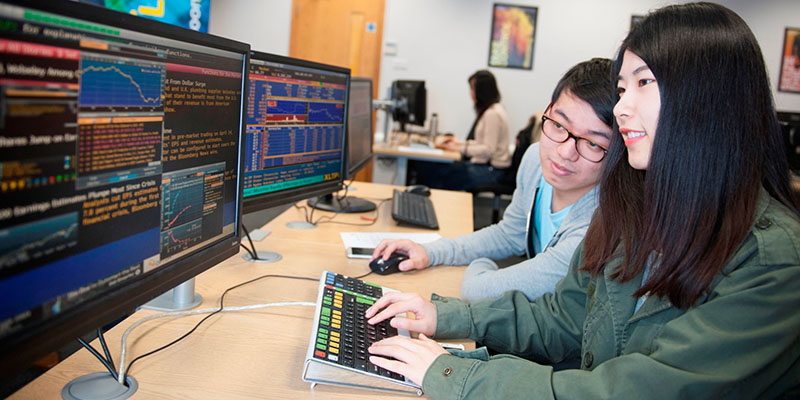 To support the creation of impactful research, and provide a learning and teaching environment to match, the Accounting and Finance Division has invested in an excellent provision of databases.
This in-depth range of access is supported by dedicated Research Officers responsible for managing and maintaining databases, and educating end-users in the use of databases resources.
This area is further enhanced by a support tier of specially trained academic researchers available to assist staff and students with database specific knowledge and access techniques.
In addition the School is proud to host a fully-equipped financial trading room, boasting a full suite of Bloomberg and Thomson Eikon/Thomson Datastream terminals.
| | |
| --- | --- |
| Audit Analytics | Institutional Investors |
| Bankfocus | Institutional Shareholder Services (ISS): Directors |
| Bank Regulatory Dataset | Institutional Shareholder Services (ISS): Governance |
| Boardex | Lexis-Nexis |
| Beauhurst | Morningstar Direct |
| Bureau Van Dijk Fame | RateWatch |
| Capital IQ Platform | Research Quotient |
| Centre for Research in Security Prices (CRSP) | SEC-mandated Disclosure of Order Execution Statistics |
| China Stock Market and Accounting Research (CSMAR) | SNL Financial |
| Compustat Execucomp | Thomson One |
| Compustat Global | Thomson Reuters I/B/E/S Estimates |
| Compustat N.America | Thomson Reuters Institutional (13f) Holdings |
| Creditsafe | Trace Bond Data |
| Federal Reserve Bank | Wharton Research Database Systems (WRDS) |
| Fitch Connect | |