Utilising the Internet of Things in business
Centre for Technology Innovation and Engagement
Old technology companies face a triple challenge. They protect a legacy of technological innovation, perform in the present and try to achieve long-term relevance under the threat of disruptive change. Managers from established and complex companies need to navigate their way between lessons from the past, competitive pressures experienced in the present and exploring future opportunities. This is not an easy task.
Five postgraduate researchers from the Complex and Open Innovation for Networked Society (COINS) partnership explore how Ericsson is dealing with this triple challenge.
What are the benefits of coupling our homes with the internet?
We live in an age where it is possible to connect multiple aspects of our homes to the internet. In doing this, we have the ability to remotely control all our household appliances, so that we can turn up the heating, turn on the lights, or have a hot coffee ready as we walk through the door. This is just one example of the potential benefits offered by the Internet of Things (IoT). IoT, in its simplest form, is a network of objects/devices that are able to collect and exchange data via the internet. In other words, IoT allows 'dumb' objects like refrigerators, lamps, and coffee machines to communicate and to be controlled remotely or automatically.
From home automation to driverless vehicles, the applications of IoT are enormous. In 2015, a McKinsey Global Institute report predicted that IoT has a potential to generate $11.1 trillion value globally by 2025 - so what are companies doing to embrace this?
What are the benefits of coupling our businesses with the internet?
The IoT industry is still in the early stages of development (ie emerging). There remains great uncertainty around IoT, both in technical (eg interoperability, security) and business aspects (eg value chain, revenue models). This situation creates a strategic dilemma for every firm that wants to enter into this space. On one hand, the high uncertainty makes it almost impossible for a firm to be confident in what they need to do, and how to do it, to fully capture the opportunities created by IoT. Yet, a 'wait-and-see' strategy is not an option considering the fierce competition in this new area. Consequently, firms have to transform themselves to incorporate IoT without fully understanding how best to utilise such an innovative technology.
---
Spotlight on Fathiro Putra: COINS postgraduate researcher
As a researcher on the COINS project, understanding the implications of emerging technologies (ie IoT) for an established firm, especially in terms of the company's internal strategies and organisational structures, is one of my greatest interests. The project allows me to closely investigate how Ericsson, a multinational telecommunication company, organises itself to pursue new opportunities enabled by IoT. As a connectivity provider, Ericsson sees IoT as a future direction to grow. However, IoT represents a fundamentally different way of doing business for Ericsson. For example, IoT prompts the firm to shift its existing business model from product-focus (ie selling hardware and software) to service-focus (ie selling solutions which charge by usage) and engage with those beyond its traditional customers.
Read more about Fathiro's PhD project here (straight to download link).
---
Separating the new from the old?
Organising emerging technologies within businesses requires substantially different ways of working. Research suggests an effective was of organising is to separate future-oriented activities from the old business, by establishing a stand-alone unit. With such an approach, one part of the organisation can adapt to new ways of working without being contaminated by the legacy of existing business processes; while the other part can continue to drive the core business in a more conventional way. However, this approach might be questionable in the context of IoT technology, which comes with a tremendous variety of potential future applications. The development of IoT-related technologies requires resources and expertise from numerous areas/units within a firm, as well as from external organisations. It is therefore nearly impossible for the firm to 'isolate' IoT-related activities to just one part of the organisation.
COINS workshop at Ericsson HQ
To discuss the strategic challenges of organising IoT-related activities in Ericsson, COINS hosted a workshop on 25 January 2018 at Ericsson's headquarters in Stockholm, Sweden. The workshop was led by Professor Krsto Pandza from Leeds University Business School and Dr Saeed Khanagha from Ericsson. From the discussion, it is clear that a cross-unit collaboration will be the common practice for developing IoT-related offerings in Ericsson. Furthermore, developing IoT solutions requires contributions from other companies outside Ericsson (eg device manufacturers, application providers). As such, new approaches to organising (eg organization structures, governances, and incentives) that allow collaboration within and across organisations are needed.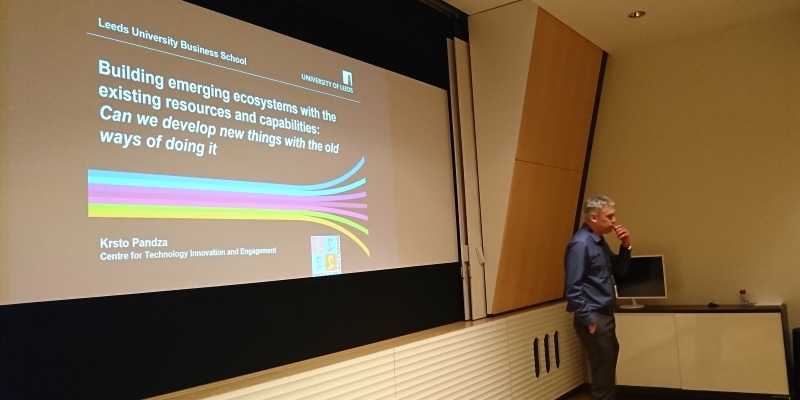 Overall, the workshop gave me valuable insights regarding the strategic challenges faced by Ericsson in the emerging IoT business. I believe investigating Ericsson's transformation towards IoT business provides a fertile ground for me as an Early Career Researcher to make scholarly contributions as well as managerial recommendations
The views expressed in this article are those of the author and may not reflect the views of Leeds University Business School or the University of Leeds.