How to write a book review
Why you should write a book review
Writing a book review is an opportunity for you to share academic knowledge on a particular topic to both an academic audience (those within the same field of study as the subject matter, and also interdisciplinary academics interested in related subjects) and a wider audience, such as policy makers and business practitioners.
Here are some worthwhile motives to write a book review. First, by writing a book review a scholar acknowledges the importance of the field. It is an investment of time to develop further knowledge in an academic arena and by writing a review, you are showing that you think the topic is worthwhile reading and sharing further. Second, it helps you not only to develop sharpness in your writing and critical thinking, but also accuracy, analytical skills, and knowledge of the field of study. Third, doing something different can help you to engage with a community. For example, even if you're not writing a journal article at the moment, by reading and doing a book review, you are still engaging with the field. As Huff reminds us, "writing is a conversation". By this we mean that you are connecting with other articles and reviews; you are building on previous knowledge and providing a platform for others to add to your input. Finally, it can boost your academic confidence. The more you write, the more able you are to get used to the writing process, as well as conversing with editors and receiving feedback on your work.
If you are approached by an editor asking for a book review, you should grasp this opportunity and see it as a rewarding investment for your future career. Even if you decide it's not your cup of tea, you at least have had the experience and now know it's not for you.
7 steps for writing a book review
Set up a plan to dedicate physical space and time to read the book and write the review.
Read the book and take notes. Think about what makes the book unique and what the reader will gain from reading it. What are the "5 W's" - who, what, where, when and why?
In your introduction, give an overview of what the book is about and what you will be including in your review.
Use your notes to present key information in a succinct and informative style.
Connect key points of the book with existing knowledge by using your expertise in the field.
Draft your impression of the book and ask for feedback e.g. from colleagues or a mentor, particularly if you're not writing in your first language.
Check your final draft, ensuring it fits the publisher's guidelines and that you have included all the information needed for your submission.
Getting it published is not the end of the story. Once your review has been published and submitted, make sure you share it – (e.g. social media, email signature, staff profile) to help build your academic reputation. You can then enjoy a cup of coffee and start planning your next writing experience!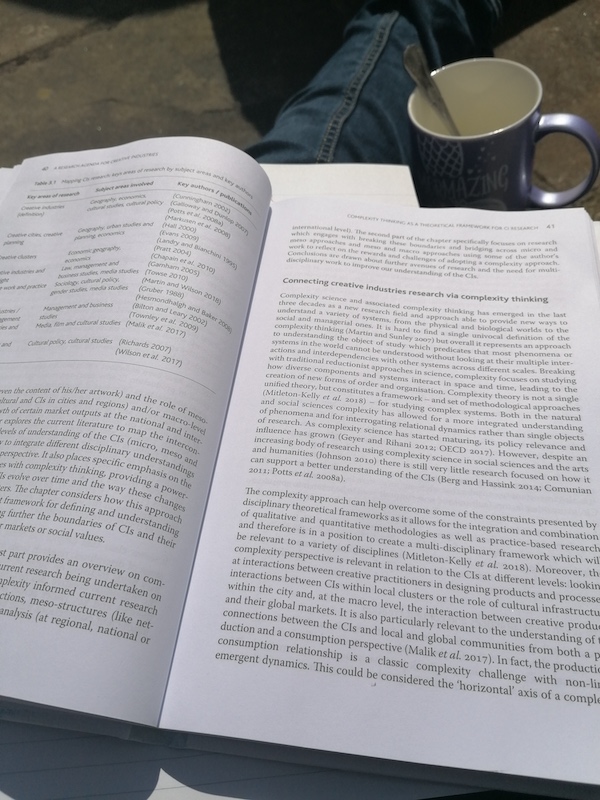 Photo taken by Stefania Romano
My experience
My opportunity to review a book arrived when I received an email from a research network on cultural policy. The editor was looking for volunteers to review different books. I immediately replied to review the book A Research Agenda for Creative Industries by Stuart Cunningham and Terry Flew which is published in Cultural Trends. My research interest is to understand and map the evolution of research contributions in the field of creative industries and this was an excellent opportunity to broaden my knowledge in the field. Reading the book and writing the review allowed me to discuss cutting-edge research within my existing research community at ISBE-CIE (Institute for Small Business and Entrepreneurship – Creative Industries Entrepreneurship) but also to connect with a wider audience nationally and internationally to share knowledge, expertise and create opportunities for potential research collaborations.
The book includes various contributions from academic scholars, industry and policy leaders on historical legacies of the creative economy from different geographical regions in the last two decades and the future research and policy maker directions in the years to come. The blend of various stakeholders' perspectives makes it a worthwhile read for anyone interested in exploring creative and cultural value in our society.
A decade ago I moved to the UK to complete my research on the content of books published in the field of creative industries to map its evolution. By reading A Research Agenda for Creative Industries, I have realized how the creative economy has shaped our world by being a key economic and social factor for different geographical landscapes. It has not only incrementally innovated cities, regions and countries but also created synergies among historical and economic values. For me, it was a great opportunity to really focus my mind on the fact that research requires collaborative mindsets, encouragement and support to leverage our intrinsic motivations as researchers and educators in a business world characterized by highly technological and social changes.
Writing the book review allowed me to write in a different style, which I enjoy, although it can be challenging to switch between writing for journal articles, book reviews, grant applications, lecture slides, and blog posts! I hope people will be encouraged by this blog post to review academic books and gain something from the experience.
You can read Stefania Romano's review of A Research Agenda for Creative Industries in "Cultural Trends".
The views expressed in this article are those of the author and may not reflect the views of Leeds University Business School or the University of Leeds.