Enterprise on low income: motives, value, and experiences
Centre for Enterprise and Entrepreneurship Studies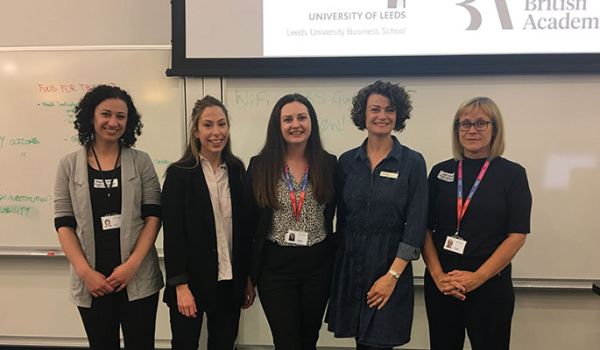 On 26 June 2019, Jeremy Hunt, a potential candidate for next UK Prime Minister, announced an election proposal that tuition fee debt would be cleared for graduate entrepreneurs who create a new business employing more than 10 people for five years.
This spotlights the importance of entrepreneurship and business within the political landscape of the UK. Indeed, entrepreneurial activity is often cited as a significant contributor to economic growth and development; hence, a large body of research focuses on understanding entrepreneurial activity, specifically new venture creation. To do this, academic research often looks to understanding entrepreneurial intentions and motivations.
There has been a sharp rise in the number of self-employed people, especially those with no employees, in the UK over the last two decades. The majority of these people will stay self-employed or sole traders, rather than develop new businesses with potential for job creation and economic contribution.
Self-employment is a type of employment in which there are few labour rights, no minimum hours, or, critically, minimum wages. This means that the risk of in-work poverty (those with a job but living below the poverty line) is high. To date, the academic and practitioner literature has tended to focus on self-employment as a context of enterprise or enterprise potential rather than low incomes and poverty potential.
Supported by The Leverhulme Trust and The British Academy, this joint project between Leeds University Business School and Edinburgh Business School aimed to fill this research gap. Professor Laura Galloway and I explored the motivations for, and experiences of, a sample of people in central Scotland who are self-employed and in receipt of income, defined by government measures as below the poverty line. The research took an ethnographic approach, including observations and interviews with 42 participants in order to gain rich information about lived experiences.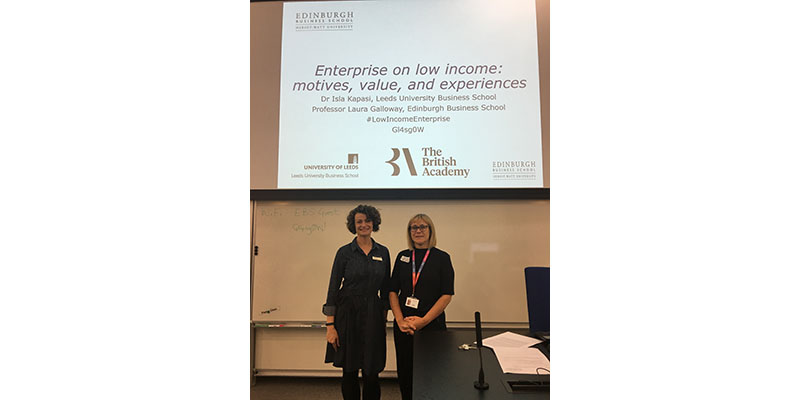 On Wednesday 26 June 2019, Professor Galloway and I presented our research to an invited think tank audience at Edinburgh Business School. Our initial analysis illuminates two broad observations. First, the sample included a majority of individuals who might be described as atypical workers – such as people who lived with poor health, disability or had significant caring responsibilities.
The other broad observation was a high number of what might be described as atypical businesses – businesses that were not driven entirely by the pursuit of profit, and in some cases, only sustainable with the support of state benefits. In both of these cases, the drivers and motivations for enterprise were entirely nuanced by circumstances peculiar to an individual's life and experiences.
The central message of the research is that while enterprise may seem like an appealing type of work for some atypical workers for whom the regular employment market may be challenging (because of health or other commitments), there are challenges and nuanced support implications.
Similarly, where businesses are atypical and operating at the margins of feasibility, there are implications in terms of finding ways to support those engaged with these businesses that are meaningful to, and aligned with, the ambitions of the individual involved.
More broadly, results of this research have implications for research and theory in terms of how we define and study enterprise in all its myriad forms. From a practical perspective, there are significant implications for those in welfare support, pensions and insurance industries as increasing numbers of people opt for self-employment as a means of employment and career option.
If you are interested in joining our research community about enterprise for people on low incomes, or work in an industry where you would benefit from finding out more about this research, please get in touch via research.lubs@leeds.ac.uk. You can also visit the project webpage to find out further information.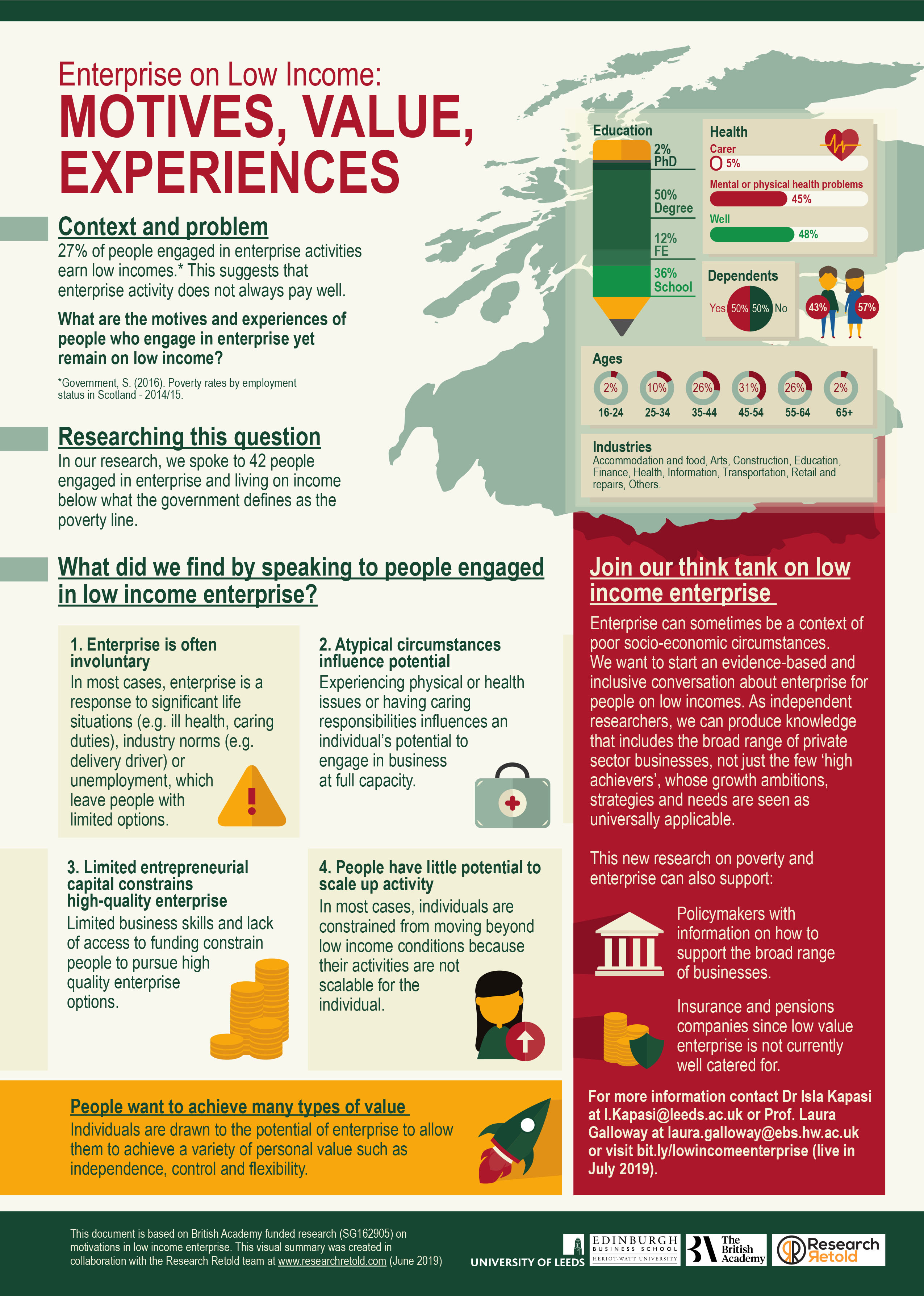 Contact us
If you would like to get in touch regarding any of these blog entries, or are interested in contributing to the blog, please contact:
Email: research.lubs@leeds.ac.ukPhone: +44 (0)113 343 8754
The views expressed in this article are those of the author and may not reflect the views of Leeds University Business School or the University of Leeds.