Day in the life of a teaching fellow: Stacey Mottershaw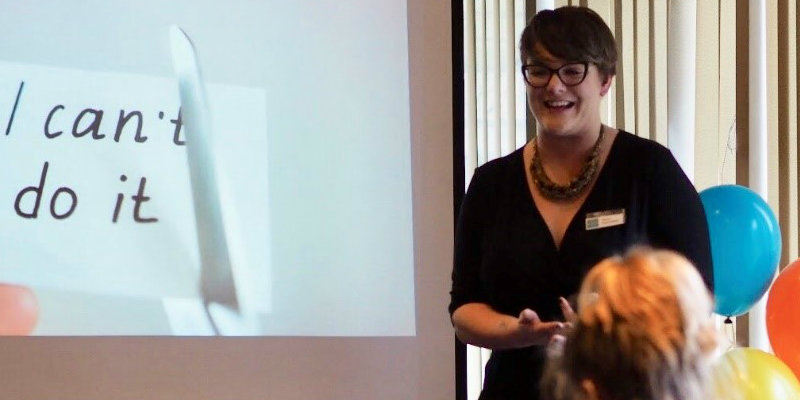 In the 'Day in the Life' series, we sit down with members of staff from the Management Division to learn about their role: From the day to day responsibilities, to longer term projects and goals.
Stacey Mottershaw is a Teaching Fellow and Personal Tutor in the Management Division.
Can you explain your role?
My role is really varied. I teach about 90 students at undergraduate level for academic work skills modules and personal tutorials, and I'm also a module leader for third year Business Ethics. My role is centred on the student experience and the student's journey. I'm involved in a lot of citizenship in the division, so I'm there at the student open days, when the students may not have decided to study a management course yet, right through to their graduation. I'm also currently on a secondment in a university-wide role as a Discovery Theme Leader one day a week and have recently secured the role of Faculty Director of Social Mobility.
Can you explain what your secondments are about?
Discovery modules are modules that anyone across the university can opt to take regardless of school. I curate the theme of Religion, Ethics and Law, making sure that the modules available are holistic, well suited to the theme, and suitable for beginners in that subject area. We're also looking at the future of discovery modules, and how we can incorporate blended learning into the teaching. The role takes up one day a week of my workload, but it's quite flexible.
My second role as Faculty Director of Social Mobility, which I am due to start in September, will allow me to work with colleagues to support students from backgrounds that are typically under-represented in higher education. As a first generation graduate myself, this is something that I have always wanted to work towards.
Working in the Management Division allows you to construct your role and build enjoyment into it, and you're really encouraged to apply for development opportunities. My secondment roles will allow me to build networks across the university, sharing best practice, and that's something that I find really rewarding.
What specific modules do you teach to management undergraduates?
I teach on the first year management module Exploring Your Potential (EYP) which helps students to develop their academic and employability skills. I have around 60 first year personal tutees, who I see 1:1 three times throughout the year. I also teach on the second year Developing Your Potential (DYP) module, which builds on the skills learned from EYP. This module helps students to develop their leadership qualities and practise their networking skills in a 'safe' environment, through the division's Leaders in Residence programme. I also supervise dissertations related to business ethics. I enjoy working with students who are really passionate about their subject. It's quite different from the pastoral aspect of my role, but it's equally rewarding to see students become young scholars.
From September, I will also take on the role of module leader for our third year module in Business Ethics. I studied Philosophy during my undergraduate and masters degrees, and taught ethics for engineering students in my previous role, so this is something that I am particularly looking forward to.
How do you find that the personal tutor role benefits students?
The personal tutorials provide pastoral care to management undergraduates. In the Enhancing Management Learning (EML) group within the Management Division, we ensure that students receive the same high quality, personalised and consistent support through regular meetings and reviews. Where possible, we try to ensure that students have access to the same tutor throughout their degree. Our personal tutorial modules are about developing the student not as an academic, but as an individual. I encourage students to build their social capital at university, helping them to open doors and create opportunities throughout their university life and after they graduate.
How do you benefit from being a member of the Management Division?
Receiving a Personal Development Allowance allows me to attend conferences that enhance my knowledge of teaching and learning. I know I am really lucky to have this opportunity as a member of teaching staff, so I try to attend conferences where I can bring direct benefits back to my students. There are also clear routes of progression available for teaching staff, which the Management Division and the wider Leeds University Business School are committed to offering. For example, there are opportunities now to gain a Professorship of teaching and scholarship, which in the past was simply not possible.
What do you find challenging about your role?
Marking. No hesitation. I guess I find it challenging due to the volume of scripts that need to be marked. If each one takes half an hour, you can see how time consuming this can be. Having said that, we have brilliant systems in place in the Business School's Student Education Service, who manage marking administration and quality assurance. We also support each other in the EML group with marking, which makes it more manageable.
What advice do you have for management students who are going into the world of work?
Say yes to everything; sometimes your 'big break' can come unexpectedly. I for one fell into academia by saying yes to opportunities, and I couldn't imagine doing anything else now. Saying yes to things will take you out of your comfort zone, and allow you to build up the skills you have been developing. Management students here at Leeds University Business School keep an opportunity log in the Exploring Your Potential module, which is really important. I think another important thing to stress is that most graduate recruiters do not expect to see work experience specific to that sector. Even in highly competitive graduate placements, showing that you are conscientious and pro-active can be enough to impress.