Business School sponsors inaugural Women of Excellence Awards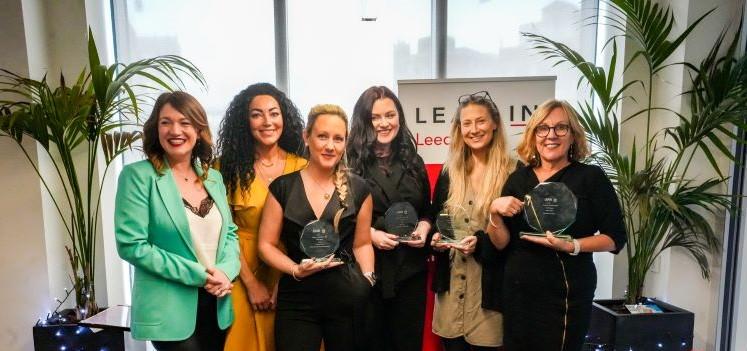 Leeds University Business School was one of the sponsors of the inaugural Lean In Leeds Women of Excellence Awards held on 22 March 2023.
Lean In Leeds, one of the biggest women's networking groups in Yorkshire, has celebrated the incredible women of the region with its inaugural Women of Excellence Awards. The winners were announced at a packed-out ceremony at Bruntwood, in Leeds City Centre, on Wednesday 22nd March.
"When women rise, they bring other women up with them," explains Claire Ackers, chair of Lean In Leeds. "That's the mission of our community, and the vision behind what's made these awards so different. We're so proud we've given a spotlight to women who are excluded from typical awards criteria. We're thrilled that our inaugural attempt has been successful beyond our wildest dreams."
Leeds University Business School was delighted to be one of the award sponsors, along with Deloitte, Glean, Panintelligence, XSEM, Bruntwood, Reward Finance Group and Art of Cloud. The Women of Excellence Awards were also fundraising in aid of Smart Works Leeds, which helps women get back into employment.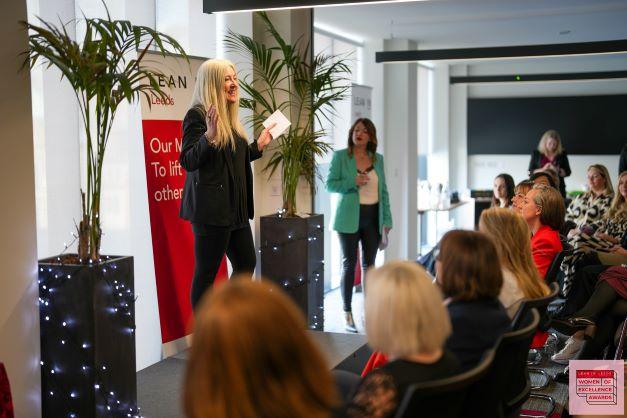 Anna France, External Engagement Manager for Leeds University Business School presented the award for Tribe Leader to Georgia Halston from Halston Group.
"It was a real honour to support the Lean in Leeds awards. Their values really resonate with the Business School and it was fantastic to be able to meet so many talented women all making a real impact in Leeds and the surrounding area. We are keen to continue to work with inspirational people like Georgia on a range of initiatives that can contribute positively to the region and the next generation of talented women currently studying at the Business School."
Lean In Leeds is a not-for-profit organisation run entirely by volunteers. Founded over seven years ago, it has over 1100 members and has run over 60 free events in Leeds and the surrounding areas, supported by local businesses. It also has a thriving mentoring scheme and welcomes anybody who supports their primary focus of gender equality.