More than 100 local businesses ready to thrive in 2023 thanks to Help to Grow
We are celebrating the achievements of more than 100 local SME business leaders, who have completed the government-backed Help to Grow programme.
Rebecca Padgett, Senior Teaching Fellow and programme facilitator explains why these programmes are so important for business leaders in the local region:
"Growing a small or medium-sized enterprise (SME) can be challenging at any time, but looking ahead to the uncertainty of 2023, with rising energy costs, inflation and political unrest, growing a business looks more difficult than ever. It's a constantly changing and turbulent environment in which to do business and there is more pressure than ever on SMEs to innovate and adapt in order to thrive and survive.
Here at Leeds University Business School, we work with local businesses not just to adapt to these changes, but to recognise and capitalise on the opportunities they can present.
In 2022, we worked with more than 100 small and medium-sized businesses as part of our Help to Grow programme. The programme, which runs throughout the year, offers business leaders the opportunity to come to the University, develop a business growth plan for their company and network with peers and like-minded individuals from other industries.
It's time well spent thinking about the future of your organisation and developing the strategy of your business. In fact, it's never been more important to have a clear concrete plan behind your business, and the participants really value the opportunity to work directly on their business growth plans during the 12-week course.
In my role as programme facilitator, I have really enjoyed seeing how much confidence and resilience people gain from the experience.
People leave us with a real passion and energy to 'get cracking' on their growth plans and want to start immediately to make a real difference to their own organisation.
I think this confidence comes from the opportunity to share their challenges and personal experiences with other business leaders from other industries and get immediate feedback. People realise that everybody has, at some time, faced the same challenges regardless of what their company does – they realise that they're not alone.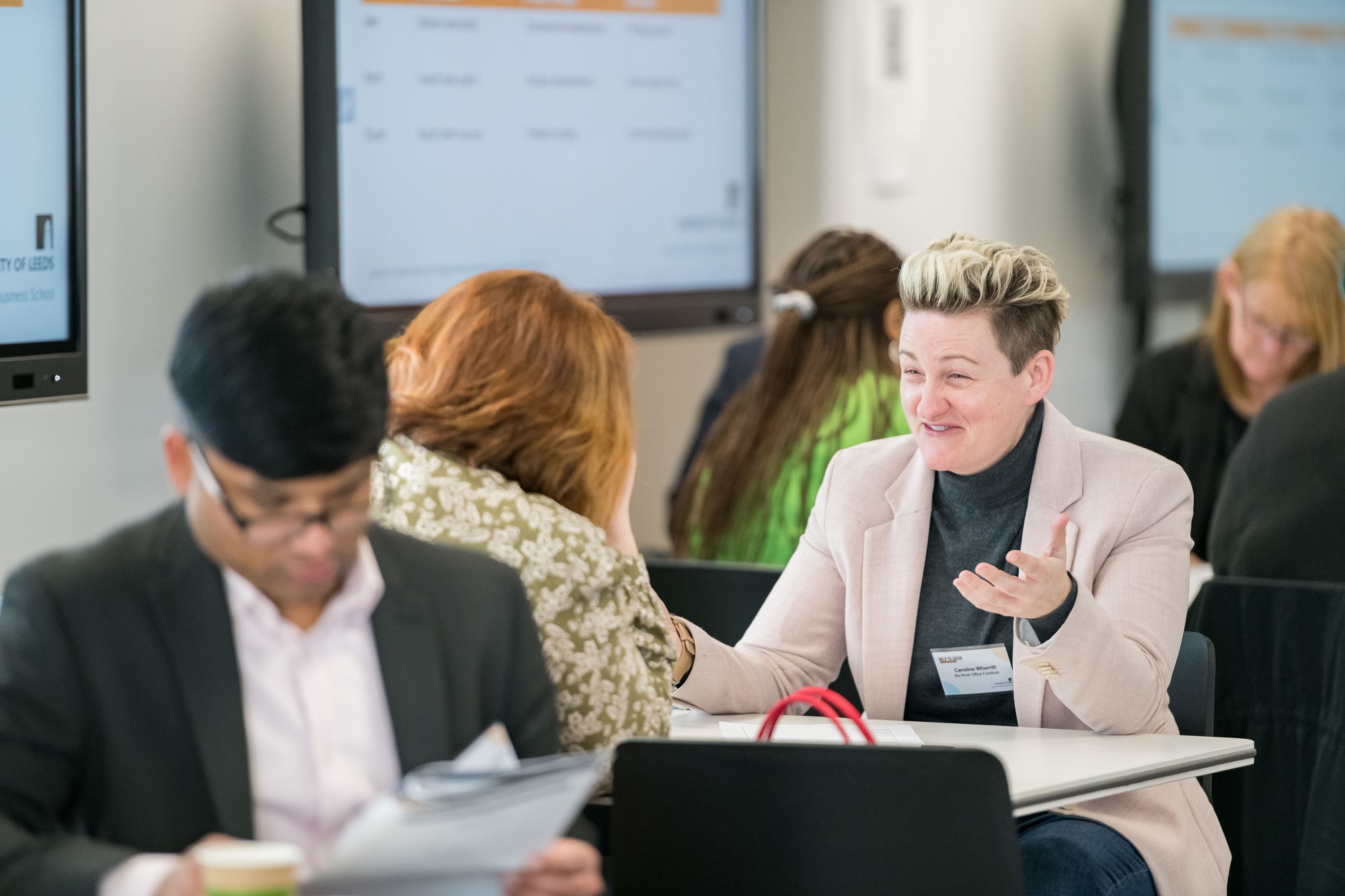 Help to Grow is deliberately structured to allow for lots of discussion and peer learning. The course is delivered by academic experts who also have first-hand experience in real-world business. There are also business coaches, who are experienced entrepreneurs themselves, providing one-to-one meetings and who help bring different perspectives. When you take part in the programme you're surrounded by like-minded business leaders and the benefits of peer learning and sharing experiences are enormous.
Finally, it's important to remember that taking part in a programme like this is a direct investment in your business and an investment in yourself. The best news is that it is 90% funded by the government, so you only pay £750. If you're a small-business owner or senior leader, and you feel that there is untapped potential to grow or innovate, then get in touch."
What do business leaders think
Caroline Wherritt is Founder and CEO of Re:Work, a Leeds-based office furniture business, who took part in the course because of the opportunity it offered to receive practical business coaching and mentoring, whilst also aligning with the business's own growth aspirations and ethos.
"The value for money cannot be overstated," says Caroline, stating the cost is equivalent to a couple of days of business coaching.
There's an unbelievable wealth of practical business and academic knowledge in one room. You can't put a price on it.
Nikki Guest is a Director of NGC Networks, a telecommunications and internet services business based in Wakefield, who completed the programme in May 2022.
I knew there were growth opportunities for our business, but having the time to be able to think strategically and plan which opportunities to prioritise was really beneficial. Being able to share our challenges and receive feedback on my ideas was really important. That kind of interaction with other business leaders was absolutely invaluable. It's given me my mojo back."
Email helptogrow@leeds.ac.uk to express your interest or find out more at business.leeds.ac.uk/help-to-grow