Research and innovation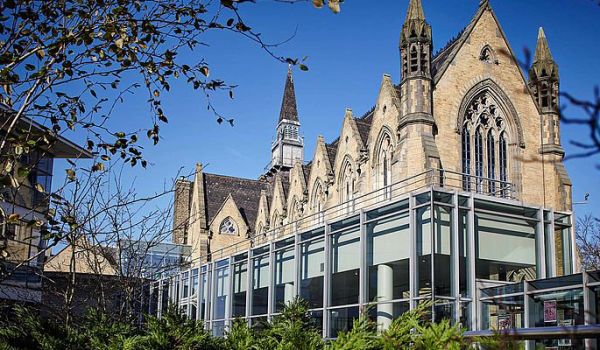 Our researchers work on a variety of projects that have an important impact on society, influencing policy, businesses and communities both within the UK and internationally.
There is a lot of activity that goes to support our academics' research. There is a thriving research community here at Leeds University Business School and the Research and Innovation Office plays a big part in it.
We have nine members in our team, all working alongside our researchers. We cover a range of activities, including finding appropriate funding streams, supporting the development of bids, managing budgets, facilitating research collaborations, and disseminating information, whether that be through written communications or, for example, a seminar series.
The Research and Innovation Office works closely with a number of other teams within the School, such as the Finance, Marketing and Human Resources offices. In particular, we work alongside the Graduate School team, helping to train postgraduate researchers and immerse them in the Business School's research culture.
Here are some of the ways in which we support our researchers:
Bid Development and Pre-Award Support
The Research and Innovation Office provides support to academics in the Business School for all aspects of grant application preparation. This helps to make the process less time consuming and more streamlined for those involved.
The School has a strong reputation for research that is collaborative with external partners (from other institutions and also industry) and very often interdisciplinary – involving working with academics from other faculties, such as Engineering, Environment and the various schools within Arts, Humanities and the Social Sciences.
We offer strategic advice on where and how to bid, framing research proposals and preparation of the bid documents.
Once a researcher has notified us of their intention to develop a grant application, we can provide expertise in pre-award regulations and procedures of research sponsors. This includes ensuring compliance with internal grant administration policies and procedures, as well as the requirements of particular sponsors.
We provide advice on sponsor terms and conditions and support applicants with costing the project budget, making sure that all resources are identified in the application and are fully justified in the case for support. We also facilitate internal peer reviews and ensure that the applicants consider ethical and data issues.
Bid writing is a very specialist area and the funding environment is highly competitive; the assistance available from the Research and Innovation Office has proved successful in generating new funding streams and supporting research projects.
Post-Award Support
Once a bid has been successful, we compare the award with the application and discuss any differences with the principal investigator (PI) and Faculty Research Manager to ensure these are reflected in the research and financial plans.
We review the terms and conditions, ensure risk assessments and ethical approval are in place, and that acceptance and start certificates have been completed and returned to the funder.
The project account is set up by members of the post-award team within the Research and Innovation Office, and the PI is provided with a summary of the project budget and financial guidelines, as well as guidance about other support available to them as grant holders.
Once the grant is up and running, we are responsible for monitoring and managing budgets; reviewing eligibility of costs (including staff appointments); preparing invoices, claims, and statements; debt recovery; scheduling and supporting audits; and closing the grant once the project has concluded.
We monitor and report on grants both individually and at portfolio level across the faculty, interpreting and explaining over/underspend, and providing advice and discussing options for solving problems. All of this involves liaising with researchers, funders, partners, and other faculties and services.
Impact
The Business School is very committed to conducting research that makes a real difference to society, business and/or the economy – this is what we call 'impact'. Staff in the Research and Innovation Office support academics in impact work throughout the lifecycle of a research project, from its inception to the final results and dissemination, helping to develop pathways to impact.
This involves advising on how impact can be achieved, developing detailed strategic plans for impact, supporting engagement and partnership opportunities, extending the reach and significance of research outcomes (for example, if a research output was useful in one sector or industry, it might also be useful elsewhere), and helping to collect and collate tangible evidence of research impact. You can read about some the impact our projects have had on our website.
We run two seminar series to support our impact work. First, the monthly Research with Impact seminars for university academics and professional staff to encourage research impact and engagement, and second, the Ideas in Practice events held in London and Leeds aimed at external audiences from business, the public sector and policymakers.
External Engagement
External engagement is an integral part of our mission to conduct excellent research that makes a difference. It can take place at any stage of the research lifecycle from building awareness of shared interests with potential research users, to developing collaboration on (or the co-production of) research, to transmitting new knowledge into wider communities of business, policy or civil society.
We help develop external engagement opportunities for faculty in the initial stages of research, supporting new collaborations and sustaining key external relationships. Examples of collaboration include: short secondments outside and within the University, events that build working relationships and share knowledge, and PhD internship opportunities.
Research Excellence Framework (REF)
The Research and Innovation Office supports the necessary data collection needed for the REF as well as supporting the development of the School's REF submission. This includes ensuring that our outputs comply with the Higher Education Funding Council for England (HEFCE) open access policy and also ensuring that all outputs are recorded in the institution's publications system.

Communications
We help make research outputs accessible. It's important that our research findings are communicated not only within the social science community, but disseminated to a wider audience outside of academia. We use different channels to promote our research and disseminate knowledge to engage with policy makers, government, students and the general public.
One of the ways we do this is by using this Research and Innovation blog. We feature a number of new research projects, such as Nick William's British Academy grant examining ethnicity and entrepreneurship in Bosnia, and Martyn Griffin's Future Leaders ESRC grant on democratic organisations, making it easy for readers to follow their progress.
We also use social media (such as Twitter, Facebook and LinkedIn), press coverage and organise events to further disseminate the research.
Outputs are also available through White Rose Research Online which is a shared repository with the Universities of Sheffield and York.
Training and Development
Researcher development is a crucial part of our research culture and we are continuously developing training opportunities for our doctoral students, early career researchers and faculty to benefit from.
By working with other faculties, the Staff and Developmental Department Unit (SDDU) and the Northern Advanced Research Training Initiative (NARTI), we are able to connect our researchers to high level expertise and networks at a wide range of institutions.
All of this support takes place alongside other activities within the Research and Innovation Office, including organising: collaborations with academics from other institutions, consultancy contracts for industry, and internal schemes that allow our academics access to funding to support their research.
If you are a member of the Business School and would like to find out more about how we can support your research, or if you are not currently affiliated with the School but are interested in a research collaboration with us, please get in touch research.LUBS@leeds.ac.uk.
Contact us
If you would like to get in touch regarding any of these blog entries, or are interested in contributing to the blog, please contact:
Email: research.lubs@leeds.ac.uk Phone: +44 (0)113 343 8754
The views expressed in this article are those of the author and may not reflect the views of Leeds University Business School or the University of Leeds.