The Northern Advanced Research Training Initiative Celebrates Ten Years
Research and innovation
Leeds University Business School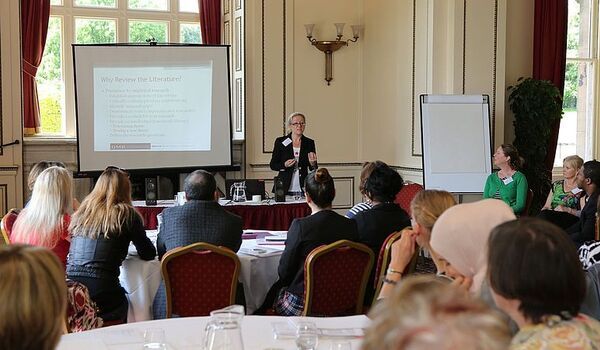 The Northern Advanced Research Training Initiative (NARTI), hosted by Leeds University Business School (LUBS), is celebrating its ten year anniversary this year, after setting up a decade ago as a network of leading research-based institutions in the North of England.
NARTI provides specialist advanced training for doctoral researchers, early career researchers and academics through the facilitation of events, retreats and conferences, and establishes networks to share expertise cross-regionally. The organisation has initiated a step change in the quality and vision of advanced research and methods training through collaboration, which would have been more difficult for individual institutions to offer.
Originally funded by the Economic and Social Research Council (ESRC), NARTI is now independently funded by its 16 member institutions and focuses on offering innovative, in-depth and advanced research training in specialist and/or emerging research areas.
Professor Caroline Gatrell, (Lancaster University Management School), Chair of NARTI, comments: "NARTI continues to support both PhD students and early career faculty. As well as research training and methods events, we seek to enhance the employability agenda and to bring about networking opportunities among and between doctoral students and faculty.
"NARTI facilitates opportunities for doctoral, early career researchers and staff to attend events and provides an arena for these people to network and share research interests, contacts and best practice. We will continue to build on our success, offering advanced training in methods, methodologies and related research skills.
"We will also continue to secure high-profile academics and expert practitioners to run events and retreats, and develop a strategy to ensure sustainability of our training."
The group holds a number of regional events throughout the year, such as workshops and seminars on: effective presentations, action research, leadership development and academic online profile development. NARTI also offers two to three day writing retreats for early career researchers, working with top journal editors and writing coaches.
NARTI has been invaluable to me on my PhD journey. Although I have an MRes, the NARTI events have enabled me to continually develop my research skills and knowledge in a professional and supportive environment. The quality is outstanding and having attended a number of NARTI events, it is my first choice if I have any specific training needs...
"...If there is anything relevant I go out of my way to attend, and as the selection is so well thought-out there always seems to be something beneficial. However, it is not just the quality of the contributions, but the collegiality of NARTI events that makes them so worthwhile. The chance to meet students at other institutions makes participation in NARTI a must and I have met some great people with similar interests who I hope to work with in the future." Vicky Nowak, Liverpool University Management School
In addition to its regular regional events, the NARTI Annual Doctoral Conference offers doctoral researchers from Business and Management schools the opportunity for advanced dialogue and debate on a range of methodological issues. This year's event was hosted jointly by Leeds University Business School and Bradford University School of Management and continued the celebration of ten years of success.
NARTI's Network Manager, Jo Garrick, who is also a research administrator within our Research Office here at LUBS, adds: "The financial commitment made by NARTI members demonstrates the importance of this network to the wider scholarly community within Business and Management Schools in Northern England.
"We are also most grateful to the Society for the Advancement of Management Studies (SAMS) for generously contributing to our annual Doctoral Conferences, both in 2014 and 2015, thus helping us establish the foundations for a strong and collegial NARTI future."
For more information about NARTI, including the 16 institutions which form it, please visit www.narti.org.uk or contact Jo Garrick via narti@lubs.leeds.ac.uk
Contact us
If you would like to get in touch regarding any of these blog entries, or are interested in contributing to the blog, please contact:
Email: research.lubs@leeds.ac.uk Phone: +44 (0)113 343 8754
The views expressed in this article are those of the author and may not reflect the views of Leeds University Business School or the University of Leeds.