Global and Strategic Marketing Research Centre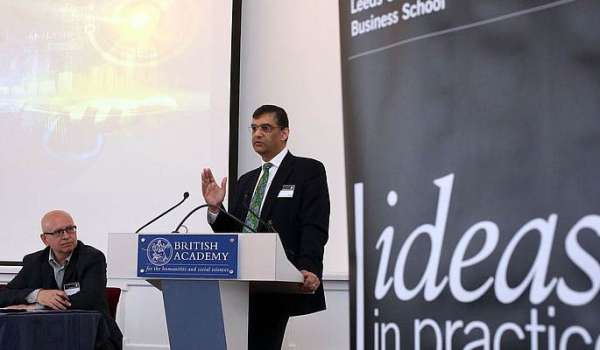 As part of its Ideas in Practice seminar series, Leeds University Business hosted a symposium at the British Academy in London at the end of March.
The event's theme was on Big Data, with a particular focus on effective use of big data, considering capability, responsibility and ethics. It was organised to help facilitate the sharing of best practice between sectors regarding data and analytics.
The symposium was hosted by Professor Timothy Devinney, Pro-Dean for Research and Innovation and Leadership Chair in International Business at Leeds University Business School, and featured the following speakers and panellists, as well as many other big data experts:
Rashik Parmar, Lead IBM Cloud Advisor – Europe, IBM Distinguished Engineer, IBM
Michael Whitelegge, Head of Big Data Solutions at Marks & Spencer plc
Professor Tobias Preis, expert in Behavioural Science and Finance at Warwick Business School
Helen Brown, Head of Analytical Services, Data Flows, NHS England
Andrew Bolton, Chief Data Officer and Director, Fraudscreen Limited
Sean Price - Head of Performance, Avon and Somerset Police
Alice Daish - Data Scientist, The British Museum.
A number of key points were made on the day. Here is a summary of the main discussions:
Understanding and acting on what really matters. This includes asking the right research question at the start to guide the inquiry. This is in light of the fact that many firms collecting big data use only a very small proportion of it (as low as 0.5%). Big data approaches possess gravity in the sense that once a firm starts to collect data on consumers and other stakeholders, this activity can take on a life of its own. Unless managers have the sense of where they are going, they will be left to untangle a mess of information. Ideally firms will be able to build distinctive, multi-use datasets, but this does not happen without prior planning.
Using data to disrupt others and yourself. Big data creates a distinction between disrupters and the disrupted. Often disrupters are SMEs, and the disrupted are large-sized incumbents. Established firms seeking instead to disrupt their industries using big data strategies, may well need to disrupt themselves first to drive change.
Using data in line with traditional values of the organisation. Traditional businesses made decisions by listening to and observing customers. But as they scaled up over time, this approach became more difficult to do and they lost touch. Big consumer data allows firms to get back to this traditional model by providing insight into customer preferences on a large scale and, thus, can be portrayed as consistent with historical business culture and values.
Assisting the rise of the 'datapreneur'. Within organisational settings there are early adopters of data that can be identified and assisted. Such individuals need to be able to access data and adopt a self-service approach in order to find solutions to their work, upskill in data techniques, and become data advocates for the organisation. Unless this happens, the massive opportunities presented by big data in terms of customer insight and organisational efficiency will not be realised.
Developing a structure that combines data to unlock additional value. The nature of data is that it is more than the sum of its parts. The structure adopted needs to de-silo data. Intelligence works best if it is not overly centralised—military examples prove this. As such, hub and spoke models (where there is a central hub and a series of connections) and data pipelines need implementing. Note though that structure on its own is insufficient. There is a need to also combine process, leadership, technology, and a data-sharing culture.
Accurately interpreting data for the user. Too often big data solutions are presented as facts by data scientists, or are assumed to be facts by managerial decision-makers. A key part of the role of the data scientist is to understand and communicate potential error, present differences between correlation and causation, etc. One means of reducing error is to conduct a series of assumption checking, validation studies. Irrespective, there is always error and this cannot be ignored.
Overcoming internal/legal/political constraints over the use of data. In this, organisations need to manage listening and communication programmes to reduce consumer and stakeholder anxiety over the use of big data. The roadblocks vary from sector to sector in terms of how much reasonable scepticism exists about the potential for deriving meaning and value from big data. Commitment needs to build from the board-room and extend to the front line if meaningful changes are to occur.
Visualise to change perspectives. Certain types of visualisation of data analyses, but also of the stages of data analytics, can transform views and create quick wins when building a culture of using data. On the other hand, spreadsheets and ineffectual visualisations play into the hands of sceptics.
Unpicking legitimate and legal uses of data. Legitimacy of the use of data factors strongly in the changing legal context of big data regulation (e.g. General Data Protection Regulation in the European Union). The data gathered have to be relevant to the contract with the consumer; one should not gather everything about everyone. There is though uncertainty concerning where to draw the line. It is important to understand this as there is a risk of becoming a costly legal example in the near future.
Building an ethical understanding of online data. The use of social media and other online data for purposes for which it was not originally intended poses a significant ethical issue. This matter is somewhat controversial with different segments of consumers taking different stances on how data is used. The same can be said about different cohorts of consumers and the acceptance of terms and conditions. In the future, firms will need to be more transparent about terms and conditions as this is an area where standards could change.
Visit the Ideas in Practice webpage for information about the series and future events. You can also read our previous blog posts on other Ideas in Practice seminars.
The views expressed in this article are those of the author and may not reflect the views of Leeds University Business School or the University of Leeds.