Students enter the Dragons' Den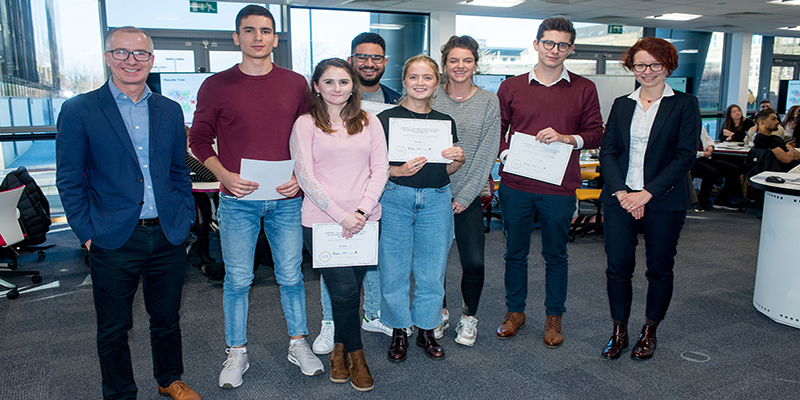 For the second consecutive year students were invited to pitch to senior business leaders in a real life 'Dragons' Den' as part of the Innovation Thinking and Practice module.
During the final year undergraduate module teams of students from the Schools of Computing and Business are tasked to deliver business solutions and prototypes around industry-based innovation challenges in areas including retail, finance, the NHS, transport, energy and local government.
Over the course of the module students learn the basics of innovation and the innovation management process before getting stuck into their assigned challenge. This year students also benefitted from access to an industry expert to assist with their research.
As well as the innovation project, the module also has a strong emphasis on developing students' "3 C's" – collaboration, communication and commercial awareness. This is to equip them for the graduate job market, in which companies are looking for more than just a good degree, but for graduates who can demonstrate the ability to work in a team, problem solve, manage change and handle uncertainty.
The hard work across the semester culminates in a final 'Dragons' Den' style presentation which aims to convince a panel of industry experts and senior academics to invest in their ideas.
The solutions created by the winning teams included:
An app to reduce bed-blocking for elderly patients in the NHS – the idea behind this is very ingenious and may be taken forward, so we can't share the details yet.
An innovative approach for connecting citizens, local businesses and councils which facilitates corporate social responsibility and enables interventions and repairs to be carried by small businesses benefiting the local community, the businesses and the council.
A solution to improve rail customer experience which addresses multiple commuter and rail company pain points.
The module is led by Tony Morgan, Royal Academy of Engineering Visiting Professor in Innovation and IBM Enterprise Business Unit Technical Leader and Dr Lena Jaspersen, UAF in Innovation Management. Speaking about the pitches, Lena commented:
"The module deliberately combines students into small and diverse teams from multiple schools and faculties, including Business and Computing School students. It's amazing to see what the teams can achieve in such a small space of time."
Tony added: "In many ways the teams were all winners. They received great feedback from the industry and academic guests after the session. There were several requests to follow up on specific ideas and emails praising the quality and value of the teams' ideas and solutions.
"I was hugely impressed by the students for their commitment, quality of work and preparation. To be able to so professionally pitch to such a daunting panel and stand up to stern scrutiny and questioning is no mean feat."