Fostering the adoption and innovation of emerging technologies: The case of Ericsson and 5G
Centre for Technology Innovation and Engagement
Over the past couple of decades, mobile communications technology has focused on connecting places and people. For instance, earlier versions like 2G (second generation mobile communications technology) provided users with voice and SMS (text message) capabilities, and subsequent versions like 3G and 4G driven by the introduction of smartphones offered web browsing and high speed data transfers supporting video streaming.
The next generation of mobile communications, exemplified by the much hyped 5G, promises to transform both industry and society. Specifically, 5G is characterised by faster speeds and greater capacity to support a new range of applications, including the internet of things, virtual and augmented reality, autonomous vehicles and transportation, and many more. As such, the introduction of 5G represents a departure from past versions of cellular as it no longer seeks to just connect people and places but things as well (e.g. machines, devices, sensors).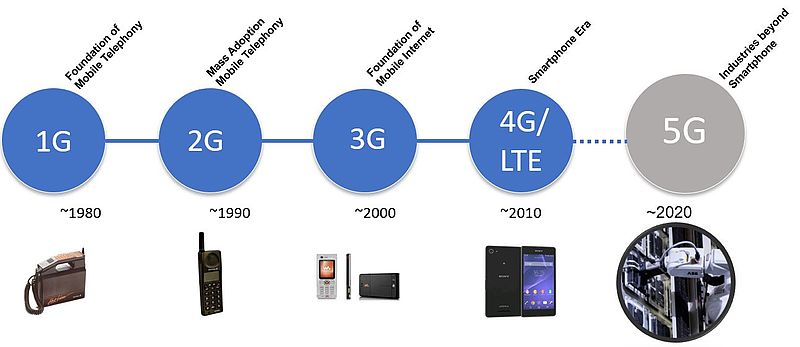 The evolution of cellular technology
Despite the promise of 5G, the abundance of potential applications both known and emerging present strategic challenges for companies looking to reap the benefits of adopting this technology. In particular, the introduction of novel technologies typically present three interrelated issues relating to what it is, what it can do, and how good is it?
As part of the COINS project, we investigated how Ericsson, a leading provider of 5G technology, is attempting to translate the proposed value of this emerging technology into new applications and markets.
To do so, Ericsson leverages a design thinking approach, experiential showcases, and open laboratories. Together, these three elements enable Ericsson to explore the possibilities afforded by 5G technology, allow existing customers as well as potentially new ones, to understand and interact with the technology, as well as to develop and validate new applications.
Design Thinking:
Design thinking is a problem-solving approach with human centred design and empathy and ethnographic techniques to understand and articulate the needs of end users. As such, design thinking is ideal for developing new services and informing the design of products. Yet, technologies today often involve a greater number of inter-related actors beyond the traditional producer and end-user relationship. For instance, in developing cellular enabled smart manufacturing solutions, Ericsson needs to collaborate and co-create with a range of relevant stakeholders beyond the end-users. For instance, Ericsson has held co-creation workshops with mobile network operators, machinery suppliers, manufactures and system integrators to ideate and develop solutions that can be rapidly prototyped and tested. Design thinking has supported Ericsson's efforts to develop an ecosystem around 5G by generating potential applications and collectively validating corresponding value propositions with relevant stakeholders.
Experience Centres:
To talk about what a technology or application can do is very different from seeing and experiencing it in action. This is particularly the case with 5G, which provides the foundation for digital transformations, however, its value only becomes tangible in the outcomes it produces. In an effort to build understanding of what 5G is and what it can do, Ericsson has built a number of experiential centres (e.g. Stockholm, Paris, Aachen, Southampton, Shanghai, etc.) consisting of a range of demonstrations, which different stakeholders to not only interact with the 5G enabled solutions but to imagine and explore other future possibilities.
During a recent visit to Ericsson's office in Silicon Valley, we visited their Experience Centre, which provides a live environment for customers and stakeholders to meet, discuss, and discover new ideas and solutions surrounding 5G technology. The Experience Centre showcased working demonstrations related to smart parking, autonomous vehicles and industrial machines. Theses demos provide a material example that help to show how an abstract concept like smart manufacturing or smart parking will operate in reality. As a result, this helps to clarify how the solution will function in practice as well as the meaning of the concept.
Open Labs:
To build understanding and validate the technological feasibility of 5G, Ericsson has established an open laboratory for partners and stakeholders to experiment and try out new applications to assess compatibility with 5G. Additionally, partners can use the laboratory to further innovate their own products, for instance, developing less expensive computers for online gaming by leveraging the ultra-fast speeds and bandwidth of 5G, resulting in a quality gaming experience without the dependence on high-end hardware (processors, video cards, etc.) currently. By inviting external firms to experiment in their 5G laboratory this helps to trigger and encourage innovative applications based on 5G, while also serving to crystalize the value proposition of why firms should adopt Ericsson's technology.
The road to adopting and innovating emerging technologies requires a holistic approach that addresses technical feasibility, business viability, and user(s) desirability. Focusing efforts across these three domains helps to resolve the three fundamental questions associated with emerging technologies – what is it, what can it do, and how good is it?
The views expressed in this article are those of the author and may not reflect the views of Leeds University Business School or the University of Leeds.