Workshop: basic income and the future of work
Centre for Employment Relations, Innovation and Change
Universal basic income and the future of work
In the face of widening disparities of wealth, changes in work and employment in which low pay dominates and the ability of work to lift people out of poverty declines, debates about the future of social protection have come to the fore. In contexts from the Global South to the 'developed' North wage labour appears decreasingly able to distribute social wealth or protect individuals and households from poverty.
In this context, scholars, activists and policy makers have begun to examine alternatives to existing systems of welfare, including negative income tax, cash transfers and universal basic income and guaranteed minimum income. Basic income has become the most visible and perhaps most contested of these proposals. The notion of a universal basic income – a non-conditional base income for all citizens – has attracted increasing popular purchase within social movements, institutions and governments. Numerous academic pilot experiments from Canada to Namibia and India have been undertaken, while governments are rolling out experiments in Finland, Barcelona and Utrecht. Proponents of basic income have been drawn from across the political spectrum, finding support from Milton Friedman and Bill Gates, to Frances Fox Piven and Shadow Chancellor John McDonnell.
On Friday 26 January 2018, CERIC will host a workshop bringing together theorists, practitioners and social movements. The day long workshop will explore this topic, focusing on basic income, wage labour, work and employment, by asking:
How does basic income relate to changes in the labour market, including the growth of the digital and gig economy?
How does it impact on work and employment?
How might it affect women's rights and gender equality?
What can we learn from basic income experiments in progress?
To register for the workshop, click here.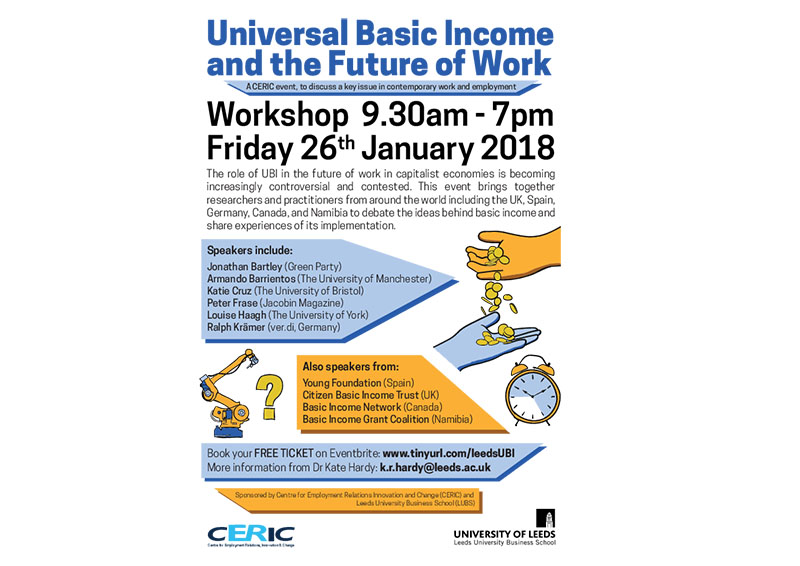 The views expressed in this article are those of the author and may not reflect the views of Leeds University Business School or the University of Leeds.