Launch of the Digital Futures at Work Research Centre
Centre for Employment Relations, Innovation and Change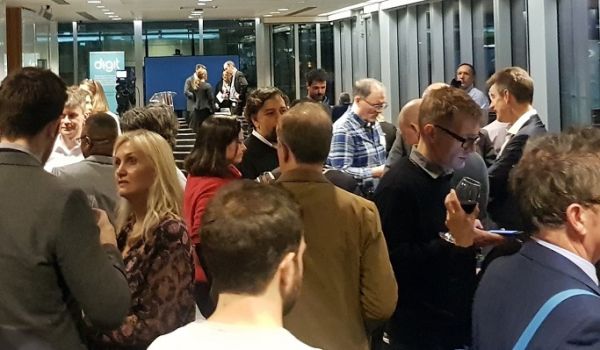 The Digital Futures at Work Research Centre launch revealed that 'digital transformation' first brings to mind opportunity, hype and change.
This gives us a sense of the excitement, but also the scepticism, around what digital transformations at work will mean for employers, workers and all those involved in supporting these groups.
The launch of the ESRC funded Digit research centre on 30 January 2020 at Eversheds Sutherland in London was a chance to bring together businesses, policymakers, third sectors organisations and researchers to understand the concerns and problems that the Digit centre can address.
Marc Meryon, Partner and Head of Industrial Relations at Eversheds Sutherland, opened the talks by discussing how the academics are often several steps ahead of practitioners and how the Digit centre will be a key resource of information and analysis, "helping us as a law firm by collaborating and understanding better the trends … helping our people – our clients and our communities – to thrive." We also had the great pleasure to welcome Professor Jennifer Rubin, Executive Chair of the Economic and Social Research Council (ESRC), who addressed the audience by discussing how living in an increasingly digital world is currently one of the main social science challenges for the ESRC. She went on to say that "better understanding the transformation of work in a digital society promises to help us shape future changes to improve productivity, to improve the wellbeing of those in work and improve outcomes for business and policy."
The co-directors of the Digital Futures at Work Research Centre – Jackie O'Reilly, Professor of Comparative Human Resource Management, University of Sussex Business School and Mark Stuart, Montague Burton Professor of Human Resource Management and Employment Relations, Leeds University Business School – then discussed the aims of the centre and research themes, which include:
The impact of digitalisation on work and employment
A survey on employers' digital practices at work
Employers' and employees' experiences of digital work across sectors
Reconnecting the disconnected: new channels of voice and representation
Prof O'Reilly and Prof Stuart then posed key questions to the audience to understand stakeholders' viewpoints on the what it means to be a connected – and a disconnected – worker. Results showed that many people thought being connected means being online and always available, whereas being disconnected meant being isolated.
They went further to ask where organisations were in terms of their preparation for digital preparation, where they wanted to get to, and how they planned to get there. The audience represented a spectrum, from those who were only starting to consider what digitalisation meant for their business, to being 'digital natives'.
The presentation concluded by asking how knowledge from Digit could contribute. And the answers were exactly what Digit is trying to achieve: help with understanding, help and inspire change, challenge myths, and provide evidence – including best practice and case studies.
Digit will continue to work with stakeholders as research progresses and invites interested organisations and people to get in touch, and join the Digit Newsletter.
To see all the photographs from our launch night please click here
Contact us
If you would like to get in touch regarding any of these blog entries, or are interested in contributing to the blog, please contact:
Email: research.lubs@leeds.ac.ukPhone: +44 (0)113 343 8754
Click here to view our privacy statement
The views expressed in this article are those of the author and may not reflect the views of Leeds University Business School or the University of Leeds.