Transforming the support offered to healthcare workers from ethnically diverse communities
Workplace Behaviour Research Centre
Adaptation Information Management and Technology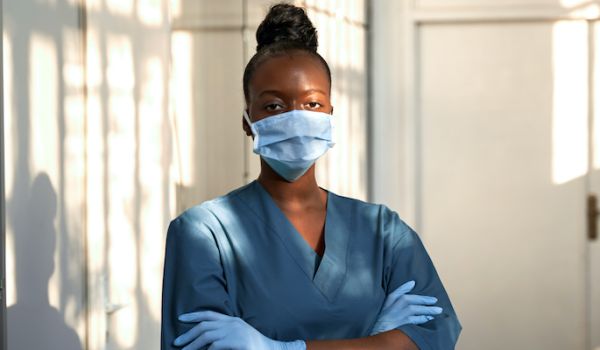 Ethnic minority healthcare workers have been disproportionately affected by COVID-19, highlighting existing inequalities in working conditions.
There are concerns that the heightened risks faced by the ethnic minority workforce during the first and subsequent waves of the COVID-19 pandemic could impact staff turnover and make it more challenging for the NHS to recruit ethnically diverse staff. As the NHS reliance on a diverse workforce is projected to increase, the future of the health service depends on ethnic minority employees feeling well-supported and valued.
Therefore, to deliver a high-quality health service, healthcare organisations need to understand how to best support ethnic minority staff. However, organisations face a lack of rigorous, evidence-based knowledge in this area.
Our research project - Designing human resource management practices to improve the wellbeing of healthcare workers from BAME backgrounds in the context of COVID-19 - (funded by the Economic and Social Research Council (ESRC), as part of UK Research and Innovation's rapid response to COVID-19) - is seeking to address this challenge.
The project builds on earlier work supported with funding from Research England's Quality-Related Research Strategic Priorities Funding (QR SPF). A group of researchers are involved in both projects: Professor Lynda Song, Dr Ahmed Mostafa, Dr Aleksandra (Ola) Irnazarow, Dr Savita Verma, Dr Ramesh Kumar, Ms Chesta Ahuja, Professor Andy Charlwood, Dr Lisa-Dionne Morris (University of Leeds), and Dr Jessica Jones Nielsen (City, University of London).
The research activities involve coordinating a series of tailored workshops, interviews, and surveys in partnership with three NHS organisations, and ethnic minority staff networks to design a set of Human Resource Management (HRM) practices that target staff wellbeing, progression, and retention. This will lead to providing evidence-based practical ideas on how to better support ethnic minority employees, improve their wellbeing, and increase their opportunities in the workplace. It will also lead to the design of a training framework and educational resources.
An 'Ideas in Practice' webinar - "Beyond the pandemic: improving the wellbeing of minority ethnic NHS staff" – took place on 20 May 2021 to discuss the challenges and opportunities inherent in supporting ethnic minority NHS staff throughout the pandemic and beyond. The webinar was open to Leeds University Business School and NHS colleagues and partners, and it included a line-up of speakers representing the NHS and University of Leeds academics.
Speakers and topics included:
Anna Edgren-Davies (Senior HR Manager, Leeds Teaching Hospital NHS Trust): Challenges of looking after NHS staff during the pandemic
Wendy Tangen and Brian Chiyesu, Workforce Race Equality Standard WRES Experts and Network Chairs (Leeds and York Partnership NHS Foundation Trust, The Mid Yorkshire Hospitals NHS Trust): The power of networks in supporting a diverse workforce
Dr Ramesh Kumar (University of Leeds): Black, Asian and minority ethnic representation at senior leadership roles in the NHS: Can this gap be filled?
Professor Lynda Song, Dr Ahmed Mostafa, Dr Aleksandra Irnazarow (University of Leeds): Supporting minority ethnic NHS staff: Overcoming challenges, finding new opportunities.
The first key discussion point was around specific challenges in supporting the wellbeing of NHS staff of ethnic minority backgrounds. The speakers and audience noted the importance of targeting support in a way that is sensitive to cultural and ethnic diversity. For example, there is a stigma attached to seeking "mental health support" among some minority communities, which might dissuade community members from accessing the needed support. The importance of language and communication strategies (e.g. informal events and one-to-one support) was emphasised.
A second key discussion point was on the role of staff networks as enablers of organisational change, and the significance of power and responsibility in organisations. While staff networks can be enablers of change, the network chairs and representatives face challenges in their boundary-spanning role between the staff and management as they have to navigate and negotiate the inevitable tensions brought about by differences in interests and points of view. These tensions have been exacerbated and made visible by the COVID-19 pandemic.
The discussions also covered the instrumental role of staff networks in supporting staff wellbeing throughout the pandemic, and how the networks expanded their engagement with staff through a variety of online and offline practices. The discussants also considered how organisations can facilitate greater employee engagement in staff networks.
The third key discussion point pertained to barriers and hurdles that ethnic minority NHS staff still face in the area of inclusion and career management. These are intangible cultural and social barriers (e.g. favouritism or the lack of ethnic minority role models in senior leadership positions).
There are also more overt barriers such as HRM practices which are perceived by ethnic minority staff as restricted or excluding. Fostering an environment in which ethnic minority staff can thrive necessitates a radical re-think of current HRM processes and practices and a strengthening of organisational/management accountability in areas of diversity and inclusion.
To ensure a wide-ranging research impact, this research project seeks to collaborate with a variety of relevant stakeholders – the NHS, healthcare and social care organisations, unions, staff networks, charities, and other researchers interested in this topic. If you would like to participate in this research, contribute to the discussion, or access early findings and recommendations, please get in touch with Dr Aleksandra Irnazarow research.lubs@leeds.ac.uk.
The views expressed in this article are those of the author and may not reflect the views of Leeds University Business School or the University of Leeds.