Research project
Designing human resource management practices to improve the wellbeing of healthcare workers from BAME backgrounds in the context of COVID-19
Start date: 24 March 2021
End date: 24 September 2022
Funder: UK Research and Innovation (UKRI)
Principal investigator: Professor Lynda Song (Leeds University Business School)
Co-investigators: Dr Ahmed Mostafa, Dr Aleksandra Irnazarow, Professor Andy Charlwood (Leeds University Business School), Dr Lisa-Dionne Morris (School of Mechanical Engineering, University of Leeds), Dr Jessica-Jones Nielsen (City, University of London)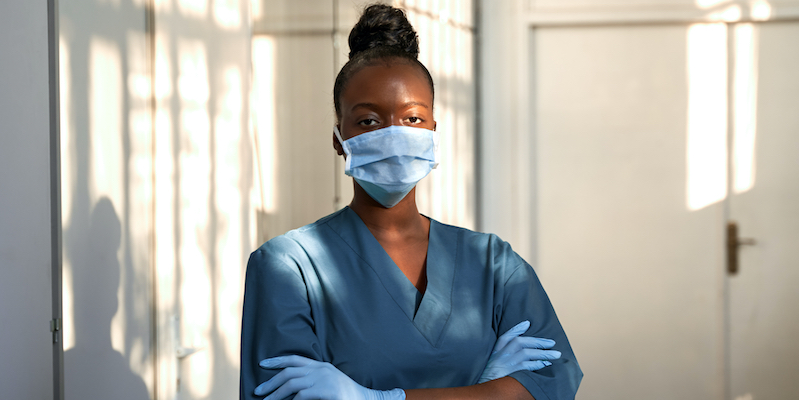 Description
The role of the Black, Asian, and Minority Ethnic (BAME) workforce is critical to the NHS both in the front line and in the community. Around 1/5th of NHS staff are from minority ethnics backgrounds and this group of staff tends to be overrepresented in frontline roles. The health and social care staff of minority ethnic backgrounds have been hit particularly hard by COVID-19, highlighting existing inequalities in working conditions. A number of recent reports and studies have highlighted the increased level of anxiety among minority ethnic health workers. Concerns have been raised that the BAME talent pipeline, already limited due to existing racial inequalities, could be further impacted by COVID-19 with a negative long-term effect on workforce diversity and service delivery.
Although there has been substantial attention from the UK Government to help NHS organisations deal with the pandemic and its aftermath, the mental and physical wellbeing of BAME staff requires special attention. The uptake of support strategies deployed by the NHS to date, such as health risk assessment tools, can be hampered by issues of low trust that affect ethnic minorities in healthcare contexts. Health and social care sector needs evidence on how to design culturally appropriate human resource management (HRM) practices to improve the work environment for minority ethnic staff. To provide such evidence, this project will work with three NHS organisations to co-produce HRM practices to target the wellbeing and occupational outcomes of minority ethnic employees, mitigate the pandemic-related impact and embed their welfare into the forefront of the NHS workforce agenda.
This research is funded by the Economic and Social Research Council (ESRC), as part of UK Research and Innovation's rapid response to Covid-19. Grant Reference ES/W001780/1.
The project builds on work conducted through a UKRI Research England QR Strategic Priorities funded project (December 2020 – March 2021).
Research overview
This study will coordinate a series of surveys, interviews, and tailored workshops, in partnership with three NHS organisations.
Surveys of minority ethnics staff at all levels will investigate staff perceptions of organisational support, estimate their effects on wellbeing and identify areas of need.
Targeted interviews with minority ethnic staff will provide unique insights into critical experiences and impacts of COVID-19 on the BAME talent pipeline.
A series of workshops will engage NHS managers, BAME networks, and trade unions in co-producing HRM practices that target BAME staff wellbeing, progression, and retention.
The study will engage organisational stakeholders to co-produce a training framework and educational resources which raise awareness of perspectives and experiences of minority ethnics employees, and of wellbeing-oriented HRM practices. This will contribute to creating a more equitable and sustainable healthcare service post-pandemic.
Our NHS project partners and BAME staff networks co-produce this research through their active input in all stages of the research process and through contributing advice, data, and their professional/organisational networks.
Impact
We will communicate our findings, examples of good practice, and HRM policy recommendations through a variety of tools: blog posts, practitioner-oriented events and webinars, a policy note, research briefs, podcasts, and online articles in the health sector publications and NHS newsletters.
A policy note and best practice toolkit "Beyond the pandemic: supporting the wellbeing and inclusion of minority ethnic NHS staff" will outline good practice in HRM in the context of responding to the needs of minority ethnic staff. The policy recommendations will be promoted via partners' networks and via NHS BAME staff networks to influence local and national policy initiatives tasked with making sustainable transformations for minority ethnic staff during and following the COVID-19 pandemic.
In collaboration with our organisational partners, the project will deliver pilot training intervention schemes. These will be quickly transferrable across NHS organisations. Our partners will facilitate engagement with sister heath and social care organisations across integrated care system (ICS) partnerships, to scale up our impact to regional and national levels.
Previous events
Webinar: Beyond the pandemic: improving the wellbeing of minority ethnic NHS staff
20 May 2021
Publications and outputs
Blog posts: