Innovation students wow industry experts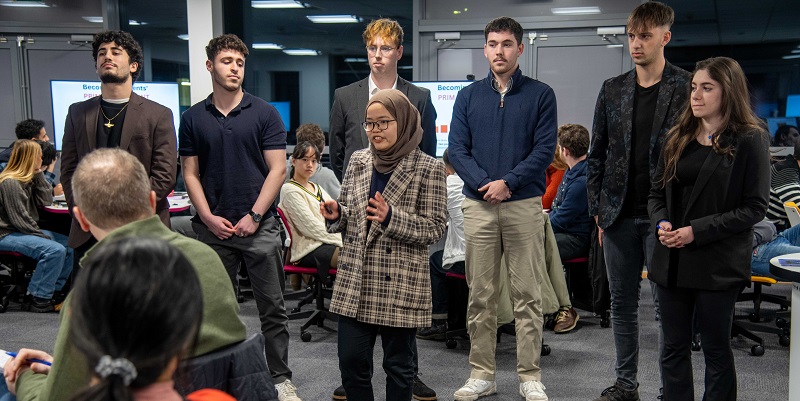 December 2022 saw the culmination of the annual Innovation Thinking and Practice module.
For the last 10 weeks, diverse interdisciplinary teams of final-year undergraduate students have been working hard to address real-world innovation challenges developed in partnership with industry partners.
Dr Sanaz Sigaroudi from the module teaching team explains this year's challenges:
We have a very diverse set this time, including items related to sustainability, healthcare, local community, data collection and management, improving hybrid working and engaging, attracting and retaining customers.
Each team has researched its challenge area, developed a deep understanding of the various stakeholders, developed inspiring ideas, created prototypes, and articulated the value. Along the way, the students have developed innovation, team working and communication skills, enhanced their commercial awareness, and developed an understanding of the increasing need to be resilient and manage change.
In the final session, the teams pitched their ideas to a tough panel of industry and academic experts with members from IBM, KPMG, the NHS, first direct bank, Ovo Energy, Leeds City Council, Co-Op Foods, and other organisations.
Although some teams won prizes, the quality of all teams stood out. Barnaby Oswald (CEO of the Local Data Company) praised the students for their "Great work and very high calibre of presentations". Dahlia Stroud (Head of Category at Co-Op Foods) agreed, "All the presentations were excellent. So much thought has gone into them. Every team should feel very proud".
Based in the Business School, the module takes an interdisciplinary approach with partners across the University, including the Nexus Innovation Hub. Nexus's Alan Gallacher was on the panel and commented:
Such great concepts, prototypes and answers to tricky questions. The students are so impressive and have great futures and careers ahead of them.
Three teams won Industry and Academic Winner awards, with their prizes sponsored by the University's Spark student enterprise programme. Team2 addressed the huge issue of textile waste by creating a new solution for upcycling textiles, which saves money for consumers, benefits the community, and helps aspiring fashion designers. SuperPets created a very new and unique way for improving pet health by engaging pet owners, while Team NetZero developed a great solution for supporting organisations to reduce their energy use and drive down costs and carbon emissions.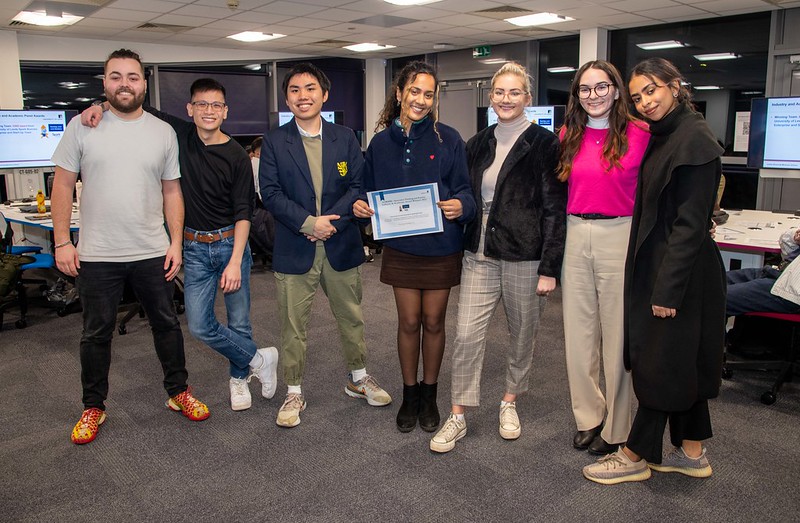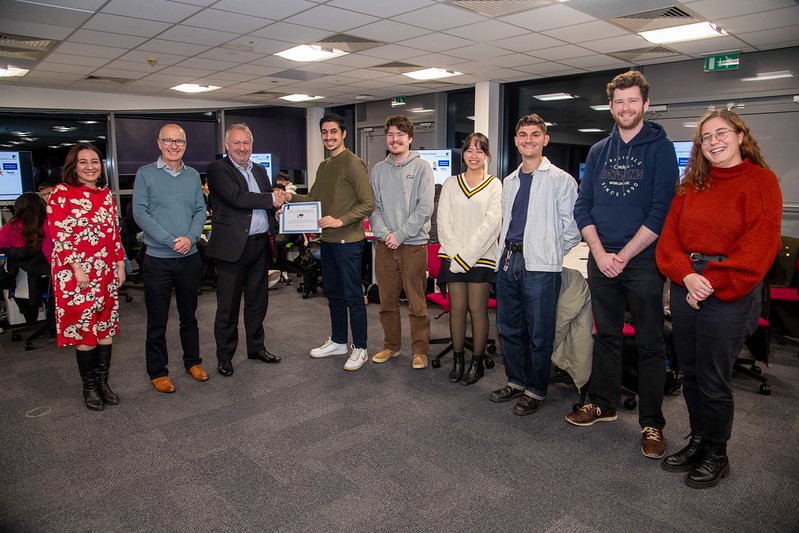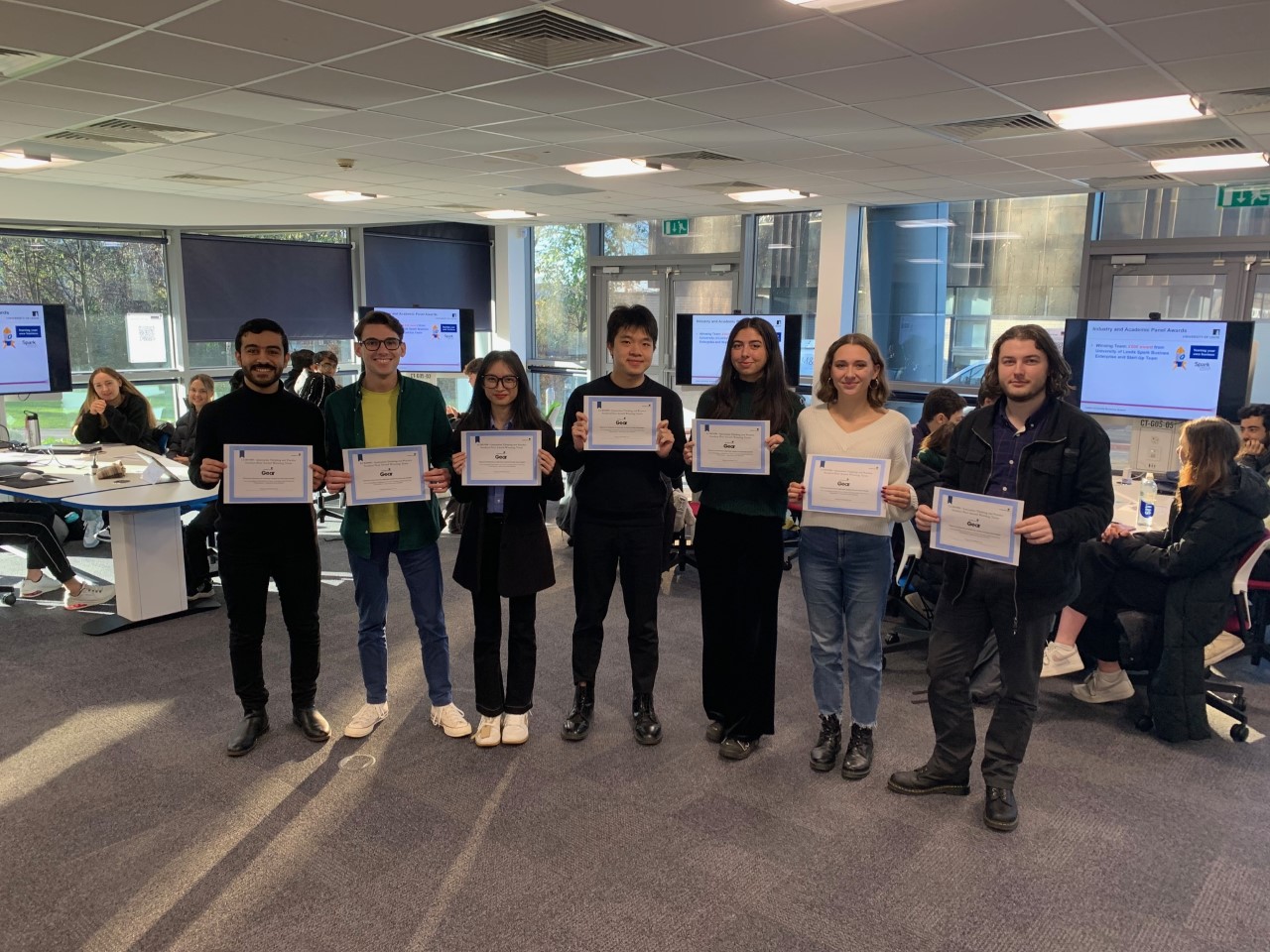 All the teams were winners really though, as module leader Tony Morgan notes:
Due to the quality of their work, every team has been offered a professional idea viability assessment by Spark, and several of the teams are now following up with our industry partners to discuss how their ideas can be taken forward.
The students are now focused on writing assignment essays to reflect upon their experiences and deepen their learning. One of the module's objectives is for students to use their employability skills as they begin their careers. In that vein, Dan Graf (CEO of Earthchain) offered the students some great advice:
I've recruited a lot of graduates over the years. I ask them about the challenges they've faced and group projects they've been involved in. I recommend you tell engaging stories about the experiences you've had and the skills you've developed on this module during your job interviews. It will really help your chances of getting hired.
A new textbook "Design Thinking for Student Projects" has recently been published to enable other universities to benefit from our experience at Leeds. If you'd like to find out more about the Innovation Thinking and Practice module, please contact the module's leader Tony Morgan.