Celebrating the opening of the Esther Simpson Building
The Esther Simpson Building, a new flagship teaching facility for Leeds University Business School and the School of Law officially opened its doors on 8 March.
Having opened for teaching in September 2021, the building is an exciting new space that supports participative learning and creates an inspirational setting for staff and students.
The opening ceremony, held on International Women's Day, saw a blue plaque unveiled to honour Leeds alumna, Esther Simpson OBE, and her work helping hundreds of refugees get to safety from Nazi-occupied Europe. Those in attendance heard contributions from Vice-Chancellor, Simone Buitendijk, Executive Dean of the Business School, Julia Bennell, Head of the School of Law, Louise Ellison, and Stephen Wordsworth, Executive Director of Cara.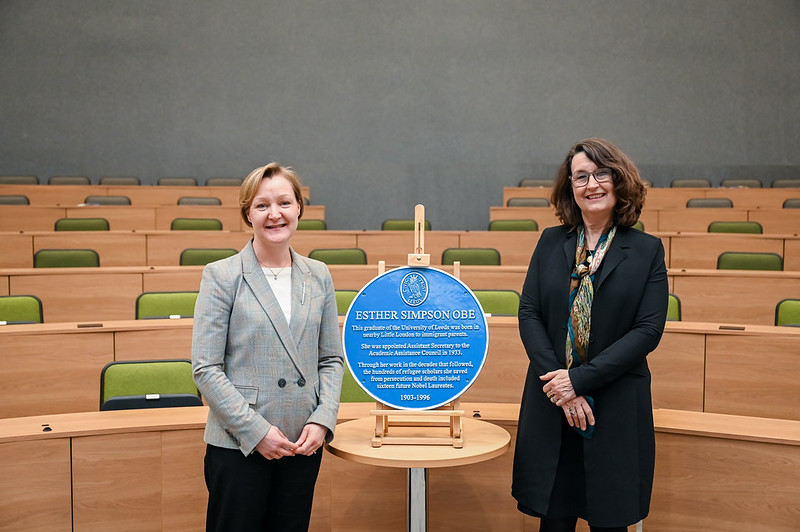 View photos from the celebration event.
Stage@Leeds performed a selection of Esther's letters and students from the School of Music played some of the songs that meant a great deal to her life.
We also heard directly from University of Leeds Sanctuary Scholars. The scholarships provide funding for forced migrants to the UK. Toka Marzouk, Jubril Oderinde, Mercy Medeh and Mohammed Derar shared their experiences of coming to Leeds and what the opportunity meant to them.
The Life of Esther Simpson
Esther Simpson graduated in 1924 with First Class Honours in French with German. She spent much of her working life as secretary to the Academic Assistance Council, now renamed Council for Assisting Refugee Academics (CARA).
Initially focussing on Nazi Germany, CARA assisted scholars from the former Czechoslovakia, Greece, Poland, Brazil, South Africa, Hungary, Romania, Bangladesh, Argentina, Chile, Uganda, Zimbabwe and, after the Tiananmen Square massacre in 1989, China, escape to safety.
During her lifetime, Esther Simpson worked tirelessly to assist hundreds of people fleeing persecution, including leading academics, 16 Nobel Prize winners and many more besides...
Many refugee scholars became her personal friends and Esther followed their subsequent careers closely. Among her Second World War refugees, 74 became Fellows of the Royal Society and 34 Fellows of the British Academy; 16 were recipients of a Nobel Prize, including Max Perutz. The Austrian-born British molecular biologist shared the 1962 Nobel Prize for Chemistry with John Kendrew for their studies of the structures of haemoglobin and myoglobin.
She was awarded an OBE in 1956; the French Government made her Officier d'Académie; and after her retirement in 1966, she received two honorary doctorates, including one from Leeds in 1989. Esther Simpson died on 19 November 1996.