International Partners Day: Shining a light on the Business School globally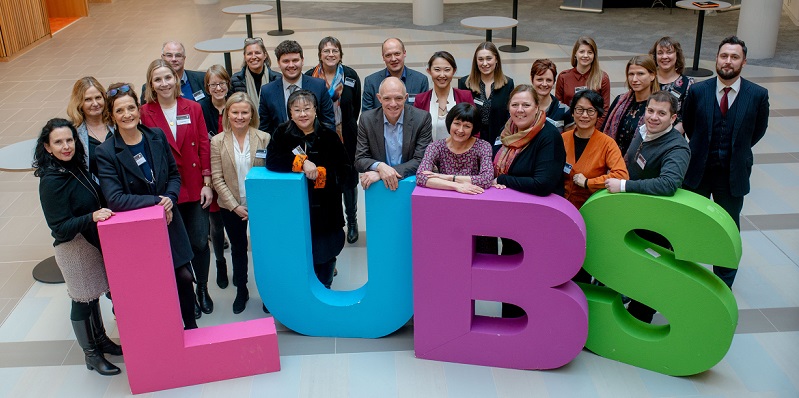 The Business School hosted the inaugural event on 3 March, welcoming some of the School's key international partners in Higher Education, hosted at University's business innovation hub, Nexus.
The event, which centred around the theme 'Responding to changing environments', saw a number of key academic and professional staff from Business and Management Schools across Europe, the US and Hong Kong come together on campus. The day gave the delegates an opportunity to discover more about the School's developments and innovations in executive education, student education, internationalisation and the Leeds University Business School and School of Law transformation project.
On the eve of the event, delegates enjoyed a campus tour followed by a formal dinner at University House, which provided guests with an opportunity to network and meet senior figures at the Business School.
Responding to changing environments
On the day itself, delegates took part in sessions showcasing key educational activities and projects of the School and University, providing insight into the School's ambitions as a global Business School. Included were talks from the Business School's Executive Dean, Professor Julia Bennell, Director of the Business and Law Transformation Programme, Professor Nick Scott, Director of Executive and Professional Education, Professor Sarah Underwood, and faculty Pro-Dean for International Dr Iain Clacher. The Vice Chancellor of International for the University, Professor Hai Sui Yu, also spoke to delegates about the University's wider international strategy.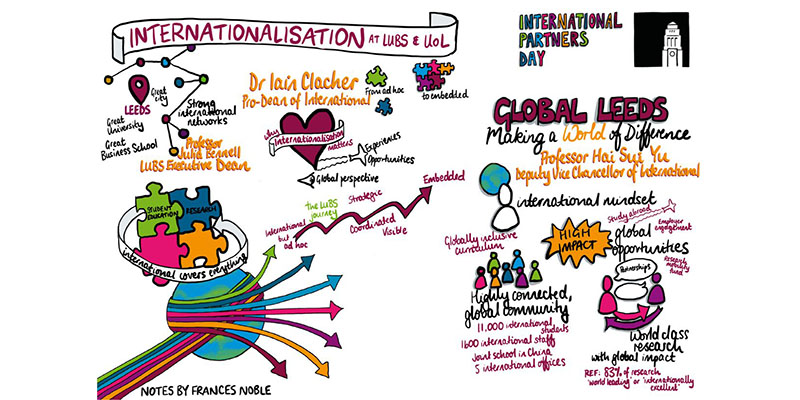 Other talks on the day focussed on International Curriculum and Employability, given by Faculty International Tutor Maria Hussain, International Employer Engagement Manager, Jan Spalek, and Career Consultant Marc Steward, as well as a spotlight session on the Nurturing Talent Mentor Scheme by Professional Development Officer Anna France. The presentations allowed for thoughtful discussions between attendees on maintaining high standards of Business Schools and innovating in a changing world.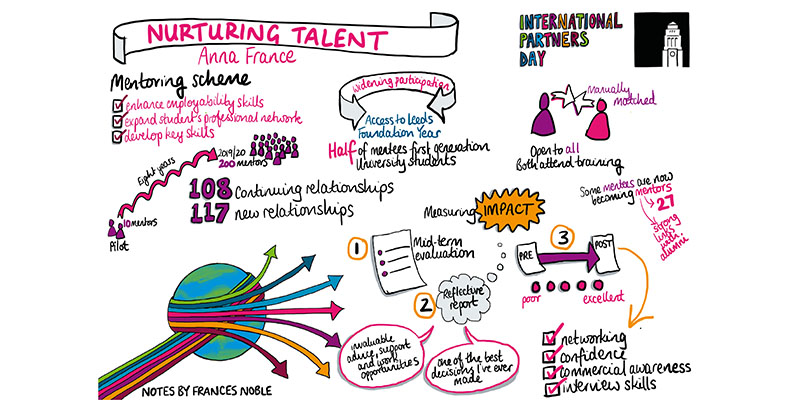 The event also provided ample networking opportunities for attendees, allowing individuals across a global network of universities to connect, share knowledge and best practice in various fields. The day concluded with a formal dinner hosted at the Royal Armouries in Leeds.
Ellen Wang, Faculty International Manager and organiser of the inaugural International Partners Day commented:
I am absolutely thrilled to welcome so many partners from around the world to Leeds. This validated the level of commitment from our international partners, and the event provided an excellent platform to showcase Leeds University Business School.
It was really heartwarming to receive so much positive feedback during and after the event, which is a testament to the teamwork of all colleagues involved from across the University."
We would once again like to thank the delegates who travelled overseas to attend the event and for their enthusiasm in strengthening their connections with the School."
Photos from International Partners Day can be found on our Flickr pages.