MSc Management goes to the Opera
MSc Management students were joined on the 13th of February by a special guest, Lesley Patrick, from Opera North.
Lesley is a Project Director at Opera North and has been for more than a decade, most of which was spent working in a formal partnership, with the University of Leeds, known as DARE.
The evening talk was a fantastic opportunity for the students to soak up as much of Lesley's insider knowledge as possible, whilst enjoying a few good slices of pizza.
The students received exclusive insight into Opera North's operations and its revenue streams, including government funding, key challenges, its new building plans and everything in between.
Opera North has set its sights on attracting young people through the under 30's membership, which promises £10.00 tickets for selected productions, an initiative of which Lesley spoke proudly.
Lesley confessed that this is a business, unlike many, where once you're in, you're staying. This was certainly believable, as Lesley is clearly passionate about the cultural sector and the important role Opera North plays.
The enthusiastic talk lasted 30 minutes, followed by an eager Q&A session. The finale was a group trip to watch the dress rehearsal of 'The Turn of the Screw', which was well received all round.
A huge thank you to Lesley for sharing her knowledge and passion with our students. Another huge thank you for the tickets. We hope Lesley will join us again in the future.
A final thank you to Great Food at Leeds for supplying the great pizza.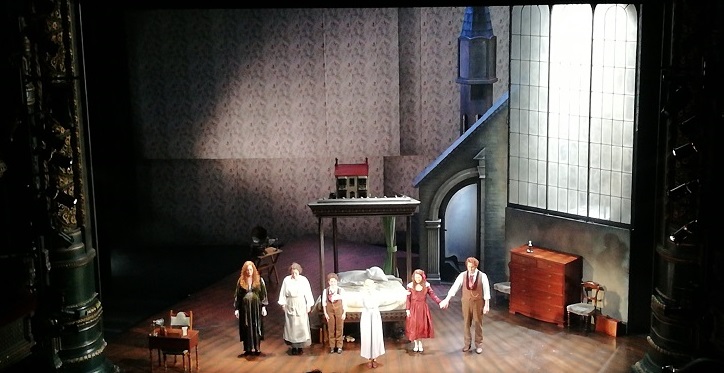 The Turn of the screw, finale. The actors bow to applause