Tapping into our talent: A social enterprise CEO's experience of working with our students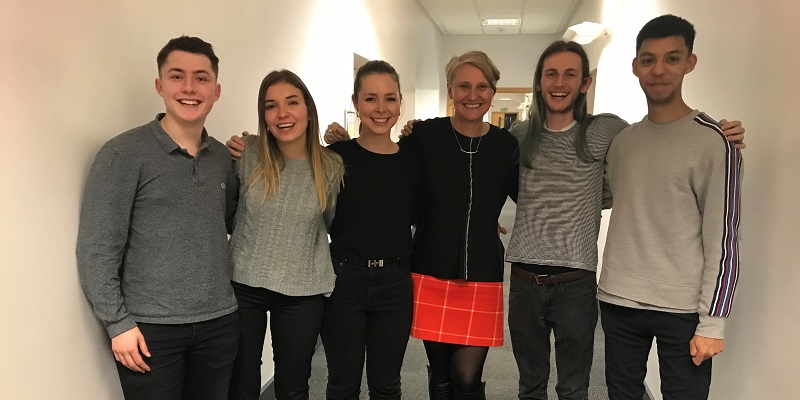 Liza Kellett, CEO of social enterprise Trust Leeds, engaged a project team of five Leeds University enterprise students earlier this year to deliver a marketing and research consultancy project.
Here we share how Liza worked with our students to engage them with her organisation, and how she made sure everyone involved got the very best from the experience.
Getting started
Liza founded Trust Leeds in 2018, with the aim of helping people to change their lives by building financial independence, confidence and self-reliance.
With the enterprise still its infancy, Liza wanted a fresh perspective on its marketing strategy. Through her links with the University of Leeds – as an alumna and now a Leader in Residence here in the Management Division – she was aware that it was possible to collaborate with students on consultancy projects.
Particularly relevant to her needs was the Enterprise Consulting module. This matches social enterprises wanting support on specific projects, with final year undergraduate students who have the right skills to help and want to build their skills and experiences.
Liza applied for support, and was matched to a team of five students.
I was invited along to Leeds University Business School to pitch my project to all of the students on the module, and the students themselves selected the project they most wanted to work on. It was a very good and robust process. It really focussed my mind on what I wanted the students to achieve, and made me realise how much I wanted the students to come and work for me!
A clear brief for the students
The consultancy project took place from February to April. Liza had a clear brief for the students and worked with them to develop a plan.
The students got involved in various tasks, including:
Constructing a questionnaire for a specific group of stakeholders, conducting interviews and analysing results
Arranging a business breakfast for stakeholders
Reviewing existing marketing materials and making recommendations
Presenting their findings to the social enterprise's board
Liza met with the students regularly to guide them, and then came back to the Business School to hear the students' end of module presentation.
Making the project valuable for all involved
For Liza, the experience was really positive:
The students helped to throw a spotlight on an area of the organisation that I knew needed work. They were critical in the best sense, and made useful suggestions – coming up with innovative ideas that I'd not thought of.
The students also gained skills and knowledge highly relevant to their degree, including an insight into the work of a new social enterprise, and practical marketing experience.
So how can other social enterprises wanting to tap in to student talent make sure their experience is similarly positive for all involved? Liza has the following three suggestions:
Firstly, identify a project that you really need, and that's do-able. Liza put time into thinking through the project and making sure that it was clearly defined.
Secondly, invest time. It pays to help the students understand the background and context to their work, and to brief them well. Liza met up with the student group regularly (often virtually) during the project to answer any queries and make sure the outputs she wanted would be achieved. She was also pleased to have made time at the end to hear the students' presentations to their tutor. "It was great to hear how they reflected back on their experiences".
And thirdly, create opportunities for the students to learn wherever possible. For example, Liza knew that the students would need to present to their tutor, so she gave them to opportunity to get some practice by giving a presentation to her organisation's board too. At the same time, it helped to keep Liza's board fully briefed.
Find out more
The module Liza was involved in will run again in 2020, and is open to any small business or social enterprise looking to work with a group of students undertaking a consulting project. Applications are open now and the closing date is Monday 16 December. Find out more and register your interest here.
If you would like to explore other opportunities to work with students in the Management Division, please contact Emily Crosbie, Engagement Manager: e.crosbie@leeds.ac.uk