Celebrating northern talent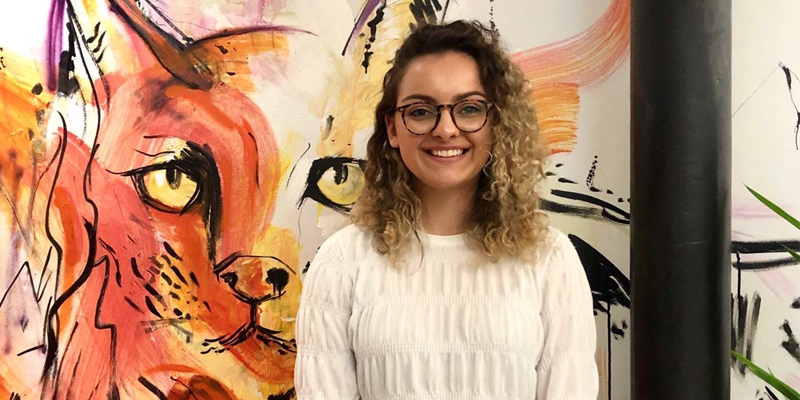 For two years running, Business School students have pitched to perfection, enabling them to work directly with local agencies to see their advertising campaigns implemented.
Students on the LUBS 5407 Advertising module are given the opportunity to take part in the Two+Two collaboration event, where 60 creatives from 30 local advertising agencies act as mentors to 190 students from Northern universities. Students tackle advertising briefs that deal with social issues, such as youth loneliness and organ donation.
Amira Barwany attended the event and was successful with her team pitch. This led to her completing a placement at Havas Lynx, before subsequently being offered a place on their graduate scheme.
Amira said:
"Two + Two is a fantastic day that I would recommend to students who have the opportunity to attend. I learnt a lot on the day and it led to a job at Havas Lynx !
When we arrived we were randomly assorted into teams of five from across Northern advertising/design university courses. We were briefed in the morning and then given the day to create a response. We developed an insight, strategy, creative concept and campaign and later devised a pitch.
After two rounds of pitching to industry professionals and the 190+ students present, my group managed to achieve the win! We received valuable feedback from both judging panels. To top it off we won a two week placement at Havas Lynx in Manchester!Lots of students were able to find job placements on the day through networking and others were invited to agencies for work experience.
I then completed a placement at Havas Lynx, where I worked on the live brief response from Two + Two. The following week I worked with a creative team who were part of one of the internal agencies. I worked on creating three concepts for a live brief and had a chance to practice my copywriting skills. I learnt a lot in a short space of time, worked really hard on a live brief and had a lot of fun doing it.
I was then invited back for a summer placement and referred to the grad scheme before landing a job as a junior copywriter at Havas Lynx! All of which wouldn't have been possible without attending Two + Two.
For students on the Advertising module I'd recommend getting stuck into the opportunities available to you - I've learnt that networking and gaining industry experience is just as important as doing well on assignments.
It has definitely been the highlight of my masters experience so far! Thank you to Sally Chan, Senior Teaching Fellow in Marketing and module leader, for getting us all to Two + Two and organising the many initiatives for us in the Advertising module. None of this would have happened without the placement."
<iframe width="560" height="315" src="https://www.youtube.com/embed/PGREnOdPiug" frameborder="0" allow="accelerometer; autoplay; encrypted-media; gyroscope; picture-in-picture" allowfullscreen></iframe>