Changing four people's lives: Judging the National Student Investor Challenge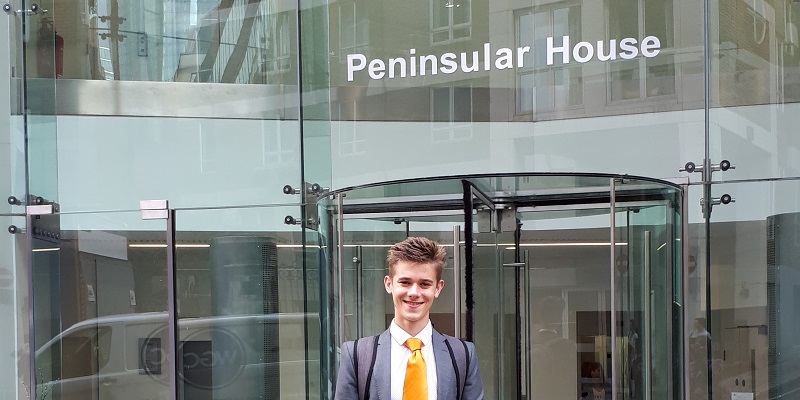 This guest blog comes from undergraduate student James Tucker, who is starting the second year of his BSc Business Analytics degree.
He tells us about his experiences of first winning, and then judging, the National Student Investor Challenge.
Last year, I entered the National Student Investor Challenge run by the London Institute of Banking and Finance. Initially, I entered it on my own to see how I could do when investing £100,000 of virtual money into the FTSE 100, the Smallcap 50 and other trusts. After coming 5th out of over 35,000 other students, I progressed through to the semi-final where I came 2nd out of 2000 students. I then assembled a team with three peers to take to the live final in London where, after a morning of trading challenges and an afternoon of presenting to the judge's panel and a room full of industry experts, we won a life-changing all-expenses paid trip to New York including visiting all of the main tourist attractions and watching an Initial Public Offering in the New York Stock Exchange!
Judging the 2019 final
This year I was invited back to the London Institute of Banking and Finance to sit on the panel of four judges during the final of the 2019 National Student Investor Challenge. I was also asked to give a couple of speeches to this year's finalists and other members of the audience about my experience of the final last year in addition to my experience in New York. Some of the modules that I have taken during my first year at Leeds University Business School have enabled me to practise my public speaking and presentation skills in addition to receiving feedback on the presentations. This helped me to deliver successful speeches to the audience and to relax and engage with them. I also used the interpersonal skills that I developed during the Leaders in Residence conference that students on my course were able to take part in to communicate with members of the audience, fellow judges and the competitors.
What the judging involved
The judging involved meeting with the competitors before the activities started to try and calm their nerves and to give them an insight into what to expect from the rest of the day from the point of view of someone who has already been through it all before. In the afternoon I watched presentations that each team had prepared before asking them questions to further test their knowledge and to find the strongest team. The judges then adjourned to compare notes and to decide on the winning team. Through the Exploring Your Potential module I took in my first year, I have learnt how to make effective notes quickly and was able to put this into practice in a context outside of lectures which was incredibly useful.
I have never had the chance to change four people's lives before, but it was down to myself and the other three judges to decide who would win the trip to New York which includes a tour of the New York Stock Exchange and being interviewed on Asset TV amongst other amazing experiences.
I really enjoyed being back at the London Institute of Banking and Finance and being able to watch the final unravel without having all of the invested emotions that I had when I was competing last year. It was also very special being able to show my mum the final after she was unable to come in 2018 and after she has heard me talking about it for a year.
Summer projects
This summer I secured a job as a Business Trainee at a quantity surveying firm. I have been able to put the analytical skills and knowledge that I gained during my first year on the Business Analytics course into action in addition to assisting the quantity surveyors. I have thoroughly enjoyed getting the opportunity to further develop my analytical skills in a workplace environment, building upon the skills, both technical and interpersonal, that I have worked on in the last year.
I also took part in a week-long residential in the Lake District to complete my gold Duke of Edinburgh award, which again helped to enhance my teamwork and communication skills through undertaking challenging outdoor activities as part of a team.