Farewell to German Graduate School celebration event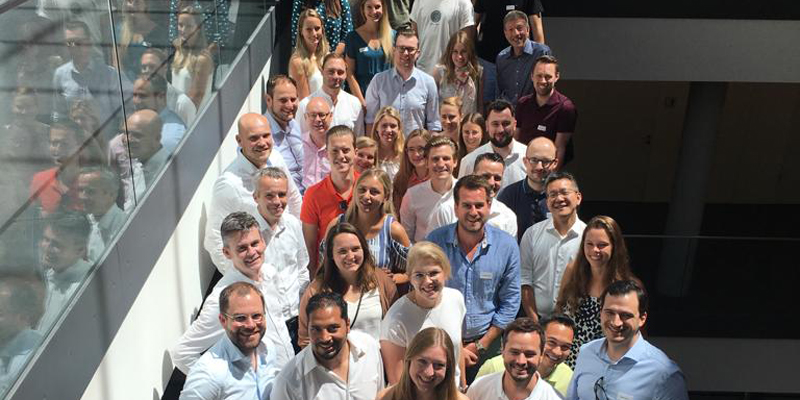 Business School representatives travelled to the German Graduate School of Management and Law (GGS) in Heilbronn at the end of June 2019 to host a farewell workshop, dinner and celebration event for alumni and students.
The unique partnership between Leeds University Business School and the German Graduate School of Management and Law (GGS), in Heilbronn, southern Germany, began in October 2007 with the launch of the part-time MSc Business Management. GGS was funded by the foundation set up by Dieter Schwartz, the founder of the highly-successful Lidl supermarket empire. The aim was to deliver top-quality management education in the Heilbronn region, the hometown of Dieter Schwartz. This was the start of a 12-year relationship with GGS, its staff, and eleven cohorts of inspiring and engaging students.
Students studied part-time at weekends, with Business School academics flying out to teach at GGS. Each year the students would come over to Leeds for a week of company visits, lectures, workshops and social events. Each year the relationship grew and deepened with lasting friendships forming and even two weddings between students on the programme.
The commitment of the students to their studies whilst holding down demanding jobs in major companies (Audi, Bosch, IBM, Siemens, Volkswagen and more) plus many medium-sized companies that blend family business values with global ambitions, was impressive. Business School faculty would return from their weekend of teaching stimulated from the debates and challenge of the class.
So it was with mixed feelings that Business School staff: Steve King, John March, Iain Clacher, Chris Forde and Graham Caddock travelled to Heilbronn to host this final celebration and farewell event for alumni and students.

Steve King began the day with his personal reflections on directing the programme and John March ran a thought-provoking workshop discussing the major events of the past 12 years. "Given the programme started just as the financial meltdown began, and we've since weathered many global political, economic, and technological storms, it was interesting and not surprising that some powerful views were aired," said Steve King, Director of the MSc Business Management (Germany).
In the afternoon, guests were taken on a guided tour of the Heilbronn Garden Festival led by Constanze Wagenblast from GGS and Jan, a GGS MBA alumnus.
A celebration dinner was held at a local wine tavern, followed by networking and drinks at the historic Stettenfels castle, perched high on a hillside overlooking Heilbronn.
"It was a great opportunity to renew old acquaintances and develop new ones, and alumni expressed an interest to stay connected. Graduates plan to create a new alumni group for alumni and staff to network and continue their warm and rewarding relationship for years to come. "