MBA student hosts Chinese New Year Gala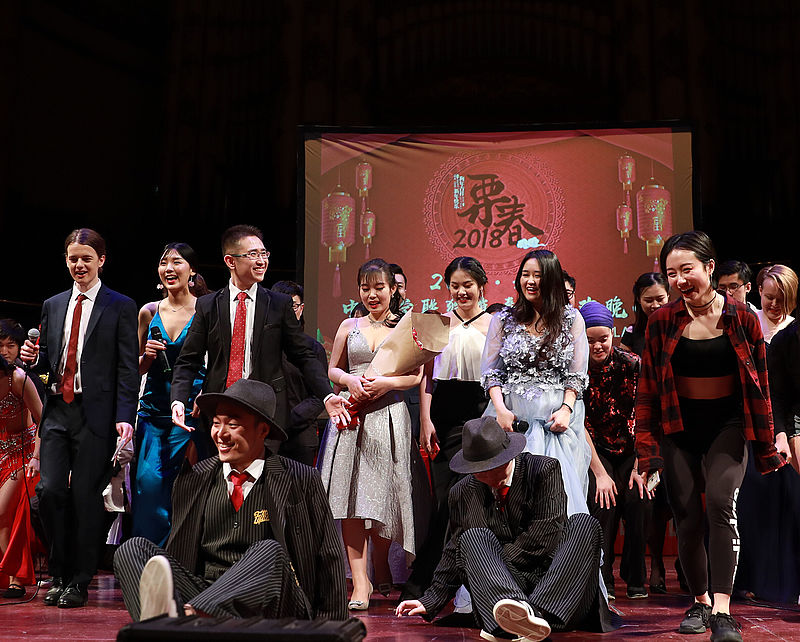 The city of Leeds celebrated Chinese New Year this week with a glittering Gala at Leeds Town Hall.
The Leeds Chinese Students and Scholars Association joined forces with the Business Confucius Institute at the University of Leeds to host the Gala at the historic city centre venue.

The Business School was proud that one of our students, Mingchu Wang from the Leeds Full-time MBA, had a starring role as host and compère at the event.

Mingchu, a former national TV presenter and entrepreneur from Beijing, said:

"It was an honour to host such a special event and celebrate with the community in Leeds. It created a sense of familiarity for Chinese people in the city, while giving everyone a chance to explore Chinese culture.

"We had an unforgettable and enjoyable gala, joined by the Lord Mayor of Leeds Jane Dowson, Pro-Vice-Chancellor: International at the University of Leeds, Hai-Sui Yu, Commercial and Education Councillor from the Chinese Embassy in the UK Ying Wang, and many other distinguished guests to celebrate the Chinese New Year."

Mingchu commented on how his involvement in activities like this are enhancing his experience on the MBA:

"Having MBA colleagues from around the world is giving me the knowledge and skills to communicate with people globally, exchanging ideas and developing networks. Promoting Chinese culture is a part of the learning process and I am happy and proud that most professional peers came to the gala to celebrate the Chinese New Year.

"I am supported by the faculty and colleagues to get involved in various organisations and committees like this. I also have a role as the Strategy Department Lead of the Leeds University Union Consulting Society and am a panel member of the Enhancement and Innovation Centre at the Business School."

The event at the Town Hall was just one of many celebrations taking place across the city this week, which have included celebrations of Chinese music, food, dancing and traditions such as calligraphy writing and food carving.