Hybrid and future ways of working: Why one-size can't fit all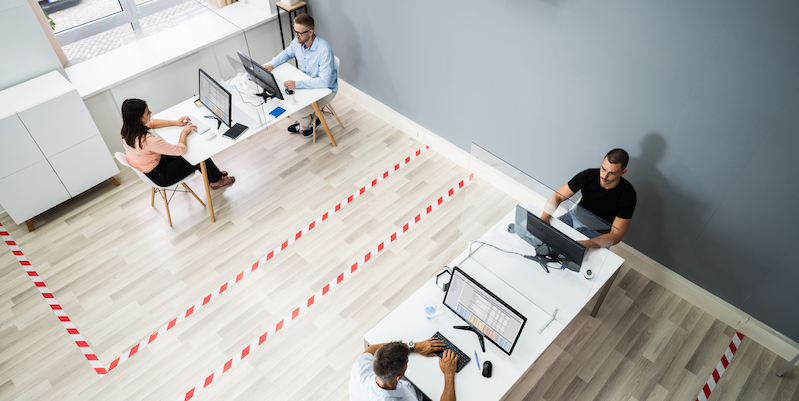 Date: Wednesday 24 November 2021, 12:00 – 2:00
Location: Online
Cost: Free of charge
We are delighted to welcome you to our third webinar as part of our Adapting Offices for the Future of Work UKRI research project.
We will be presenting key lessons learned around successes in adapting offices for hybrid working, and highlighting employee concerns, needs and aspirations for the future office. We will be drawing on:
interviews with key decision makers and stakeholders involved with office redesign planning
interviews with employees working in a variety of office and home settings
a cross-industry employee survey of UK office workers.
We will use the data to explain why one size can't fit all when it comes to the design of hybrid and future ways of working, together with what we need to consider when it comes to thinking about the future workplace and how employees use offices. We will be sharing some of the practical steps that organisations have taken to support employees back into offices, trade-offs involved in office design, different strategies to manage hybrid working and things to consider as we move towards the "new normal" (whatever that may actually be).
Half of the session will be dedicated to an interactive discussion. An opportunity for attendees to ask questions of the research team, pose questions to the wider audience and to discuss together ways that we can successfully manage the challenges that adapting offices and ways of working bring.
---
Speaker info / bios:
Dr Matthew Davis is an Associate Professor in Organisational Psychology at Leeds University Business School. Matthew has worked on a range of applied research projects with corporate partners including Rolls-Royce, Marks and Spencer, Next, Atkins, Arup and British Gas. Matthew is currently leading a ESRC funded multi-disciplinary project examining office adaptations in response to COVID-19 and how office design and ways of working (eg hybrid) impact employee social networks, workflow and performance.
Professor Chia-Huei Wu is a Chair in Organisational Psychology at Leeds University Business School. He studies proactive behaviour, personality development, work design, overqualification and employees' subjective well-being. He has published over 100 journal articles and book chapters. His work appears in leading journals, including Academy of Management Journal, Journal of Applied Psychology, and Journal of Management, among others. He currently serves as an associate editor for Journal of Management. He is a co-investigator of the ESRC-funded project "Adapting offices for the future of work".
Dr Helen Hughes, (Leeds University Business School): Dr Helen Hughes focuses on: the ways that social interactions influence and shape jobs and careers, new ways of working, job design, job crafting and work organization, team and group behaviours in relation to complex systems, service design, social networks, job design and professional sport, systems design, and socio-technical thinking and practice, organizational change and change management, applied methods e.g. modelling and simulation, and social network analysis.
Hannah Collis is a Researcher in Organisational Psychology at Leeds University Business School. Her research explores personality development and wellbeing in the workplace. Hannah is currently one of the full time researchers on the ESRC Adapting Offices project, which is exploring the office adaptations in response to the COVID-19 pandemic, and how office design and new ways of working, such as hybrid working, are impacting employee social networks, performance, attitudes to work and wellbeing.