Course: BA Management
Nationality: British
Name
Isaac Crawford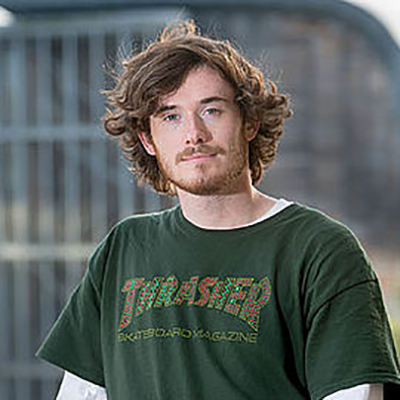 How did you hear about Leeds University Business School and why did you choose to study here?
I first heard about Leeds University Business School when searching online for reputable management degrees. The Business School ranked highly in the university league tables, and I had also heard from friends how great the scene in Leeds was for live music.
Coming to the Open Day, experiencing the atmosphere and meeting lecturers, is really what made me decide to study at the Business School. I love the Maurice Keyworth building.
What is the best part of your studies? What are you enjoying the most?
The best part of my studies is being able to tailor the content in my third year to my own research interests. During my studies I found a passion for sustainability and business ethics, an area which I knew very little about, and am now writing my dissertation about it!
I enjoy the delivery of seminars and really feel the benefits of this type of engagement with the course content, working in this structure is very fulfilling.
What are your career aspirations? Do you think the experience and skills you will gain from your degree course will help you in your future career plans? In what way?
After studying a Management degree, I feel there are a lot of options I could peruse, either working in a firm or starting my own business is definitely a possibility too! I would like to follow my passion for sustainability and business ethics whichever industry I go into.
As keen skateboarder and musician I hope that I may end up working within the skateboard industry or even continue on with the music projects I have been involved in during my time at Leeds.
After graduation, I want to travel around the world as much as I can, to gain new experiences and meet new people, all of which may shape my career aspirations as I go.
Have you taken up any of the extra opportunities available to you and what was your experience of these eg. PASS scheme, work placement, study abroad, being an ambassador, student societies etc.? Any highlights?
In my first year I joined LUU Skate Society which was in its first year of being a society and had only a few members. The following year I joined the committee as vice president and this year now I am the president of the society. It has been amazing helping to create and grow a society from grassroots, from activities such as organising special events, taking part in radio interviews, coaching new skaters, to the weekly skate sessions we run at The Works Skatepark!
A highlight for myself was definitely our Give It A Go Session, where we had 50+ people in attendance, all learning how to skate, which in an indoor skatepark is a massively sensory experience. Everybody was smiling, and that is what is important to me, that people can have fun and unwind! It's what we're here to do.
What is your impression/experience of the facilities, the staff, your peers, the student union, the City of Leeds and the Yorkshire region?
The staff at the university are very helpful and knowledgeable, all of which matches the great facilities the university has, such as the student union which is one of the largest and most diverse in the UK.