Getting serious with LEGO® Play
Management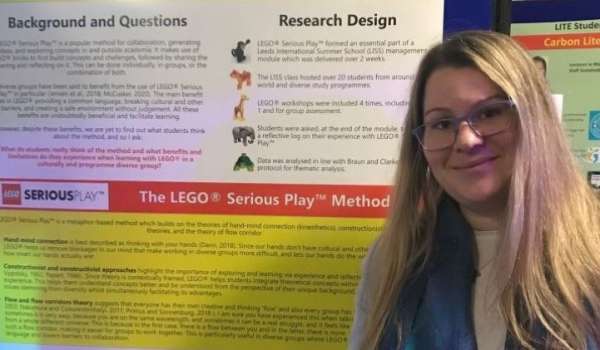 Last year, I delivered a management module during the Leeds International Summer School - an intensive two-week module for students from all around the world. Having a global cohort brings a wide range of experience and knowledge from different cultures and contexts into the classroom. Although this varied knowledge is very beneficial, there are significant challenges with how the students access this knowledge and how we can help students from diverse backgrounds work together and communicate more easily.
To help overcome these challenges, I used LEGO® Serious Play® to encourage the students to find different ways to work together using a new, shared experience. LEGO® Serious Play®, a methodology created by the LEGO® Group, has been a popular approach for organisations to spark discussion, inspire dialogue and facilitate the exchange of ideas.
This method has also been used to encourage Business Management students here at Leeds University Business School to explore complex concepts, become co-creators of their learning, and discuss problems and challenges faced by businesses in the increasingly dynamic business environment.
Students always seem to enjoy the LEGO® sessions and a lot can be learned from them, but one question remains largely unanswered – what do they actually think of the LEGO® Serious Play® method? This is what my research investigated.
There are multiple benefits of using LEGO® Serious Play®, such as higher engagement and inclusivity, better retention of knowledge, and easier communication and collaboration within the classroom. These positive outcomes are achieved via the common language LEGO® bricks offer, the ease with which models can be built, and a general familiarity and positive emotions associated with LEGO®.
In addition to these commonly known benefits, my research also highlights that empathy is built when students build with LEGO® in groups. This is mostly because students experience the differences between working more traditionally and working with the help of LEGO®, and become more generous in their interpretations of others' behaviour, promoting a non-judgemental place in which it is safe to share ideas and interpretations.
LEGO® also helps students visualise different viewpoints, and these can be further explored when they share their builds and reflect on them as a group. This is particularly valuable if we consider the important role of leadership in organisations.
There are, however, limitations of the method. In terms of diverse groups, the LEGO® Serious Play® method does not overcome all obstacles. For instance, differences between introverted and extroverted students still exist, and more confident and outspoken students – personally and culturally – tend to initially contribute during building more than quieter students; however, since it is easier to see any unequal contribution from the group, those students who 'lead' the building usually pause and give room to others, which does not always happen in group discussion. This is just one example of how LEGO® lowers some of the barriers to effective working in groups.
Many students are also sceptical when first introduced to LEGO® Serious Play®. Blair and Rillo (2016) suggest that scepticism is a common initial reaction to LEGO® in business and professional contexts, which dissipates once LEGO® bricks are put to serious use. Whilst this is not an issue in the case of professionals, it can be trickier in educational settings where the initial scepticism can demotivate students to use LEGO® seriously.
Addressing this challenge is difficult but I recommend emphasising the challenge the students are working on, rather than the LEGO® Serious Play® method. I also suggest considering calling the method 'LEGO® serious work' to set expectations and establish the right mindset in students.
As part of the Student Education Conference 2023 organised by the Leeds Institute for Teaching Excellence and held earlier this month, I presented my research on using how students felt using LEGO® Serious Play® in a poster session. The Student Education Conference was a fantastic way to showcase the research on LEGO® Serious Play® and received many questions and comments, some of which involved the issues of class size, cultural programming of the mind and hands, as well as issues related to accessibility and inclusivity when using the LEGO® Serious Play® method in a classroom – some great considerations to make the method work even better for students and to explore in future research.
The views expressed in this article are those of the author and may not reflect the views of Leeds University Business School or the University of Leeds.