How to use social media for networking at academic conferences
Research and innovation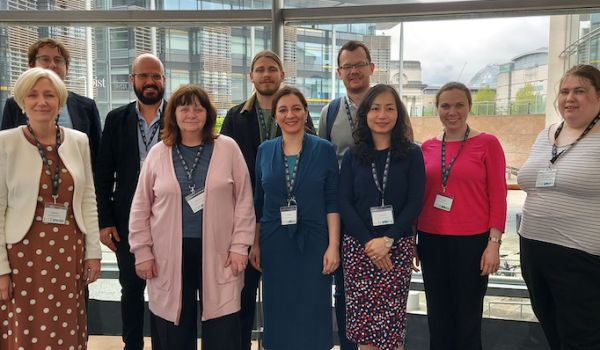 Conferences are a great place for academic scholars to raise the profile of their personal brand and institution. They provide a space for knowledge transfer, honest critique, and personal connection that's specific to your niche. They are a rich source of networking possibilities that can further your research and/or teaching knowledge and have the potential to create fulfilling and lucrative partnerships that will benefit your students and the wider research community.
Not only that, but conferences also have the profound ability to rejuvenate our 'why' and empower us to bring home new knowledge and inspiration, then apply it with a different perspective. The problem is, however, that unless we have made an active effort to swap contact details and start conversations with our fellow conference-goers, a lot of these new connections are often forgotten.
Furthermore, it's easy to get lost in the vastness of the conference space. With the sheer number of people and great ideas, it is seemingly impossible to get your work seen by everyone or see everyone else's for that matter.
One solution is the smart use of social media platforms such as Twitter or LinkedIn. By utilising the techniques below, you can greatly increase the number of people who see your work and the networks they bring with them. By being visible on social media in the conference space, you can open many doors of opportunity and foster new connections that were not possible before.
You don't need a strong knowledge, or even a great deal of interest in social media to use these tips effectively, so let's get started.
Pick a social media platform you know and are comfortable with using.

In the Management Department at Leeds University Business School, we tend to use Twitter for conferences as it is widely used across institutions and conference organisers as a way of promoting the event. It appeals to the broadcasting nature of conferences and the demographic that attends. LinkedIn is also a great choice, especially for personal connections and any businesses, such as conference sponsors, you may come across. If you're a more visual person and a great photographer, Instagram can work too.

If you're presenting, prepare content ahead of time to post.

Let's assume you've got a 30-minute slot on a topic you're passionate about, but not everyone is going to make that timeslot. How can we ensure it gets seen by as many people as possible? The solution is to create a poster version of your presentation and post it on social media that day. The trick is to keep it simple: use the attention-grabbing finding as a title and then share the key messages in a thread – leave extensive methods sections for when people ask about it in the comments, or in direct messages. Make sure to use alt-text descriptions for any images to make your tweets accessible.
Bonus tip: You can use free content scheduling software like Tweet Deck to post the content at the same time as you speak. You can mention it during your talk as a 'virtual handout', driving traffic to your account and gaining you some potential new followers.

Follow the conference organisers, key speakers, and institutions.

This is a simple one but follow the conference organisers and feel free to tag them when you post. They can share with their wider networks which will increase the number of people who can see your activity.

Follow and use the conference hashtag.

Conferences will usually have a hashtag that you can follow and use. You can find it on the organiser's page, most often on the promotional posts about the conference. This hashtag should be included with any content you post, as it embeds you into the wider conversation, thereby allowing other conference-goers to see your content too.
Bonus tip: Have a look through who is using the hashtag and if they're people of interest in your niche, give them a follow and they may just follow back. Try not to add people who are outside of your discipline/interests, but don't be shy – it's a social network, after all, this is what it is designed for.

Tag your home institutional accounts.

First, this gives an opportunity for your home institution to share your post to their network, which is usually further reaching. Second, it drives traffic from conference-goers, especially if you're using the conference hashtag, directly to your institution's account. Finally, this shows the strong community of your home institution and the support involved, which can be encouraging for other academics to see – who knows, they may end up working with you someday.

Announce your arrival.

Take a minute to say that you've arrived and are looking forward to meeting everyone, using the conference hashtag. Extra points for pictures, but they don't have to be of you, it could be of the venue, city or anything related – be as creative as you like. (Tweets with images get more engagement than those without.) You can also use this post to highlight what you're looking forward to on the conference itinerary.

Team up.

If you're not on your own and you've come with a group from your university, get some group shots and post together. You can amplify the voice of your arrival as a group and share each other's content for support. This shows how strong of a team you are in the virtual conference space and opens all of you up to new conversations and connections.

Get involved in the conversation for each presentation you attend.

If you had a burning question or simply enjoyed someone else's presentation, you can do a quick search of their name and institution on Google (or your social media of choice) and find them. Some academics may leave their social media details on their last slide, so look out for that. Drop them a message thanking them and saying why you found their talk interesting, and see where it takes you.

Make the most of the free lunch.

Often, chance encounters and great conversations happen at the table of random academics you sit with, during the lunch or coffee breaks. If you had a good conversation and still had some questions about their work, why not continue the conversation with them online afterwards. LinkedIn is a great platform for this, and many people are comfortable with connecting this way.

Take an idea home with you, action it and then share it.

After everything you've absorbed from the conference, take a new idea home with you, and implement it. It may be a new way of answering your research question, an interesting concept, a way of teaching, or a fresh perspective. Whatever it is, take it back to your institution and action it, then share the outcome via your social media account using some of the tips above. (Don't forget to include the person in your tweet/LinkedIn post to acknowledge where you got the idea from.)
This list isn't exhaustive but hopefully provides some helpful guidance to navigate the social media conference space and get the most out of your experience. If you found this helpful get in touch via @UoL_Management on Twitter or via LinkedIn.
The views expressed in this article are those of the author and may not reflect the views of Leeds University Business School or the University of Leeds.