Revealing fathers' impact on their children's learning and development: our new study
Centre for Employment Relations, Innovation and Change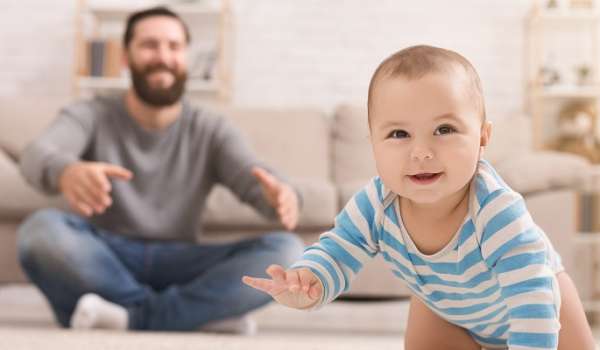 This blog was first published on the Fatherhood Institute website on 17 June 2021: http://www.fatherhoodinstitute.org/2021/revealing-fathers-impact-on-their-childrens-learning-and-development-our-new-study/
---
What do we know about fathers' roles in supporting their children's learning and development – and what else would we like to find out?
We already know that…
Early parental childcare involvement is critical for supporting children's development – but this is a conclusion drawn largely from research conducted with mothers or parents more generally.
There is a lack of evidence to show whether and how fathers impact on their children's education, independent of mothers; and whether fathers' involvement is particularly important for boys, girls or at certain stages in the child's life regardless of gender
Previous research with mothers finds that their engagement in educational or "structured activities" with the child (e.g. reading, playing sport, doing arts and crafts) has an association with better primary school grades and cognitive skills as opposed to engagement in "unstructured activities" (e.g. watching the television or playing on a computer)
Yet paternal pre- or school age care could potentially have different consequences for child development by supporting progression in particular academic subjects, helping to close gender gaps in attainment and/or moderating the detrimental effects of poverty.
We also know that by the time some British children go to primary school, inequalities in their educational experiences are profound, well-established and likely to persist.
In 2018 the Department for Education reported that over a quarter of children in England were not primary 'school-ready' because they fell below the expected level for communication and literacy. UNICEF (2018) ranked the UK in the bottom third of 41 of the world's richest countries for inequalities in primary school education.
There are persistent inequalities within education. Boys underachieve at every level and girls underperform in science and maths. Children from poorer families consistently do worse at school than their peers.
Recent research suggests that such inequalities have been exacerbated by the Covid19 lockdowns. A study commissioned by Kindred, a charitable foundation working to improve early education and child development, found that a record proportion of children were starting school without basic skills.
Nearly half (46%) of children who started reception class in 2020 were not "school ready", compared with 35% in 2019, the survey of more than 500 British primary schools found. Less time spent at nursery due to lockdown restrictions was the key reason for this decline, teachers said.
But could parents – and particularly fathers – do anything more to help? One study involving more than 500 families with nursery-aged children, found that children's cognitive and social-emotional outcomes were improved when parents engaged in 'enriching activities' during lockdown with their children such as reading, arts and crafts or gardening. The study showed a growth in children's vocabularies and cognitive skills associated with mental flexibility and self-control, which was less evident for children who spent less time doing such activities.
Children from disadvantaged backgrounds may not have access to resources that enable such enriching activities – such as age-appropriate books and private gardens – but might there be other parent-child activities that could help these children?
Lockdown Fathers: The untold story, the Fatherhood Institute's study based on nationally representative sample of around 2,000 fathers in the spring 2020 UK lockdown found that fathers in couple families across all socio-economic groups:
spent more time with their children (78%)
spent more time than usual on home schooling and helping with homework (68%)
emerged from the experience feeling better equipped to support their children's learning and education (57%; even among disadvantaged fathers, the figure was 50%).
This increase in fathers' childcare involvement could potentially have a positive effect on children's educational development. This is important to establish, given that attainment at an early age can shape educational pathways, and therefore future prospects and opportunities to progress into higher education and employment.
Our new study, PIECE (Paternal Involvement and its Effects on Children's Education), funded by the Economic and Social Research Council, will conduct the first longitudinal empirical analysis in England, exploring the relationship between fathers' childcare involvement and their children's attainment at primary school.
We will analyse linked longitudinal data from the Millennium Cohort Survey and the National Pupil Database to provide rich and novel detail on household and economic circumstances, teacher, parent and child perceptions of children's academic abilities and detailed administrative data on children's attainment levels against the National Curriculum.
We will focus on how paternal involvement might affect children's attainment in five subjects of the National Curriculum (English, Maths, Science, Art and Design and Information and Communications Technology) as they progress through / at three key stages of primary school – the Early Years Foundation Stage Profile (at age 5) and Key Stage assessments (at ages 7 and 11).
We will look at
whether paternal childcare involvement increases primary school attainment, and at what stage of the child's life this is most important
whether fathers' childcare involvement has different effects for boys and girls
whether fathers' involvement helps to moderate the known negative effects of poverty on children's educational development, and
which kinds of father-child activities have the strongest effects.
Our analysis will also take account of the mothers' involvement to establish whether fathers have a similar or stronger effect on their children's education.
The PIECE project team is led by Dr Helen Norman (University of Leeds) with Dr Jeremy Davies (Fatherhood Institute) and Professors Mark Elliot and Colette Fagan from the University of Manchester.
We will build on a previous project led by Dr Helen Norman exploring what influences fathers' childcare involvement, in partnership with Working Families
As the project progresses, we will be running events to consult with teachers and other education professionals – and with fathers – to create toolkits aimed at supporting dads to make the most of their potential positive impact on their children's learning.
You can also find out more about the PIECE study on its dedicated website, on Twitter account and the Fatherhood Institute's Time with Dad campaign.
The views expressed in this article are those of the author and may not reflect the views of Leeds University Business School or the University of Leeds.